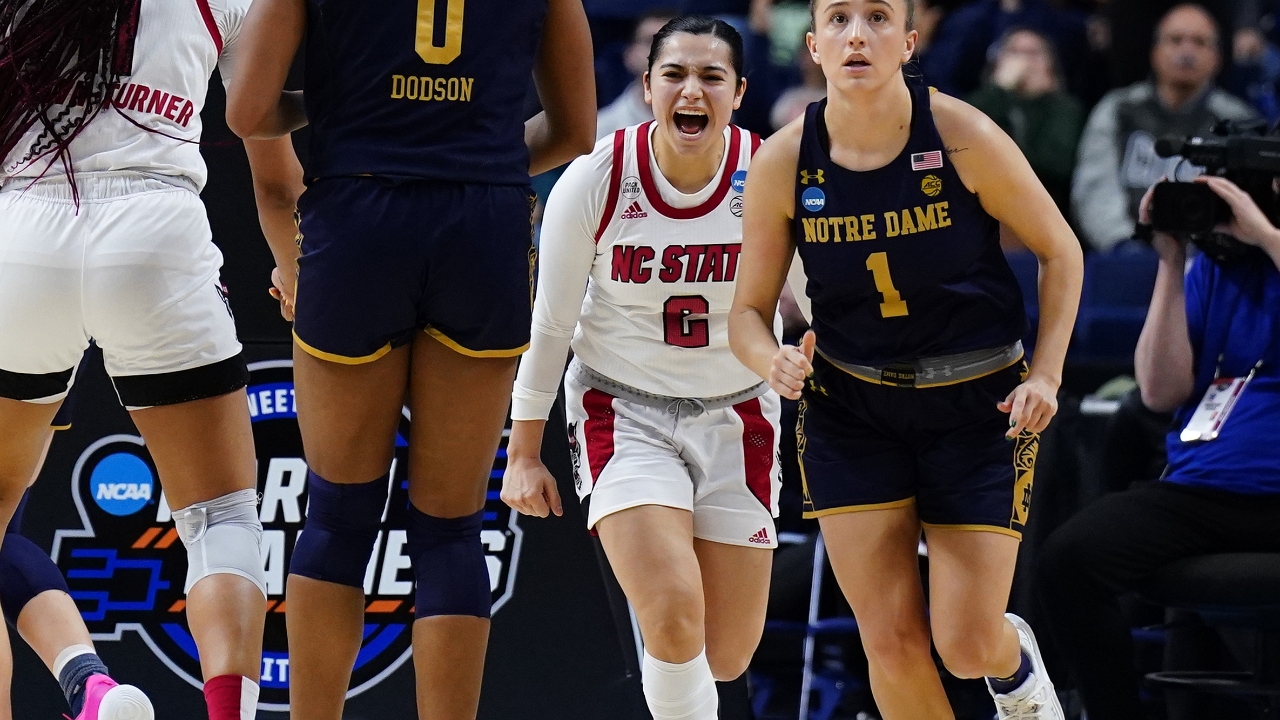 Photo by David Butler II-USA TODAY Sports
NC State Women's Basketball
LOCKER ROOM REPORT: Wolfpack Rallies Past Irish, Punches Ticket to Elite Eight
---
NC State head coach Wes Moore, guards Kai Crutchfield and Raina Perez, and center Elissa Cunane met with the media following the Wolfpack's 66-63 win over Notre Dame Saturday afternoon.
Cunane recorded a double-double versus the Fighting Irish, scoring 16 points and pulling down 10 rebounds. Crutchfield finished second on the team behind Cunane in scoring with 14 points. Perez ended the game with seven points, including the go-ahead fastbreak layup with under 15 seconds remaining in regulation.
NOTE: Click on the video in the player above to watch NC State's press conference.
---
Opening Statement
WM: Well, first of all, I'm just so happy for these young ladies. Elissa has been here four years, Kai and Raina came back for a fifth year of basketball, and they came back for this reason, okay. They wanted to rewrite this chapter from a year ago, and this is a great start. We're excited about that. Can't say enough about Notre Dame. Man, are they going to be good for a while, a lot of young players that are really tough, and we were fortunate there. We had some players here make some unbelievable plays down the stretch to find a way to win the game, and that's what they've done their whole careers at NC State. Couldn't be prouder of them. And again, we're excited about taking another step, and like I said, rewriting the chapter from a year ago.
Kai, you played the entire game, came up with some big defensive stops in the fourth quarter. It seemed like more so than ever you were just like, I'm not losing this game, I'm super determined. What was your mindset throughout the entire contest?
KC: You said it, Coach said it. As seniors and as a fifth-year senior, we were determined to get over that hump. We wanted it more, and we did the best we could, and we came out on top.
Can you describe what you saw on that last play with the steal and then being able to hit those free throws in that clutch situation?
RP: Yeah, she turned her back, the ball was still stuck on her hip, so I went for it, got the steal, made the lay-up. And those free throws, we practice free throws every day in practice, and we're always in tough situations. I just knocked them down.
Elissa, how did you guys keep your composure throughout most of the game where it felt like you guys were being outplayed, but you kept yourselves in the game and gave yourselves a chance to win in the end and it worked out for you?
EC: I mean, like Raina said, we've been in these situations before. We've had some games this season we've been down in the first half and even towards the end of the game. We knew what we were capable of, and we just had confidence in each other. And we all just kept on reminding each other, take it one step at a time, get one stop, and then push it and focus on the little things.
Kai, the senior element to this team, do you think that helped down the road, late in the game to get you guys to this victory?
KC: Yeah, for sure. I would say that, like Li said, everyone said, we've been in this position before. With that experience, as the previous question, we were able to stay composed, and countless times I would bet on my team no matter what, hands down.
A couple times in the game you couldn't quite tie or get over the hump or take the lead until the very end. From your perspective, what shifted in the last couple minutes of the game that allowed you to really cut into that lead and ultimately come out victorious?
EC: I think we like knew that we kept getting close, and then we would make a mistake, like a turnover or a bad pass and wouldn't get a defensive stop. I think we kept telling ourselves we can get those defensive stops to keep getting closer. I think towards the end we had great defensive possessions, and then we were scoring on the other end too. We started to attack and learn what they were doing on screens. They got us a couple turnovers. So just figuring that out and then being able to come back.
Kai, I can't remember if you started the game on Miles, but did you ask to switch on her? What did you do to slow her down or make things challenging for her?
KC: It's just a matchup thing. We had to adapt, how they were playing the pick on ball, and in the long run we got the hang of it. We played well enough for us to come out on top. And I say just relying on the help side, as well, and making sure I beat her on the opposite side of the screen.
Raina, as you guys were cutting into their lead down the stretch, what was said to try and keep the group together and ensure you guys would be able to be focused and get the stops you needed to cut back into the lead?
RP: We didn't want to go home. We didn't want the same results as last year. So we stuck together and reminded each other: Hey, we've got to get this one. We've got to get some stops and score on the other end. Just reminded each other that we didn't want to go home and we needed to win this game.
Elissa, you guys call her "Clutchfield." How much has the energy she brought in the fourth quarter, getting those steals, getting an and-one opportunity early sparked the whole team there for that comeback?
EC: It was huge. When she got the and-one, you saw the energy from the bench and just us. We knew we could actually do it. I think her defensive ability, I'm sitting back watching her work, watching her get the steals and taking it. I think what Kai has been able to do for this program defensively, offensively and as a leader is just exceptional.
Of course Raina's steal and then finish gave you the lead, but for you all, what do you think was the most important play of the game that kind of turned the tide in your favor?
EC: I think it was Kai's and-one, honestly. I don't know if y'all think differently. When she got that, we were all so hyped, and I think we really started to bring it together as a team.
Elissa, you made a lot of clutch free throws, and then there was that one shot that you missed. What was going through your mind when you missed that one shot?
EC: I mean, honestly I was just like calm on the free-throw line. I just left it short. So as soon as I did, we got into the time-out, and so I knew that we were just going to have to get a stop and we were going to have to play defense. Coach Moore trusted us to play defense. We didn't start fouling, and we got the steal. After I missed it, I was like, well, that's behind me now and let's go get a steal on defense.
Raina, on the broadcast today they were talking about when you first got the call from NC State and it was your brother who convinced you to call them back. I was curious what you remember about that call and why you decided to call them.
RP: So Coach Moore had left a voicemail, and my brother listened to it, and he was basically like, yeah, you should call them back. I think they had just been previously ranked eighth in the nation, so I was like, yeah, for sure I'm going to call them back. And then I realized their point guard had just graduated, so I was like, oh, yeah, this is a great opportunity for me. What am I doing? Yeah, I remember a majority of that conversation.
You guys were asked earlier when the momentum shifted. From my seat it seemed like when Kayla Jones went down, some of you guys had an extra pep in your step, started making more hustle plays. In the back of your mind, were you thinking we've got to play hard until she gets back in here or if she doesn't come back we've got to win for her? Did that ever cross your mind when she went to the back?
KC: Yeah, it did. It was kind of like a flashback in a way. But I knew that our team wasn't going to, I guess, in a sense, let her down, and I knew I wasn't going to let her down. I'm sure these two could say the same thing. Prayers up; hopefully she'll be back for the next game. It's already written, and I trust in God.
Three years in a row now you had come up short in the Sweet 16. Just simply put, what does it mean for you now to know that you're going to the Elite Eight?
EC: I mean, it's one of our goals for this year. So I think the whole game we were all thinking like we don't want it to happen, what we did last year. I remember saying at halftime, I was like, we're kind of playing right now like we don't remember the upset we had last year. We weren't playing with enough toughness. I think it was really in our minds like this whole year and especially that game. We wanted to come out here, we wanted to go past the Sweet 16, and here we are. And we had to work hard for it, but we're here.
I'm curious how emotionally you get through a game where maybe you start with a little bit less energy. Who or what is the catalyst that brings you to the finish line?
RP: I would say probably K.J., but I mean, it's, honestly, all of us. All of us remind each other, hey, we're starting slow, we need to pick it up, we need to get together and run the sets and play defense. I would just say everyone on the team kind of talks and reminds everyone, like, hey, we need to get it together and toughen up.
Coach, about 30 seconds left in the fourth quarter, you're down one, and you have no fouls. What was your strategy in how to manage the end of that game in that situation?
WM: Yeah, yeah, we were trying to debate, there was 35 seconds left in the game, and the 30-second shot clock, could we foul enough times to make them shoot a free throw. We just felt like it was going to be really hard, and so we decided to just try to deny the pass in, man on the ball, help deny it in. Once they got it in, if we had an opportunity, let's trap it and just fly around, and we didn't have to worry about fouling. We got plenty of those. But we were very fortunate. What can you say about Raina? I mean, you know, Beyonce is big, but Raina blows her away. I mean, come on. Two years in a row, last year she hits the jumper to win the ACC Tournament, now this year she gets a pick there when it looked pretty -- it looked like it was going to be pretty hard. Unbelievable. But the whole team, just so proud of them.
We talked to the players about this, but Kai's energy, especially on the defensive end in that fourth quarter, just how much does that mean to the team when you're trying to come back in a game like this?
WM: Yeah, I'm hard on Kai. If y'all haven't noticed, she has a whole lot of God-given talent and ability. I just think she -- her ceiling is so high. So I'm hard on her. But you know what, she stepped up and made some unbelievable plays there. I do think between not maybe just the and-one, just the steals that she made and were able to turn the tide were -- that's what got us back in the game and gave us a chance. And then Raina was the cherry on top. I don't want to forget about Elissa, either. She went out there, what, 18 points and 10 boards? She's been that way for us for four years. I don't want to let her get lost in the shuffle, either. Unbelievable game against -- I think Dodson is just a great, great player, and she had her way with us last time, and Elissa this time was able to more than hold her own.
A good thing is a player who accepts their role. Obviously we saw today that Kai can score when the team needs it, but she's been known for her defensive ability. How does she buy into the role of being a defensive stopper but she can show up on the offensive end?
WM: That's how she got her name, Clutchfield, whatever. Just seems like, when you really need her to, she steps up and hits the big shot or makes the big play. I'm so happy for her to stick around for the fifth year. Not many people can handle me for five years. So for her to stick around like she did, her and K.J. and then of course Raina to opt to come back, also, I'm just so happy for those kids because this is why they came back. This is why they came back. For them to be rewarded is just unbelievable.
Was there ever any doubt throughout that game? Especially at halftime down by eight, you were down by double digits a couple times, was there ever any doubt? And if there wasn't, what is it about this team that gave you that confidence that they were going to find a way to pull this out?
WM: Yeah, you know what, I'm normally a worrier and can get down, but I just felt like -- I felt like they maybe hung their heads a little bit in the first half and maybe even at halftime, and I just needed to remind them, we've been down so many times and they always find a way to get it done. We've come too far. So I believed we could get it done, without a doubt, because of those young ladies. But I knew it would be hard because I've got a lot of respect for Coach Ivey and Notre Dame. They've got a great team over there. I knew they were playing really well. That's what I had to remind our team in the second quarter. They shot 77 percent from the field, 80 percent from the three. I had to remind them, first of all, we've got to guard better. Second of all, I don't think they're going to keep that up for the entire game, and we've got to make sure we're ready when our opportunity comes to turn the tide, and boy, they did.
Coach, the game plan early was trying to get the ball to Elissa down on the blocks, but it was real physical for her down low, and then you start kicking the ball out to Kai. When did you start changing and making an adjustment as the game went on?
WM: Yeah, I think more the players just read the D. We got two fouls on Dodson in the first half, and I thought that was really big. Of course then they went to zone, and that kind of made it a little tougher for us to get the ball to Elissa. I thought they did a good job there. We always want to work inside out, but with these guards we have, every one of them can knock down threes, and again, Kai always seems to do it at the most opportune time. I think just that. I think Elissa realized that they were really focused on her, and so she made the decision to kick it out. Sometimes too much. I have to remind her you're not a point guard, we need you to score, but in the end it was a pretty good decision.
Coach, yesterday Elissa was saying that the focus going into this season was to improve on the defensive end because you guys were always a great offensive team and you wanted to be both. For you guys to be able to get over the hump and win with your defense in the fourth quarter, where have you seen the most growth on that area of the floor from last season to this season, either individually or collectively, and what does it mean to be able to do it with your defense?
WM: Yeah, again, I think it helps having veterans. They've been through the prep. We came over here this morning at 6:30 and did our normal walk-through and shootaround. And as a coach you're really debating is this very smart making these kids get up this early. But it just seems like when we do they're a little bit more locked in. But I think that, just the experience, and they made plays. I can't take any credit for that. Kai made a couple of huge plays, Raina obviously made a big play. Everybody was just flying around. We got a couple of turnovers off the press that I thought were big. My staff reminded me, let's use that a little bit. So it was just a combination. But I couldn't be prouder. They scored 63 points today, and they scored, what, 108 in their last game. I'd say defense won this game, without a doubt. A lot of credit goes to them for -- you've got to be tough. They've got so many weapons, and we still -- we were going to try to slow Miles down. Well, we slowed her down; 21 points. But again, they found a way to get stops when they had to and make different people shoot the ball when they had to, too. I thought that was big. Tried to get it out of Miles' hands some.
What about Raina's film from Cal State Fullerton really appealed to you and make you know she would be a good fit?
WM: Yeah, we got so lucky, so fortunate. You know, we thought on film she had wiggle. She could make things happen and create things. But we didn't have any clue what we were getting, obviously. She was Player of the Year in that conference, and her team finished sixth in the league. That tells you something right there. How often does that happen? But just the way she came in, as she mentioned, we lost a point guard, we had everybody else back. It could have been tough. She just fit right in like she had been here for four years. Unbelievable kid, personality, and then obviously -- that show, "Everybody Loves Raymond"? It's now "Everybody Loves Raina," okay? It's going to be a series for a long time, okay, just unbelievable.
You talked about what it means for the team to get over the hump, but what does it mean for you to get to the Elite Eight with this group?
WM: It feels pretty good to me, too, man, because when I go into every game and I'm so nervous and stressed because I don't want to be the reason that they lose. I don't want to be the reason they lose. I'm not the reason we win. They make the plays. They make the shots. They grab the rebounds. But yeah, you know, for this group it would have been hard for me to face the fact that they all came back and we still didn't get over the hump. That makes me feel really good. And I'm so excited for our program to do this, kind of break through. It took a while, four years of the Sweet 16 to get through that wall. But again, those players are special. I wish y'all could see the way it is in Raleigh now. We went out to dinner the night before our Kansas State game and we walked out of the restaurant, the whole restaurant stood and cheered for them. Pretty awesome.
Coach, before you got the turnover, the steal, you had a couple of inbounds where you really had Notre Dame frustrated. Obviously you had a lot of time to talk on the initial time-out and the review on the out of bounds. Did you focus more on getting the steal after they got the ball inbounds, or were you focused on clogging up the inbounds and making sure they couldn't get the inbound off?
WM: We were trying for whatever we could get. We wanted to make it tough for them to get it in. We kind of missed the chance. I think on the second or third one they threw it into the corner, and we had a great opportunity for us to trap it right there, and we didn't quite rotate and make that happen. But I'll be honest, we don't work on that stuff enough, and they just went out there and made plays and just got after it and competed. That's what it takes. It takes energy. It takes urgency, and that can cover up even a coach that makes mistakes. They can still cover that up.
I wanted to ask about the emotional roller coaster like today, how you recover and focus on the next game.
WM: The great thing is, like I said, we got them up at about 5:00 something, they're going to relax the rest of this day. Obviously we'll be ready. But the rest of this day is their day. Obviously the coaches, we've already started preparing. We'll have to wait and see who wins this next game, and we'll put the finishing touches on the scout, on the film. And then tomorrow luckily we don't have to go real early, we can get them rested and have a full day tomorrow. And then the good thing Monday, the game is at 7:00, so shootaround won't be at 7:30 in the morning, I can promise that, or whatever, 6:30 in the morning. This is going to be good to give them some recovery time. That's the only good thing about playing at 11:30, now you've got plenty of time, we can enjoy this for a few hours, and try to take one more step.
Never miss the latest news from Inside Pack Sports!
Join our free email list