NC State Football
BREAKOUT PLAYER: Offense
---
Several members of the staff at Inside Pack Sports picks their breakout offensive player for NC State this upcoming season.
---

Sophomore Tight End Cary Angeline
I nearly picked Jakobi Meyers, but truthfully he broke out last year given his production so I'm going to go with tight end transfer Cary Angeline.
The 6-foot-6 Angeline is on campus and while he may miss a couple of games due to NCAA transfer rules, I expect him to play a lot once he is on the field. This offense is tailor-made for his skillset, as NC State must replace nearly 100 targets between the numbers with Jaylen Samuels departing for the NFL.
Angeline, the Scout Team Player of the Year at Southern Cal as a true freshman, was used as an H-back/flexed out tight end by the Trojans, which is exactly how NC State used Samuels. Is Angeline going to be taking jet sweeps or lining up at running back? Probably not, but with hiss size and athleticism he should be a nightmare for opposing linebackers and safeties while working the middle of the field and the redzone.
Don't be surprised if he leads NC State in touchdown catches, assuming he remains healthy and is fully cleared. If he does that he will certainly be the Wolfpack's breakout offensive player. -- James Henderson
Freshman Tailback Ricky Person
With the departure of Nyheim Hines and now fully healed from a previous wrist injury, the table is set for incoming true freshman running back Ricky Person to burst onto the scene.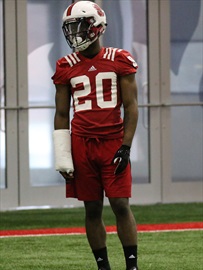 Reggie Gallaspy is the only back with meaningful playing time which means there are snaps to be had for Person. I love that he brings a blend of power, speed, shiftiness and the ability to be effective in the passing game.
However, it likely won't happen overnight. He missed the spring and there's the obvious learning curve for any new running back.
We know he can run but in the Wolfpack's pass-happy offense, can he block? Can he pick up a blitzing defender?
I think Person brings a world of talent and potential but success likely won't happen overnight.
But as the season progresses I think you'll see him become more and more effective and consequentially, the NC State coaches will likely increasingly look to him to bring his big play potential to the offense. -- Steve Williams
Freshman Tailback Nakia Robinson
There are lots of great choices here—Cary Angeline, CJ Riley, Emeka Emezie, Ricky Person, etc... but I think Robinson is going to have ample opportunity to get his chances and prove himself this season.
With Nyheim Hines leaving early for the draft, Erin Collins being dismissed from the team, Reggie Gallaspy missing spring practice, and Ricky Person going through the spring with a cast on his wrist, Robinson seems like he could benefit from the 'last man standing' rule.
Gallaspy and Person are expected to be back to near 100% by the opening of fall camp, so it won't be a cake-walk for Robinson to carve out carries but I think he offers a nice change-of-pace amongst the group.
Couple all of the above with the Wolfpack offense, which relies heavily on the run, and I think Robinson could surprise some folks this fall. -- Bryant Carson
Senior Tackle Tyler Jones
It may not be accurate to label someone who was an All-ACC a potential breakout player the following season in his final year of eligibility but look for Tyler Jones to gain national recognition that eluded him in 2017.
Jones played in 98 percent of NC State's offensive snaps last season and has featured in every offensive snap for the Wolfpack in 20 consecutive ACC contests.
His ability is only matched by his durability.
It appears Reggie Gallaspy II will be the starting running back in 2018 and that means NC State will likely utilize running plays that often traverse the B or C gaps of the offensive line.
If the Wolfpack uses a tight end or sniffer -- along with garden variety sweeps -- in its rushing plays there will also be some D gap calls and each of these requires solid play from the tackle for various reasons.
That coupled with the astounding pass protection Ryan Finley received last season means Jones very well could be in the mix for national honors as a redshirt senior. -- Rob McLamb
Sophomore Wide Receiver Emeka Emezie
NC State's wide receiver corps is so deep that this is a risky pick, but I think Emeka Emezie would probably start at most other ACC schools.
There's two future NFL players ahead of Emezie on the depth chart in Kelvin Harmon and Jakobi Meyers, plus a proven redshirt senior in Steph Louis. Emezie was brilliant in place of Louis against Wake Forest, and he will have more opportunities this year.
Obviously, his numbers won't be on the same level as Harmon, Meyers or Louis but he will prove to be a key piece in what figures to be a pass-heavy offense for the Wolfpack. -- Ethan Barry
Never miss the latest news from Inside Pack Sports!
Join our free email list