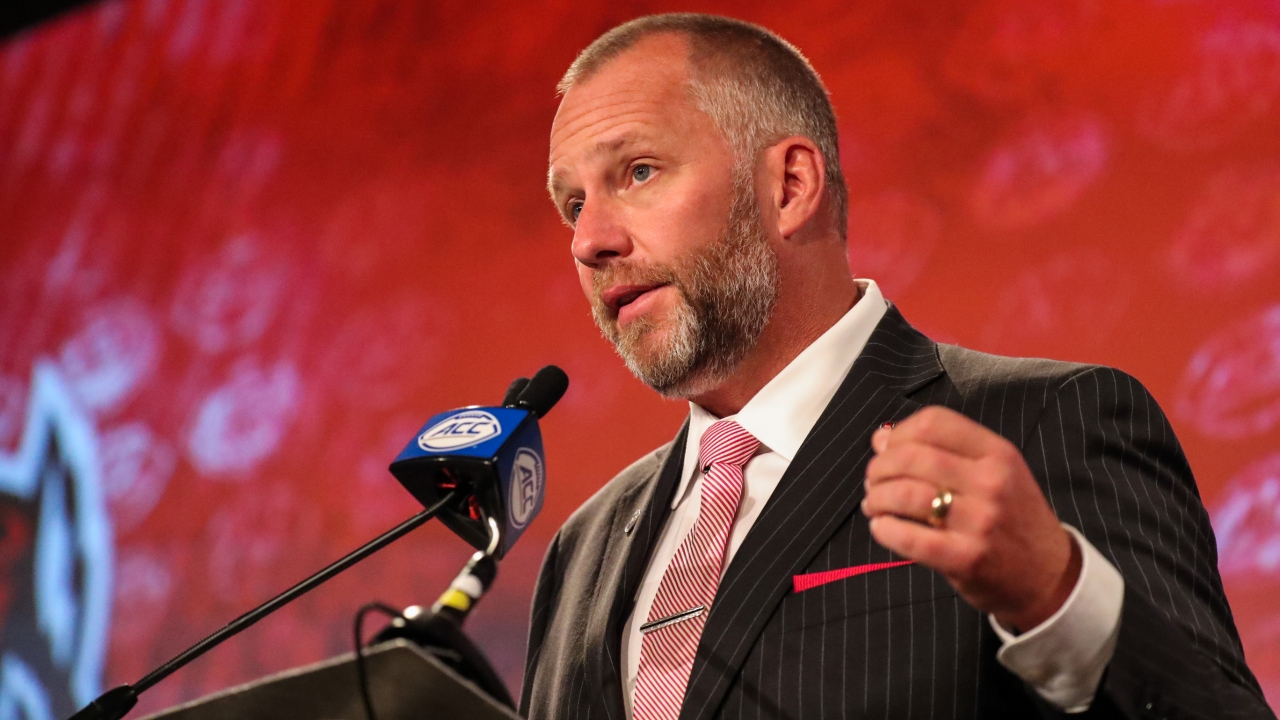 Photo by Jaylynn Nash/ ACC
NC State Football
Dave Doeren: "It's About Celebrating Wolfpack Football"
---
No. 12 NC State head coach Dave Doeren met with the media via Zoom to discuss the Wolfpack's 27-14 win over Texas Tech and the upcoming game versus Connecticut.
NOTE: Click on the video in the player above to watch Doeren's press conference.
---
Opening Statement
I'd like to thank our fans again, the parents, students, and recruits who came to the game. It was an awesome environment. I think the new lights with what the game ops staff did elevated the environment even further with the lights show. I thought it was great for the fans. It obviously adds entertainment, and it was fun for our players. The guys raved about it after the game. Carter-Finley Stadium is a special place. It's one of the best college football environments in the country. On top of that, I think our field crew with the way our turf is and the paint, it's an incredible place. A lot of kudos to everybody who made that happen, and I look forward to seeing another version of that this week with another night game at home. Just talking about the game itself, I'm proud of our team and our staff for how we played and how hard we played. I thought there was a lot of visible strain and elite effort. Guys played really hard. We played a lot of guys. We rotated several people in and out of the game. Starting on offense with the positives, we really felt like our run game was a big part of the time of possession in that game. That was a good defensive line. Those players are very experienced and big. I think their defensive end, [Tyree Wilson], is a draft pick. I think that guy is really talented. Their linebackers played hard. Their DBs were long. They made it tough on us, and we were able to run the ball effectively. Our tailbacks were physical and for the most part did what they could do to help us. I thought the receivers improved away from the point of attack. Our time of possession in the second half was big. We had the ball for 19 minutes. From a negative standpoint, we're shooting ourselves in the foot too much on offense. Whether it's penalties pre-snap, some technique things within the play where we can avoid a penalty, or just a bonehead mistake with a lineman downfield, that shouldn't happen. We had a turnover, and that was a costly error by Demie [Sumo-Karngbaye] crossing the goal line and not finishing through the goal line with the ball. It's definitely a teachable moment for him and one that I know he's learned a lot from. He did a great job bouncing back and making a play for us. I think, overall, you're still seeing some young players and inexperienced players who just need to make the routine plays and execute at a little bit higher level. If you get the touchdown that Demie had, and we don't have the lineman downfield on Devin Leary's touchdown catch, that's 14 more points, and we're feeling pretty darn good about the result of that game, scoring in the 40s. It's just little things like that in this game that can really taint how you feel, but similar to our first game, we leave that one offensively speaking with a lot to improve. We left a lot of plays on the field, and we get to do it with a win. On defense, I thought that was our best performance this year. We had three takeaways. Aydan White had two interceptions, the touchdown, and a sack. He had an outstanding game. Jakeen Harris had a nice interception. I thought in the box we performed well. We were disruptive. The D-line strained. I thought Savion [Jackson] had a really good game up front. Guys ran to the football. Josh [Harris] and Cory [Durden] were more disruptive at the nose. C.J. Clark had two sacks and got involved in the pass rush areas. I thought the linebackers played downhill and fit the run well. Tanner [Ingle] probably had his best game since last season. He really tackled well, so he's improved a lot as the season has gone on. We had the disruption up front that you would hope to have. We were plus-10 on plays in their backfield, tackles for loss and sacks. We got pressure on the quarterback, we sacked him four times, and we forced him to throw some poor balls. Again, we were able to stay on our line of scrimmage and not get into the hard count part of football. I think we've played three games now where the offense has attempted to get our D-line and linebackers offsides, and the guys did a good job of being disciplined. I thought we limited explosive plays against an offense that is known for creating them, until the last drive where we really played a prevent defefnse. We kept the ball in front of us and didn't allow them to get behind us most of the night. On the negative side defensively, Travali [Price] lost contain on a pressure that would have been a sack for Tanner. It's a young player, similar to what you see on offense sometimes. Those guys have to make mistakes to get better, unfortunately. It's one I hope he learns from. I do feel like we got tired on the one drive. There was an area of the game there in the second quarter where we were out there for a long number of plays. We scored a touchdown at the end of that drive with Aydan, so we had to go right back out there again, and then after that drive, we went three-and-out on offense and went right back out there again. We got tired playing a lot of snaps there in one quarter. That's something where we've got to rotate more which is difficult at times against a no-huddle team that isn't subbing all the time. That's an area where we can help ourselves. Special teams, I thought Chris Dunn continues to be elite in what he's doing. He's hitting the ball well. His off time is great. He's very confident right now. On the muffed punt fumble recovery by Joe Shimko, I was happy for him to see him battle, fight under that pile, and come up with that ball. Shane [McDonough] improved his hang time. He averaged over four seconds which was a goal of his this week. I thought the special teams created some very advantageous field position for us in this game, so kudos to those guys. I'm excited to play another home game. I expect a raucous crowd. That's the standard. It's about celebrating Wolfpack football. It's about cheering on our players and staff and celebrating that you're a part of such a great university. I know, at times, it gets into who we're playing, but to me, it's not about that. It should be about the young men who play for your university, how hard they work, and the pride you have for your university. We have the nation's fifth-longest home winning streak. I'd like to make sure I emphasize the word, "we". The fans are a huge part of that. You are. This doesn't happen in places that have 25,000 people show up. It happens in places that sell out and get loud as hell. You're helping make our program better when you do that. It helps recruiting, it helps our players, and it helps our coaches. I just want to thank you and continue to emphasize the importance of that. We're playing a UConn team that has a veteran defense. They have a long bunch of defensive lineman. Their linebackers are experienced guys. They're all 6-2 and 220 [pounds] or more. Coach [Jim L.] Mora is a veteran, proven coach at the NFL level and the college level, and he's building a program. You can see that he's doing it the right way. They've played some really good competition. They're well coached. You see them playing with good fundamentals and technique. You can see their scheme and what he's trying to do. They're young on offense. Their quarterback transfer from Penn State [Ta'Quan Roberson] got injured, and they're playing a young guy [Zion Turner], but he's from St. Thomas Aquinas in Florida, Devon Betty's high school. He's a winner. He was a three-time state champion as a quarterback, and I know they'll build a team around him. They have very good skill players. You can see some explosive plays. There's a lot of quick screens and plays on the perimeter to get those guys the ball. For us, I think this is a great opportunity to get better. We've really emphasized weekly improvement with our roster individually and collectively. We've identified areas with each player for them to focus on. We'll continue to do that. We look forward to another opportunity to go compete.
On Leary's performance versus Texas Tech...
I think he did some good things. We had four drops that hurt him. The one to Demie would have been a touchdown on the screen. The one to Darryl [Jones] would have been a first down. Those were routine drops. The other two were contact catches with Anthony [Smith] and Julian [Gray]. Some of those things make the performance difference. You see incomplete; we see an opportunity that could have changed the game in certain ways. He's seeing the field. He's trying to find chemistry with some new guys, and I think that's a work in progress still at times. We're going to get better and better as these young guys like Anthony Smith and Julian, and Darryl, being a new player for us, the chemistry with Devin is still in the infant stages. You see the chemistry with him and Porter [Rooks], with him and Thayer [Thomas], and with him and [Devin Carter]. It just takes time. Overall, nobody is harder on himself than Devin. I told him after the game, "There were times last year where veteran players made veteran plays to help you." Right now, we're trying to make the same plays with guys who aren't veterans at times. There's a plan for that that over time, in my opinion, gets really good. When two guys who are explosive athletes start to play where the game slows down a bit, it changes things for Devin, so we've just got to get there. We're through 25 percent of the regular season. As you saw two weeks ago, Anthony Smith jumped over two people and made circus catches. Now, we think he's going to do that every rep, and that's just not realistic yet, but we're excited about the progress and what's going on. A year ago, nobody knew what Demie could do, and now you're seeing a playmaker come out of that. We're just evolving right now. You've got to be patient and know that it's coming.
On avoiding a potential trap game versus UConn...
I think the focus that our guys are really excited about is the individual improvement. That's where we've been since the East Carolina game. I think that's an experience enough for these guys. I know where you're coming from. I think everyone in sports can see those things. The good thing for us is that there's been enough of these examples out there this year in college football to point to where you don't have to just talk about it. It seems like, every week, somebody is losing a game like that. We're going to try to get better. I think that's what really good programs do. It doesn't matter who you play. It's how you play. That started back in the preseason. Our worst enemy is us, not anybody else on our schedule. We're going to be saying that exact same verbiage to them throughout the week. These guys understand. They want to play well. They know they've got to practice well to do that.
On Sumo's growth over the last year...
He's a naturally gifted football player. He sees things. There's a vision that comes with this game that is hard to coach at times. Drake Thomas has that vision on defense. He sees things that are very hard to coach. Demie sees things as a football player. He's tough. He's very, very competitive. He's gifted. He's blessed with ability. We've just got to grow him up. He's still learning. He's still making mistakes, but he competes really hard and is gifted. He'll continue to get better.
On Jordan Houston and Tyler Baker-Williams' injury status...
[I don't have an update] yet. I'll see Justin [Smith], our trainer, here this afternoon, so I don't want to speculate until I have the most up-to-date info. We'll have it for you on Thursday.
On the potential silver lining of having great schemes on scoring plays negated by mistakes...
We would have had 41 points with two plays that did score that didn't count. Demie's play should have been a touchdown if he crosses the goal line like he's supposed to with the ball. Devin's play did score, but Anthony [Belton] is downfield on a pass play which doesn't make sense to him or us right now. If we're at 41-17, are you guys asking about the offense? I don't know. Just those two plays alone changed the outcome of that game from the outside looking in, but within the game, there's a lot of plays we left on the field. It was just little things that are, "Hey, we didn't do this." We can show you eight clips from practice where we did it a certain way, and then on game day, it didn't happen that way. That's youth. Anthony and Julian are part of some of those plays and Demie obviously on some of that. There's a bigger outside concern than inside concern.
On Clark's success since returning from injury...
I'm so excited for him. I think his confidence is growing each week. I said this a couple weeks ago, but there's a progression you go through returning from an injury like he had. It's "can I do this? I think I can." Then, you do it, and you're onto another one and another one. He's starting to get that. One of his biggest strengths as a D-lineman is his explosiveness off the line of scrimmage, that twitch. You're starting to see that again. He's strong. He's running through contact. On his first sack, he split a double team. I'm happy for him, and I'm happy for us because we need that. We lost Daniel Joseph and Levi Jones, our best two pass rushers. Seeing him and Travali pick up that helps. We need that pass rush from our front.
On what he can learn playing against a Power Five team like Texas Tech...
It enlightens us as coaches. "Hey, we really got to see this guys step up and play well." As you know, Clemson's and Florida State's D-lines are very impressive. A game like that was very good from a measuring standpoint of what we need to improve, what we're doing well, and what we've got to do better. We put our tight ends in some matchups on the edges against big guys, too, so we're able to evaluate them and see where they're better and need help. I think it's huge the higher that level of competition is. We also get to see the nerve factor. That was the first night game for some of these kids playing for us, and that was an electric environment. Tanner Ingle played the best he's played all year. That environment made him better. Other guys, you could tell that it was a little bit much for them, and next time they're in it, they'll be better. It's great to have that. As we know, we're going to be playing in that environment as we move forward almost every week.
On Freddie Aughtry-Lindsay...
Freddie has been awesome to have here on the staff. He had two interceptions for a touchdown against UConn back as a player. He told that story to the team during training camp when he spoke about one of our core values which, for this week, is focus. Freddie, one, is an alumnus. He's coaching in a different heartbeat, I guess you could say. His blood's in the bricks here. It's cool to see him mentor these guys. He and coach Ruffin [McNeill] work with my freshmen every week, the developmental guys, with a skills workshop and helping them through that first semester of college. It's the hardest semester, in my opinion, transitionally. Freddie is a really good mentor to these guys. As far as his position group, I think the performance speaks for itself with the way Tyler Baker-Williams has been playing. Freddie gets a lot of credit for helping him. You see him out there with Jalen Frazier. You see him out there with Devan Boykin. He's doing a lot of good things with his guys. He's been a great addition to the staff. It's not just football. In the state with recruiting, he's got a lot of good connections. He's very personable with the high school coaches, and he takes a lot of pride in being from this university.
On Wilson's impact on the field...
Wasn't it awesome to see him out there? I know it made us all feel good for him as a person. He was so happy and thankful. It's a guy who is going through the things you go through coming back from injury. He played well. He can play better. He led us in tackles his first full game back. The one play, I can't remember exactly where it was in the game, where you got to see him take off and run a guy down and tackle him on the sideline, he can cover ground. That guy is a tremendous athlete. It's just putting another elite competitor who is very gifted back on the field. Those guys love playing together. It was great seeing him and Isaiah [Moore] and Drake in the same lineup for an entire game.
On if he's happy with the way the wide receivers are getting separation and running routes...
Sometimes yes, sometimes no. I think there's always route depth conversations that we have. Sometimes the receivers are getting good separation, and we're overthrowing them. Sometimes, they're not, and they're in contact-catch situations. I think it's a work in progress. Those kids are working hard at it. It's a good group of guys. As we continue to rep them and Devin gets more and more comfortable with the guys who are in the game, the production will go up. Again, I think you've got to give Texas Tech some credit. That's a good defense. They played [Houston head coach] Dana Holgorsen's offense the week prior and played them very well. It's the same defensive kids that beat Mississippi State in a bowl game. I think you've got to give them some credit in that.
On Shyheim Battle's injury status...
He's a lot better than he was. He went through warmups and just said he didn't feel 100 percent, and at that point, we didn't play him. I think he's very close. The week prior, it was similar with Payton. We're in the beginning of the season, and we just don't want something to be a lingering injury if we can prevent that. With the depth we have at corner and the way we felt about Aydan and Derrek Pitts and Teshaun [Smith], we just didn't feel like it was a necessary risk. We're hopeful we'll have him the rest of the season. Again, we'll have to get to Saturday before I can tell you 100 percent. He will practice. He's in a good spot that way. We've just got to get him through the contact part.
On being able to have a player like White behind Battle
We list those guys as "or's" for a reason. We look at Aydan as a starter. I don't think there's much difference right now. They're different; each of them have different skills that they're better at. I think Derrek probably had his best game against Texas Tech, too. He tackled well. He had a great pass breakup on a deep ball. We look at those guys all as equals when it comes to the rotation they're going to be in. To answer the question, yeah, we're super excited about Aydan. We were his freshman year. He had a pick against Liberty as a true freshman. We missed him last year when he was out with the injury, so it's great to have him back and healthy.
Never miss the latest news from Inside Pack Sports!
Join our free email list