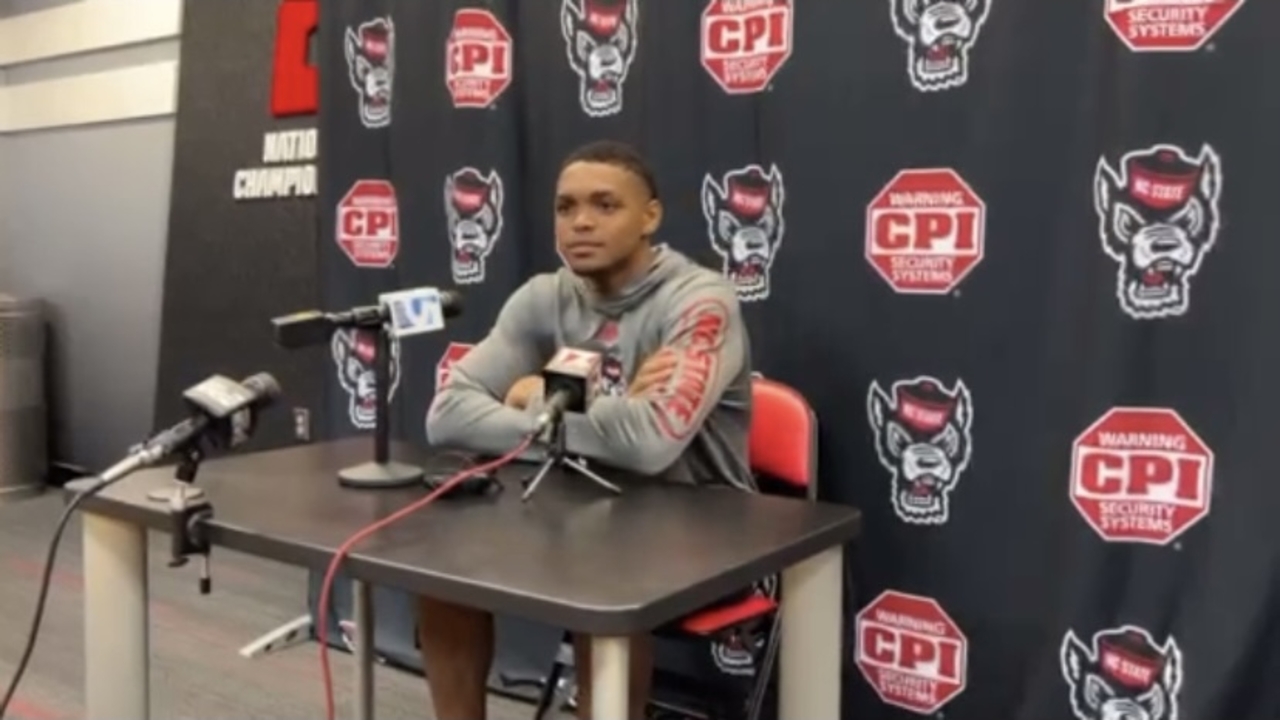 Photo by Daniel Wilson
NC State Basketball
Casey Morsell: "Credit to the coaches for finding such a great group of guys"
---
NC State guard Casey Morsell sat down with the media on Friday to discuss the upcoming Bahamas trip, the new coaching staff, Terquavion Smith and much more.
Note: Click the video in the player above to watch the press conference.
---
On how important the Bahamas trip is…
It's huge. Last year, chemistry played a big role in the season we had. Having this opportunity, especially with the group we have coming in, the new faces not only for us players but the staff as well, it's big in terms of us getting to know each other and learn each other's games to fully grow as a team. This trip is gonna play an essential role in how we head into the season.
On if having so many new faces helps the team move on from last year…
New faces, new players, it's just new vibes. They bring energy. They weren't here last year, so sometimes they don't understand what we've been through. But they apply new pressure and that's what we need heading into the season. Credit to the coaches for finding such a great group of guys to come in and help us be successful.
On how he's stepped into a leadership role in his second year at NC State…
Just being more vocal and making my voice heard. Being a good example. Having been in the ACC for three years, I've kind of been in every role. I've been on a team that just came off of a national championship, been on a team that just had a really tough year. I've seen a lot, so I'm just applying what I've learned and being a good example to the guys around me.
On his thoughts on the Battle 4 Atlantis field…
I'm excited. You get to play the national champs and a bunch of teams that are successful programs. It's a great opportunity to see where we're at. That's a good challenge heading into conference play.
On the three new assistant coaches…
A lot of experience. I talk to coach [Joel] Justus a lot, Levi [Watkins] is from my hometown, and coach [Kareem Richardson] is familiar with the ACC coming from Clemson. They all bring different things to this program that we need. We have no other option but to benefit from that.
On if there have been moments they realize they can do something…
Yeah there's always some moments, especially around this time when we go up and down 5-on-5. And also when we play pickup and there are no coaches around, you get to see guys without any type of restriction. Guys get to really be themselves. We're all still learning what we can all do and now it's just applying it to a team setting so we can win games and grow.
On what he saw from Terquavion Smith that made him a better player down the stretch…
Just him being aggressive. He's really aggressive, sometimes you've got to tell him to calm down. That's just him, though. That's what we need. Now it's instinctive for him, he's not thinking about it. He's just going out there and doing what he does best, which is hoop and not think about it.
Never miss the latest news from Inside Pack Sports!
Join our free email list