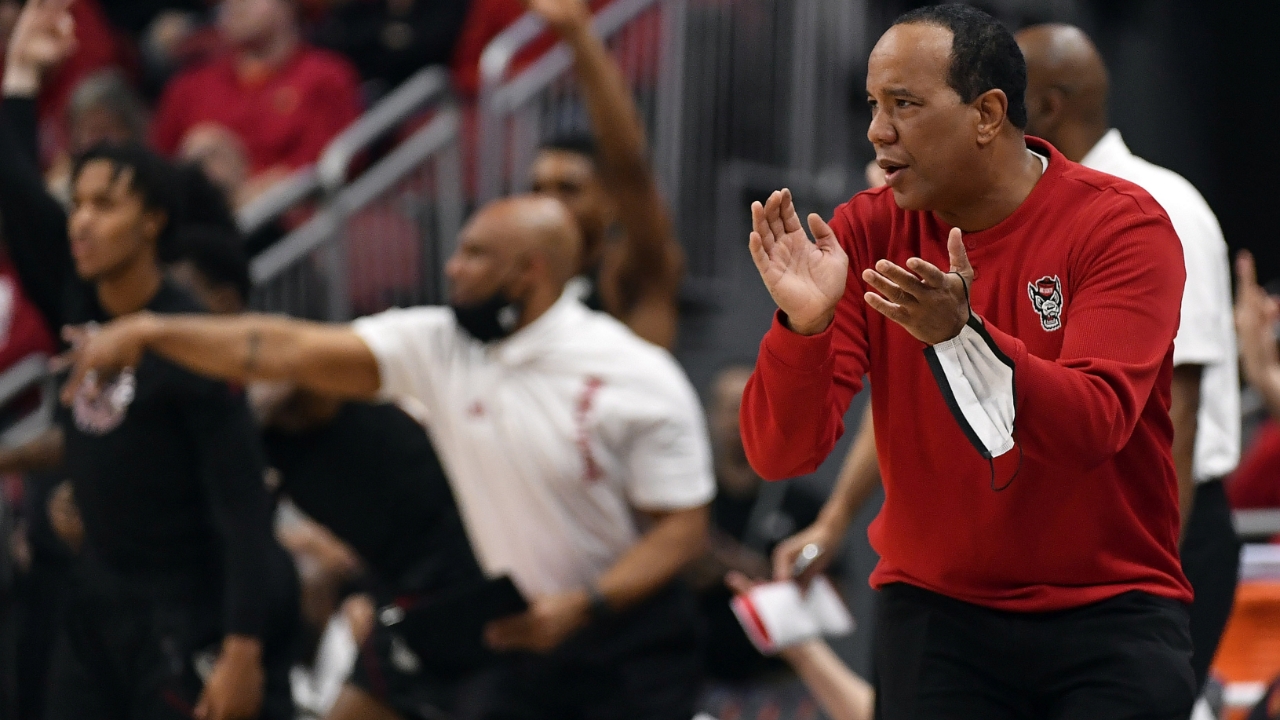 Photo by Jamie Rhodes-USA TODAY Sports
NC State Basketball
Keatts: "If we can stay healthy, I really like our team"
---
NC State men's basketball coach Kevin Keatts met with the media on Friday ahead of the team's exhibition trip to the Bahamas to talk about his expectations for the team, the status of Greg Gantt, his new assistant coaches and much more.
Note: Click the video in the player above to watch the press conference.
---
On the status of Greg Gantt…
Greg Gantt has a minor sprain on his left thumb. He will travel, he's not going to play in the Bahamas. He's probably gonna be out four weeks. He's gonna continue to practice and do everything he can do with his right hand and nothing with his left. Dusan [Mahorcic] is not going as well.
On his expectations for the Bahamas trip…
We did this my first year and I thought it was so great because we were able to come together as a team. For me, it's more than just the opportunity to play. Of course it's great to play against a couple different jerseys after having to practice against your own, but it's good for our guys to come along and be able to grow as a team. When you look at last year's team, it's only three guys on the team [currently] that played significant minutes, and that's Terquavion [Smith], Ebe [Dowuona] and Casey Morsell. Other than that, everybody is new. I think it'll help us to grow and become closer as a team on and off the court and have a chance to hopefully play against some really good competition.
On how similar this team is to his first NC State team…
I don't know if it's similar. I think this is our new wave that we're gonna have to go through all the time. I'm so excited that we were up for a foreign trip. I bet a lot of coaches around the country wish this was their opportunity, because there are so many different pieces on most of the rosters. If you look at our league, I think the only two teams that have most everybody back are Carolina and Virginia. For the most part, I think most people have at least four or five new pieces on the roster. This is what the future looks like and we all have to adjust as coaches because every year you're gonna have to re-teach your program. I'm blessed and excited because of the fact that we were able to get 10 practices out of this.
On how the team has been able to come together so far…
We're working on it and you just don't know when you're bringing so many different pieces from so many areas. The attitudes have been great, they're picking up stuff a lot quicker. We had a great year in the classroom for the summer, I think our overall GPA for the two summer sessions was a 3.1, which is pretty impressive. They like each other, I think our energy is completely different. It's a different locker room because we have so many older guys and guys who have been through it a little bit. The only freshman that we have on the floor is LJ [Thomas], as opposed to in the past we've had three, four, five freshmen at different times. Everybody else has kind of been through this and they've had a business-like approach.
On if he'd like to get some big programs for home games…
Absolutely. We would love to have more [nonconference] home games against Power 5 teams, but it's tougher. When you go across the whole ACC, you schedule based on quads. And most of our teams in our league have four, five, six quad four games. A couple teams had a little higher than that. It's easier to get a quad one or two win by playing neutral games than at home. It doesn't help the home team at all, it helps the away team. In our situation, it's kind of hard because you try to figure out nonconference and there's so many different challenges going on. The Big 10 Challenge, the SEC has one. So being able to find another Power 5 team to play is not as easy as people think. That being said, I thought our nonconference schedule last year was really good. This year, nonconference mid-majors we wanted to bring in a team that's really good like Furman. And obviously the Battle 4 Atlantis is always gonna boost your nonconference. We'll get three great teams over there. Playing Kansas, which is coming off a national championship, that's a great opportunity for our program.
On if the nonconference schedule makes him feel uneasy…
Not at all. I always have said that this conference should be getting eight or nine teams in every year. I think what really hurt our conference is in November and December we didn't have signature wins. Had nothing to do with NC State, we just didn't have a lot. And for whatever reason, this particular committee put a lot of emphasis on your November and December schedule as opposed to whoever won in January or February. I'm wishing that everybody in our league has a great nonconference, because it will elevate your conference. When you look at what the Big 10 did last year, they had a great nonconference, so every conference game was a Quad 1 or Quad 2 win. And in order to make the NCAA Tournament, you've got to have some Quad 1 and Quad 2 opportunities.
On what newcomers have stood out so far…
We've got so many different guys. Jarkel Joiner, he's a sixth-year guy who's a proven guy, he's played in the SEC. He's certainly gonna help us at the guard spot. The good thing about him, you'll see Breon play some point and off the ball; Jarkel can do the same thing and so can [Terquavion Smith]. He's been a big leader, he's had a big voice in our locker room and on the floor. I know DJ Burns is really good. One of the areas we really struggled in is scoring the ball inside, and he's certainly a guy who can put the ball in the whole. I think a lot of people will be excited about Jack Clark, a 6'8 or 6'9 forward that can really shoot the ball from outside. I've loved all three of those guys that I've gotten a chance to watch.
On if he enjoys coaching as an underdog…
It's a tremendous role, we've been the underdogs since I got here. When hasn't NC State been the underdog? I like coaching because I love the opportunity. I love working with the kids. We had a really bad year last year and it's my job as a coach to fix that. We could look at a lot of different reasons why, I know you guys have plenty and I have plenty. But at the end of the day, we went out and worked our butts off to try to recruit some guys that can fix some of the issues that we had. If we can stay healthy, I really like our team.
On what teams they'll be playing in the Bahamas trip…
We're playing a Bahamian team that's supposed to be the better of the Bahamian teams, and then we're playing against the Puerto Rico national team. People ask what we want out of this, and I just hope to play the best teams. I'm not gonna get over excited if we win both games and I'm not gonna get down if we lose both. I'm gonna play a lot of combinations and I'm gonna mix things up. For me, it's a fact finding mission to figure out who plays together, what we need to work on and how much we need to get better. I think so many people put too much emphasis on what your record is on a foreign trip in the summer. I'm just trying to figure out when we start practice, what things we need to work on and how we need to get better.
On what it's been like to coach his son…
It's tough because I've got to go home and answer to his mom. If I yell at him, she might roll her eyes at me. It's fine. I'm excited, it's really fun. We had a decision as a family. He missed his first year of high school because he had a torn labrum and then he went through two years of covid. We wondered whether we should send him to prep school. I just think as we talked it through, he really wanted to be here. He's got some great friends on the team and he wanted to be a part of the program. It's a good thing. It's a little different now because when I was yelling at players he used to laugh, but now I'm yelling at him.
On the cohesion with a new coaching staff…
It's exciting because they all want to be here. NC State is a great place, but when you want to be here and you want to be a part of this, I think that's what makes it really special for me. Not that the coaches who were here previously didn't, but when I went out and started looking for coaches, the passion about being at NC State and being in North Carolina, I think that's one of the things that helped me make the decision for these guys. They're all talented, they all will be head coaches; Kareem [Richardson] has already been a head coach. I think the other two will get the opportunity. I wanted to go out and find three guys that I felt like could really complement and bring a lot of energy to the program but also have the opportunity to become head coaches again.
On if it matters having an alum like Levi Watkins as an assistant…
It's a real big deal. It's a big deal for recruiting, it's a big deal because of the former players getting the opportunity to have someone back. I love our former players, I love the fact that when we can get some guys to come back and speak, Levi can speak differently than most of the coaches, including myself, because he's sat in those chairs and he understands the grind that you have to go through. I think it's been great and I'm excited about it.
On Ernest Ross' progress from injury…
Ernest is doing well. He's fully cleared. I wouldn't tell you he's at 100%, I'd say he's probably at 90%. He's getting better but he still has to trust his ankle a little bit more. In traffic he's not jumping and he's also cautious when he comes down. I think obviously him getting a little more comfortable playing will help him.
On the importance of Ebe Dowuona…
It's really good. Ebe has kind of raised his game a little bit. When you look to your right you've got Dusan and when you look to your left you've got DJ, so I think the competition has helped him get better. The chance to play against those guys every day because those are really big guys. Ebe's gotten better. I thought he had his best practice two days ago. He's starting to finish, he's catching the ball, he's understanding, he's talking a little bit. Hopefully his experience of playing last year will really help us this year.
Never miss the latest news from Inside Pack Sports!
Join our free email list