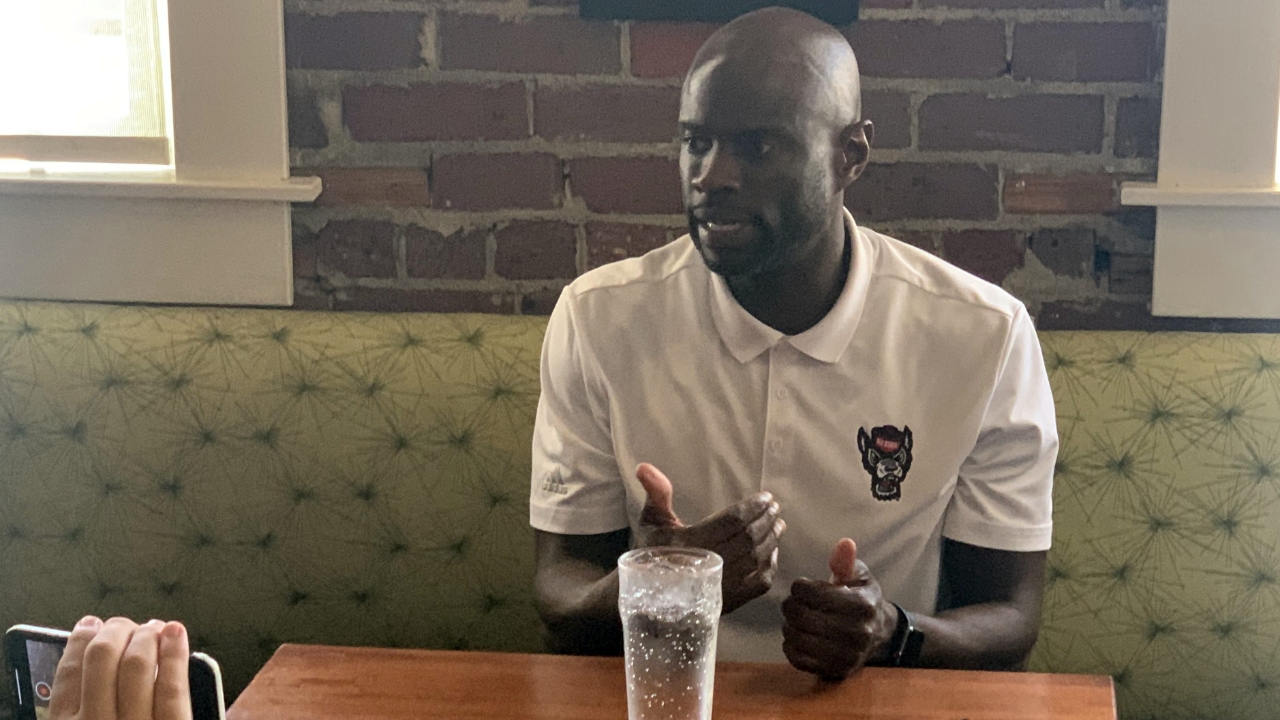 NC State Basketball
Kareem Richardson On His Time In Raleigh: "It's Been Great"
---
NC State assistant coach Kareem Richardson met with the media and discussed a variety of topics such as making the move from Clemson to NC State, Jack Clark, the depth at guard, and much more!
---
On how the first few months in Raleigh have been…
It's been great. I kind of knew a little about Raleigh because I played two years at East Carolina a long time ago, so I kind of knew about the city. Then when I was at UMKC, we played Keatts and the guys at NC State, so I had a chance to see the city and we played in Reynolds [Coliseum]. The transition has been great so far.
On coaching with Keatts at Louisville…
Yeah, we were together at Louisville, part of that national championship team. We talked a lot on the phone since then, probably almost every day. It's a strong, personal relationship.
On if his relationship with Keatts made the decision easier…
Yes, no question. Clemson is an awesome institution and an awesome place and Brad Brownell does a fantastic job, but when the opportunity came to work with a close friend like Keatts, it made it much easier for sure.
On if he knew Keatts before their time together at Louisville…
That was the introduction. I obviously knew of him from his Hargrave days; who didn't know about him with all the players he had? But yeah, Louisville was our introduction.
On what part of Keatts' coaching philosophy is most appealing…
A lot of it is similar to when I was a head coach at UMKC. I think from our time at Louisville and our time of talking throughout the process about the style of play, the kind of guys he'd like to have in the program. Our philosophies are very, very similar.
On how his experiences help him as an assistant for NC State…
I think being a head coach really helps. Even though sometimes a head coach like Keatts doesn't necessarily say something, you have to have a feel for things. Being able to try to take care of some things and try to take things off of his plate. As a young assistant coach, what happened for me and what happens a lot is you put a lot on the head coach's plate and you give a lot of suggestions without answers. Having been a head coach, you kind of give suggestions with an answer, or a probably answer.
On what positions he works closest with…
More with the guards. [Assistant coach] Levi [Watkins] with his experience playing that position as a big, he's more focused with the bigs, and coach Joel [Justus] and I, I'm more with the point guards and he's more with the wings.
On his early feel about the team…
I'm excited about the guard play. Two of our bigs are still in transition; DJ Burns has only been able to practice with us a couple times and we're waiting for our other big, Dusan [Mahorcic], to graduate from Utah which he just got that done. Getting Terquavion [Smith] back was huge for us, Breon Pass has been really good, Jarkel Joiner, Casey Morsell. I think our guard play is gonna be really good.
On what he likes about Terquavion Smith's game and how he can improve…
I really like his ability to score. He gave us a lot of buckets in the league last year, so having witnessed that at Clemson, I scouted NC State and I watched a lot of film on him. I think where I could possibly help him is his point guard skills a little bit, some of his reads. Just trying to advance his game for when he moves on to the next level.
On how impressive Smith's shooting abilities are…
I'll tell you what makes him really, really good. His competitive spirit is really high. Most people say they don't like to lose, but this dude really doesn't like to lose. Watching film last year when I was at Clemson and being in live action, if it gets to a time where his team needs a bucket or his team is down and it's time to really ramp it up, he has the ability to do that. You can see that's what separates him from a lot of players.
On how Smith and Joiner gel together…
Really well. Jarkel is more of a point guard and Terquavion is more of a combo, off-ball guard, but he can do both. They really mesh very well with their style of play. Terquavion can really shoot from deep and Jarkel is more of a mid-range guy. He can shoot the 3 but he prefers to penetrate and dish, and that should help Terquavion. Their chemistry off the court has been fantastic.
On his impression of La Salle transfer Jack Clark…
He's gonna really help us stretch the floor. Coach Keatts in the past hasn't really had a bigger guard like him. He's gonna have the ability to really help us stretch the floor. And I'll tell you one thing I've been really impressed with: he rebounds the ball extremely well. He's gotten some impressive rebounds in practices and our competitions, and we're going to need that. [Dereon] Seabron was a great rebounder from that guard position and I think Jack can help us fill that gap from Seabron leaving.
Never miss the latest news from Inside Pack Sports!
Join our free email list