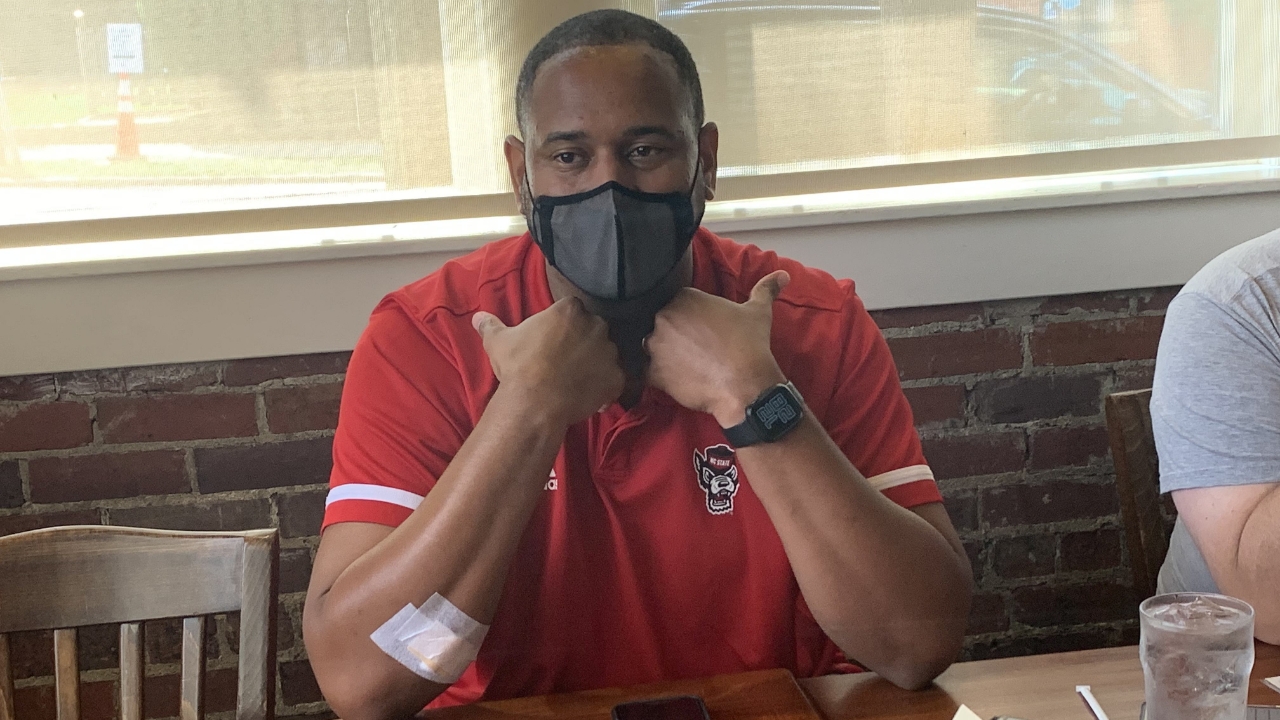 NC State Basketball
Levi Watkins: "We Hope To Have A Really Good Team"
---
NC State assistant coach Levi Watkins met with the media and discussed a variety of topics such as the potential guard play, returning to Raleigh, Terquavion Smith, and much more!
---
His time at State...
They had a special on the ACC Network when we probably should have won the ACC Tournament when [Duke guard] JJ Redick was a freshman in '03 and we were up I think 15 with 10 minutes to go and he went off. I think about that moment all the time, we could have gotten over the hump. Getting to the NCAA Tournament, that whole process starts in the summertime. You've got to recruit good players, you've got to push them hard. It's such a process to get to that ballroom where your name gets called and you're playing in the NCAA Tournament. That's something I'm infatuated with and it's something we talk about every day, regardless of whether it's working out on a Thursday morning or a Tuesday in June or July. That's the whole goal, to get there so you can have the opportunity to win a championship. I would love to get back to that point. I think coach Keatts is a really good coach and he demands a lot out of his guys. He's a really good recruiter and I think he can get us back to that position where we're in a position to win.
On what kind of legacy Terquavion Smith can leave at NC State…
It's hard to score as many points as he did as a true freshman. Not many people do that, especially being 165 pounds as a freshman. He's a joy to be around in the three months I've been here. He can score with the best of them, very competitive, especially when there's something on the line. Sometimes we do drills for running or just trying to get a win or less and he's very competitive. I'm glad he came back. He probably would have been a first-round pick, but NC State has had a long history where guys may leave a little too early and go lower [in the draft] than they could have. I think he'll be a lottery pick next year and he could be one of the best scorers in the country. I'm excited to see him along with Jarkel Joiner who I coached for the last few years, Breon Pass who is a really good player, Casey Morsell who is from my neck of the woods. I'm really excited to see all those guys gel together.
On if Smith's accomplishments mean more since he came back to NC State…
I'll use Julius [Hodge] as an example because we came in together. He was ACC Player of the Year after his junior year and there were a lot of people that wanted him to go to the Draft. But he just loved his experience at NC State and he wanted to make sure that he was a first-round pick. He came back and he wasn't ACC Player of the Year, but we went to the NCAA Tournament and made the Sweet 16. He had a great year and he stamped his legacy by coming back. I think Terquavion can do that as well. He obviously had a really good individual year last year, but if he can come back and lead us to the NCAA Tournament, he'll be forever remembered. It's even more special for him because he's an in-state guy, born and raised in North Carolina. It'll hit even different with him.
On if he's ever had a player follow him somewhere like Jarkel Joiner did…
When I went from Buffalo to Arizona State, I had three of my players I recruited at Buffalo go with us to Arizona State and two of the three had really good careers. It's different when you have a long history with somebody. A lot of times with transfers, you might have recruited them before but you don't really know them. With Jarkel, I've been at war with him. I've been in Starkville, Mississippi, down five and trying to fight back. It's just different. He knows me, I know him. I'm excited for him to bring his talent to a different league. The SEC is a very good league, but for him to come to the ACC and play in a style like coach Keatts has offensively, I think fits him very well. He's really enjoyed his time here. It took a lot for him to leave. It was obviously his decision, but he was born and raised in Oxford [Mississippi], so he was a hometown hero. For him to leave there, he had to go somewhere special, and he really trusted coach Keatts and myself. Wolfpack Nation will like what they see from him in the backcourt.
On how he pitched Joiner on coming to NC State with him…
I really just told him the truth like I always have in my three years coaching him. He was able to see the film of how we play, how the guards play in attack mode all the time, and he was just comfortable with it. I used to joke about my alumni all the time when I was a coach there, so he already knew a little bit [about NC State], but once he came here, he met coach Keatts in person, and his dad came with him as well, and they just felt at home here. This is his sixth year of college, he wanted to go somewhere he felt most comfortable and where we could push him to get the most out of him. He hasn't been to the NCAA Tournament in his career and I used to always joke with him because I've been 10 times. He's doing everything he can. All summer he's been great and he's really meshing well with his new teammates. He's just that type of personality.
I feel really good about this group, not just Jarkel or Terquavion. They all have worked really hard and I think this trip to the Bahamas is gonna help us do more bonding and prepare us for when we go to the Battle 4 Atlantis, because that's more of a business trip. This is business as well, but obviously there will be some bonding. It's been good to see, adding some new faces and how everyone has been able to mesh. Having these extra practices is giving us an advantage.
On how the roster has shaped up…
I think it went well. Obviously there was a lot of hard work that went into it; phone calls, text messages, looking under every rock in every corner we could to try to find the best players to come here and represent the Wolfpack well. I think we did a good job, we did a good job of getting older and signing a lot of guys that have already proven that they can play in college, which was important to us. We feel really good, but it's obviously still a process, and when the ball tips up in early November, we hope to have a really good team that's gonna compete for a championship.
On what positions he's working with most…
We all work with everybody, but a lot of times when it breaks down, I am with the bigger guys. It's been fun, but I've only had DJ [Burns] for a week because he just graduated from Winthrop. Ebe [Dowuona], Ernest [Ross] coming off injury, Greg [Gantt] coming off injury. But it's been fun to work with them and help them. It's kind of weird, me coming here with Ernest and Greg's timing because you can tell they're gingerly going through stuff. So you've just got to tell them you have confidence that the injury is fixed and you've got to push through mentally. They've been a joy to work with. I think everyone has had a really good summer and gotten better.
On what he's seen from La Salle transfer Jack Clark…
He's very skilled and he's legit 6'9. Pretty stroke, really good shooter, can handle the ball. I think he was a guard when he was young and then he had a big growth spurt in high school. He's been a joy to work with, really good rebounder. A lot of times you get those guys that are really skilled shooters and they don't necessarily rebound, but he can rebound and he's skilled. I think he can play multiple positions, he can play some 3 and some 4. We're excited about him.
On Joiner's fit at NC State…
I've been pleased with him to come with new teammates and new surroundings. When I coached him for three years, he was in his hometown where he was very comfortable. He's done a good job meshing with everybody from the walkons all the way up to Terquavion. That's just the kind of personality he has. He's always played with a chip on his shoulder and he's a rally the troops type of guy. He's done a good job in the couple of months that he's been here, just really meshing with teammates and gaining their respect. Obviously that comes when you go into competition with other teams as well, and I think he's handled it really well. I'm excited to see what he does in his last year of college.
On the backcourt of Joiner and Smith…
Man, I like those two together. They can really score. Terquavion, he's a really good 3-point shooter, he can mix it up and get to his spots. He's a better passer than I thought, really good playmaker. I know that's something he wanted to improve on after getting some feedback from the NBA guys. Those two together and Breon who is really good, really athletic. This was his first year really focusing on basketball. Then Casey Morsell, who I watched when he was younger because we're both from Maryland, I've always been a fan of his. I like our group of guards. LJ Thomas is the only freshman on the team, he's a little older but he's a physical and mature guy. He's been a joy to be around as well.
On how he brings his experience with injuries as a player to the team…
You can't waste any time because you never know what could happen at any given moment. I was a highly recruited guy out of high school and had never gotten hurt before, and then for me to tear my ACL against my hometown team [Maryland], it was devastating. I learned from that. I never took anything for granted, you just can't waste days, especially when you're at this level. That's a constant thing I'm talking with the players about, especially when you're in a really good league. There's a fine line between good and bad teams, there's a fine line between winning and losing a game. You've just got to make the most of it. Sometimes you can get comfortable, you're living in Raleigh, they've got nice apartments and we feed them good, certainly you can just lose perspective. I always talk to them about how I'm sure they all have a family member at home who would love to be in their shoes. It's not easy to be a student-athlete at NC State. It's very hard academically and obviously we work hard every day. I just give them a different perspective because I sat in their shoes, I sat in their seats. It's been fun to be around them and help them with that part of the process.
Never miss the latest news from Inside Pack Sports!
Join our free email list