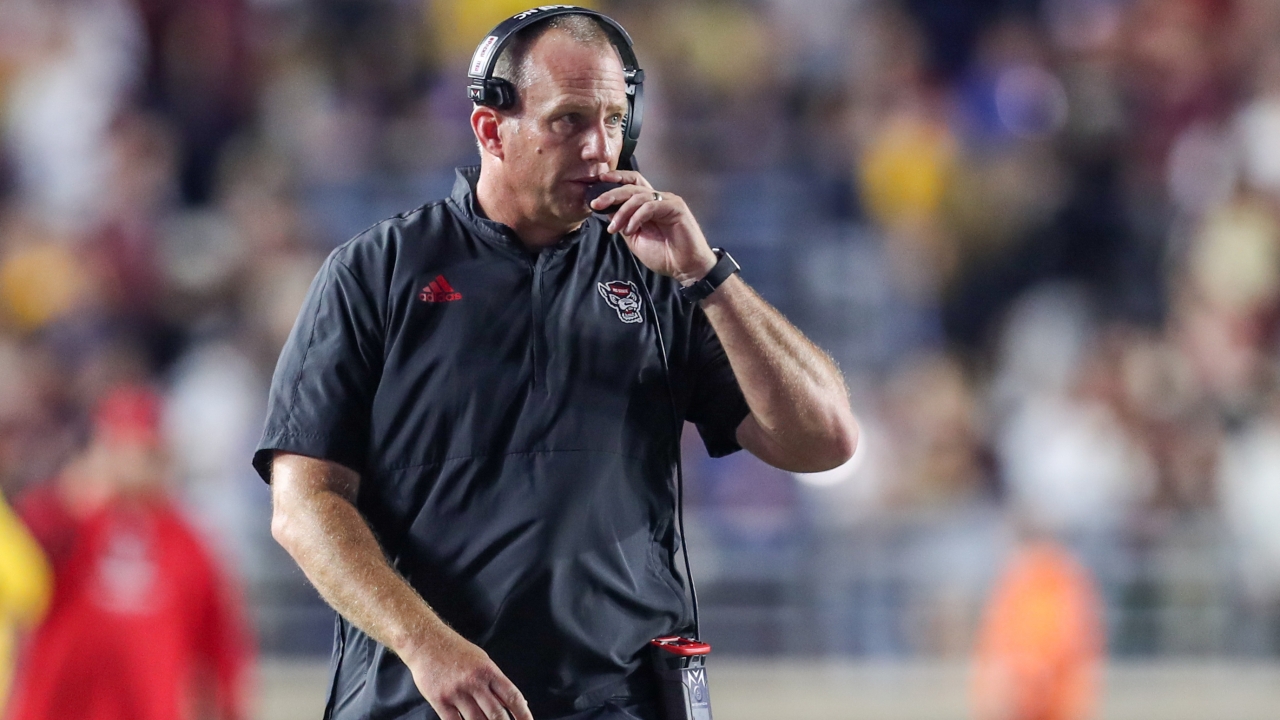 Photo by Paul Rutherford-USA TODAY Sports
NC State Football
DOEREN: "Our guys have a chip on their shoulder"
---
NC State head coach Dave Doeren met with the media Saturday afternoon following the team's annual Spring Game.
Note: Click the video in the player above to watch the press conference.
---
Opening statement
Nice day in the stadium. I think things went how we hoped they would. I thought the guys caught the balls pretty well, the receivers. It was good to see that. A lot of guys got to make plays, Devin [Leary] threw it well. And we came out of it healthy; the only way you lose in a game like this is to have an injury. It's good to see Chris Dunn hit that field goal. It's the conclusion of a very productive spring for a lot of players. For the new guys, they get install and you get to see them learn and grow, see how they start gaining confidence. And then some of the guys that maybe aren't as new but haven't been here but a year, to see Julian Gray and Anthony Smith make plays like that, it was kind of what we were hoping to see. And then to get the ball to some of our young [running] backs. It's a valuable day in the stadium. I thought GiGi's being with us was special, it was fun to have that moment at the end of the first half with them, to see them score a touchdown and celebrate with our players. I appreciate the fans that came out today, I know it's Master's weekend, a lot of stuff to watch on TV. The fact we had so many fans here meant a lot, so it was a good day's work and I'm excited for what's to come.
On if the chemistry between Leary and the young receivers today is new…
No, not necessarily. Those guys have been taking a lot of reps with Ben [Finley] too, so it hasn't just been with Devin. And they've been up and down. Talking about three different guys, but there's been great improvement with [Gray, Smith and Fred Seabrough] all three, but there's been a couple days where they weren't as crisp. The first scrimmage in particular, and then the second scrimmage I thought they came back and made some plays. And then today it was really good to see those guys. I thought the tight ends as a unit caught the ball as a unit today, for the several of them that got involved in the pass game. It's a good group of young players in those positions. It's good to see Porter [Rooks] get one in the end zone today too, I thought Keyon Lesane caught the ball well. A lot of positives.
On the gap between spring and summer for the players…
It's not hands off, we still get to be with them eight hours a week, so we'll be around these guys. They're gonna get some time now, we're gonna give them time here to get healthy and to get ready for final exams. But when we get our summer one in the middle of May, that month of May and the first two weeks in June, we will be very hands on with the guys. I think it's good they get a little time away from us to kind of decompress and get healthy and finish strong in the classroom. They'll come back summer one ready to work.
On Jordan Houston getting his chance after waiting a few years…
I said this to Jordan's mother this morning, I'm really proud of him. I think he showed great character. He came here for a reason, he had good players in front of him. I think he maximized his role while they were here, he continued to work and earn our trust, and we completely trust him. We're excited for him, it's a great moment. To me, it's a great lesson. When you watch some of these teams, even in basketball, you're seeing a lot of these guys who stuck around on their teams get into the Final Four. It's an older group of teams in the Final Four in basketball, and we are an older team. My hat's off to Jordan for having that resiliency and staying persistent. As far as this spring, he had a good spring. We're excited about what he does, he's playing fast, he knows the offense and he can do a lot of things. Whether he's catching the ball, running the ball or in protection, he can do a lot for us. I'm excited about him.
On how he feels about the battle for the left tackle spot…
Obviously there's gonna be a spotlight on that because of what we lost with Icky. We're a long ways from naming a starter. These guys are practicing hard, they're playing well. I know there's room to grow. All these reps are critical for Anthony [Belton], every rep he gets he's gonna continue to get better. We love his measurables, his consistency, his work ethic. He's very long, he's a tough kid, he can bend. And Tim McKay and Bryson Speas give us two more guys that can rotate, and they're getting better. There's progress that needs to be made. I think once we get everybody healthy and get Grant Gibson back out there as well, I think the experience with that group is a strength.
On if having some time off will motivate the players…
They're really motivated. I think they've heard about [the hype] since we got back, the "way-too-early everything." I think we watched that happen across the road at the other school. We understand that if you don't take care of business, it doesn't matter what people say about you, so our guys have a chip on their shoulder. They're very motivated. We didn't get to the ACC Championship last year, [so] we have a lot to prove still. I think you'll see a very motivated roster when they get back out there.
On the team's depth…
We've improved our depth this spring. Getting the long-term injured guys from the fall out of the mix and allowing these younger players to get reps this spring helps to create some competitive depth for fall camp. It will be fun to see when we get Payton [Wilson] and Isaiah [Moore] and that whole crew back out there. Because I'm really impressed with the growth of Jayland Parker, a guy who really didn't play at all last year for us and now he's a guy that we can look at and see what he can bring to the table with Levi Jones leaving. I feel good about it. There's positions, left tackle being one of them, where we've still got a lot of things we've got to figure out from a depth standpoint. As a roster, I like the growth we've had from the threes and the twos.
On how hard it is to sustain having a deep team year after year…
It can be hard. I think a lot of it depends on guys that come back and guys that leave early, too. Some of it is unpredictable for us right now with roster management the way it is. It's not like it used to be when you had a senior you knew he was done. You don't know who could come back for next year, or who could declare early. It's kind of hard to think that far ahead, to be honest. You just do the best you can filling your roster and at the end of the year you see who's leaving and you go out and try to fill it back up again. So it is a challenge, but our roster management has never been like this in college football. Not just for us, but for everybody. It's unique.
Never miss the latest news from Inside Pack Sports!
Join our free email list