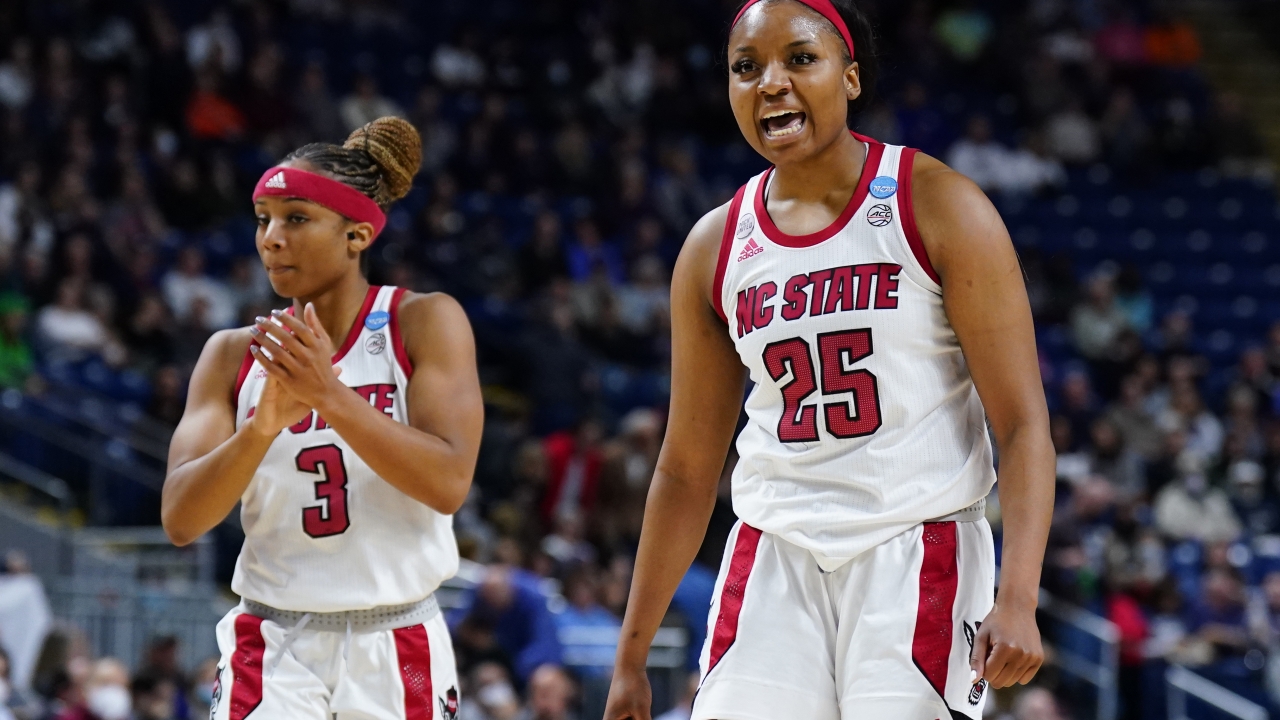 Photo by David Butler II-USA TODAY Sports
NC State Women's Basketball
Wolfpack Women's Starting Five Previews Matchup With UConn
---
No. 1 seed NC State guards Raina Perez, Kai Crutchfield, and Jakia Brown-Turner, forward Kayla Jones, and center Elissa Cunane met with the media Sunday afternoon ahead of the Wolfpack's Elite Eight matchup versus No. 2 seed Connecticut Monday evening.
---
Kai, I was joking with your dad at I think it was the K-State game. I said, Kai might be the best defensive back in the house. I talked to him this morning and Brandon said you got those skills from him, but your dad said that you had been working out with Brandon and some other guys playing DB and working on that footwork skill. How has that translated into you getting to the passing lane, breaking up passes?
KC: Yeah, I had worked out with my dad and my brother and some of his friends. It's really being able to read the offense better and just knowing when to break on the ball when the person passes it, just kind of like being like a DB or a line backer. It's definitely transferred over. I feel like you see it's transferred over. It's one of those things that has become second nature to me, so I feel more comfortable breaking on the balls now.
Jakia, I was talking to Azzi earlier and she mentioned you go back before your battles in the WCAC. Your thoughts on facing her again and what do you remember about facing her in high school and the challenges she presents?
JBT: Yeah, Azzi is a great scorer, a great player, and I'm very familiar with how she plays. I know we're going to have to run her off that three-point line.
How neat is it to have so many WCAC players represented this deep in the NCAA Tournament?
JBT: It just shows that the WCAC is a great conference. I'm definitely biased but I think it's the best conference in the country. But yeah, it shows the WCAC has a lot of great players.
Kayla, you exited the game in the fourth quarter yesterday. Physically how are you feeling? You guys have talked so much about wanting to get past the Sweet 16 and that being a big goal. How have you been able to balance being able to celebrate that accomplishment while also knowing you have another game to play and you have more that you want to accomplish?
KJ: Well, I feel great, my body. BK and Felipe, they've done a great job helping me recover, and we're going to take the day to help recover and calm the knee down. And when it comes to getting over that hump, it's just an amazing feeling so you have to embrace that. Enjoy the moment, and like I said, we've been just living in the moment this whole tournament.
Raina and Kai, just getting to the Final Four would be amazing, I know, but to beat a program like UConn to get to the Final Four, how amazing would that be for this program?
RP: I think it would be huge. I mean, just finally getting over that Sweet 16 hump was huge for us, so just having another great win and big win against UConn would be huge, as well. It would be big for the program.
KC: Yeah, I definitely agree with Rai. It would be big for the program and just getting to the Final Four in general, I think it would be huge itself.
Raina, I think you were the closest to being alive the last time that you guys were in this spot. I think it was by two months, which shows how long it's been for you guys. What does it mean to have gotten that drought ended, to be at this spot, and what's it going to take to get to the first Final Four since '98?
RP: I'm not that old, but I think it's huge. Like you said, the last time I think we were there it was 1998, and so it's huge for this program. It's going to take a lot of hard work and grit in this game especially just because it's UConn. They're always a good team, and we've just got to fight real hard and we can get there.
Jakia, just want to add on what you were just asked. Can you just talk a little bit about how being from the DMV has prepared you for not just this year but your career? I wonder if there's anybody from back home that you would like to thank, as well?
JBT: I'd definitely like to thank all my coaches and trainers from back home first. But definitely WCAC, every night we had a hard game, and it transferred to college because every game is going to be tough. I think in high school we prepared every day and before every game, and that transferred over to college. The same way we prepared in high school, I prepare now.
Geno Auriemma who's been there a bunch of times has said repeatedly that this is the hardest game in the tournament, the one to get to the Final Four. Just for any of you to talk about what the pressure is on you because of this huge drought that you've overcome part of, to get to that Final Four. How much pressure are you guys feeling?
EC: Honestly I don't really feel like there's pressure on us. I feel like as a team we just want to prove what we can do and play to the best of our ability. That's not because it's been a drought. It would be an amazing accomplishment for us, but we want to do it for this team that we've worked so hard for this year and for our coaches and for the fans and for everybody. I think it's cool to make history and do all that, but I think we're really just focused on playing our best basketball.
Since the brackets came out and everyone saw the field, fans made a big deal about you guys having to come here, of course, and potentially play UConn. Now the game is actually here and you're going to play UConn for a trip to the Final Four. Would you want it any other way? If you've got to get there, would you want to go through the powerhouse, the best? Is this the way you'd actually want it?
KJ: Yes. I mean, it was written like that. I feel like Kai said it, it's all written. God has it planned out. That's how I see it. That's why I'm not worried. It's no pressure really because we've just got to play good basketball and that's something we can control, our energy, our effort. The way the brackets look, like Coach Moore said, we're focusing on one game at a time so we don't put that much pressure on ourselves because it's something we can't control. We're just ready to play, that's the main thing.
Raina, this team, your team is very balanced in terms of what you can do offensively. UConn is similar in that sense. How do you see that matchup in terms of what you have to do defensively to know that there's a variety of weapons that they pose offensively that you'll have to shut down? And, vice versa, how does that help you when you guys are on offense, that you know that they have to do the same thing and try and stop a majority of you guys who can go out and score, too?
RP: I think we've just got to follow the scout. We watched film this morning, we watched film last night, and we've just got to go by the scout to get some stops and then score in transition, make them turn over the ball. But I think it's good that we have a lot of depth. It's going to be hard for teams to kind of stop every single person on this team, so if they take away one player, we've got someone else who's going to step up, so I think our depth is going to help us a lot.
Raina, you've been involved in your short time here at NC State with two of the biggest plays in the history of the program. How does that translate to your confidence on the court and how you're going to apply that in the game tomorrow?
RP: I mean, I'm real confident. After you hit one play, you're confident. After you hit two, you're like, oh, shoot, right? It's crazy because I never really expected for those things to happen. You don't go into a game saying, oh, yeah, I'm going to hit the game-winning shot or I'm going to get the game-winning steal. You don't ever think those things. It definitely brings up my confidence, and I'm just happy that it helps the team win. That's the main goal.
You had a really good rebounding game yesterday and obviously that's going to be a key. How much of a focus has that been for you guys?
EC: Huge. That's one thing Coach Moore focuses on all the time is that offense sells tickets, defense wins games, and rebounding wins championships. I think we're really just focused on rebounding. And yesterday in particular, I was focused on not letting her get O-boards, not letting the other team get O-boards and that's going to be huge tomorrow as well, looking at the numbers that UConn put up yesterday as well. I think just focusing on boxing them out and not letting them get O-boards and then hopefully going to get it myself.
Kayla and Kai, both of you are graduates. What was the decision to come back? Was there ever a doubt that you would come back, and had you not come back, what might the two of you be doing right now?
KC: I don't know. So the reasons why I came back, I felt like it was a no-brainer. Another year of education, one; and two, I mean, I just love these girls, really. I love the program, I love NC State. I was born and raised in Raleigh, so just leaving NC State -- I wasn't ready to leave yet. What I'd be doing right now, I have my own business so maybe focusing on that a little bit. I'm not sure. I guess corporate America. I don't know.
KJ: Basically to piggy-back off what Kai said about coming back with the team, I really love my teammates and I feel like we've gotten closer this year, especially Rai because she was quiet last year, so we get more of her personality. And then I feel like we weren't done; it was unfinished business. To just get over that hump and then to see it happening now, it was worth the come-back. What I would be doing, I have no idea. I have no idea. Hopefully basketball somewhere on the next level, but yeah, I don't know.
Kai, I was wondering what Elissa just said about you're not trying to make history or anything, you're just doing it for your team. Having been together so long and winning the three ACC tournaments, does that just give you more and more confidence as you go along?
KC: Yeah, I would say it gives more confidence, just that team camaraderie and gelling together even more over the past few years. And like KJ said, we weren't finished yet, so having that -- I guess building on to that confidence, that team chemistry, it really helped give us an extra oomph, and that oomph helps us get over the Sweet 16 hump.
I have to follow up on Kayla's comments about, Raina, you being a little quieter next year. How have your teammates coaxed you into being more vocal?
RP: I don't know, I just feel like last year was the first year. It was COVID year. You don't really get to like see the school before you get here, you don't really meet the girls before you get here, because I couldn't take an official visit. So going in there, it's like new everything. So you don't really know. But I was just always in my room. I was kind of more of a homebody, watched TV, kept to myself. Then this year I was like, it's my last year, I've got to get out and start talking.
KJ: She's really goofy. She shows her personality. We love it.
KC: We tried to talk to her.
KJ: We tried. We really tried.
What's the goofiest thing she's done?
KJ: I guess her cheesy jokes. But it's Rai.
KC: You don't expect her to make a joke...
EC: She says the East Coast is terrible and the West Coast is the best coast.
I wanted to piggy-back off the question in regards to you guys being in this position where you have to win a de facto game to get to the Final Four, but this group has won some tremendous games on the road before. How will you be able to take that experience going into the game tomorrow to help you shock that crowd that'll be in attendance tomorrow, most of them rooting for UConn?
EC: Yeah, I think tomorrow is a home game for them. There's no question about that. We've gone to South Carolina and beat them at their home, we've gone to Louisville, beat them at their home, Indiana this year. We're capable of beating a great team on their home court, so we know we're capable of doing it tomorrow.
You talked about Coach Moore's humor, intensity, all of those things that you see in him as a coach. Has he ever opened up to you about his background, growing up in Texas, went to school in Tennessee, what brought him to NC State? Have you ever heard him talking about those things?
JBT: Yes, we've heard a couple of stories. Well, his friends are down here right now, so we've been able to see a couple of his middle school pictures and when he was younger and stuff. But yeah, he definitely talks about his journey here and how he's grateful that he's worked hard to get to where he's at now.
Never miss the latest news from Inside Pack Sports!
Join our free email list