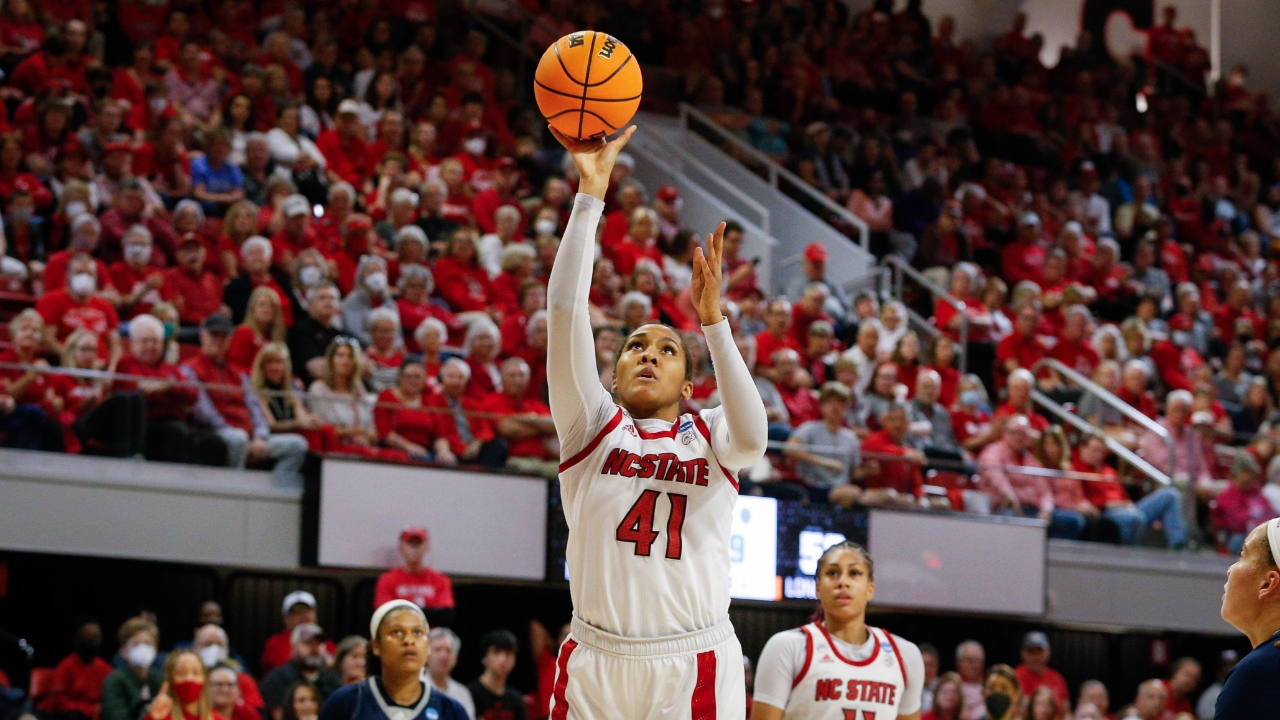 Photo by Steve Murphy/Inside Pack Sports
NC State Women's Basketball
LOCKER ROOM REPORT: Top-Seeded Wolfpack Advances to Fourth Straight Sweet Sixteen
---
No. 1 seed NC State head coach Wes Moore, forward Kayla Jones, and center Camille Hobby met with the media following the Wolfpack's 89-57 win over No. 9 seed Kansas State in the second round of the 2022 NCAA Women's Basketball Tournament.
Jones led the way for the Pack with 18 points on 8-for-9 shooting from the floor with five rebounds and three assists. Hobby added eight points in 22 minutes off the bench versus the Wildcats with one rebound and one assist.
NOTE: Click the video in the player above to watch NC State's press conference.
---
Opening Statement
WM: Just couldn't be prouder of these young ladies. Every challenge that's put before them, they just step up and unbelievable. Off the court, on the court, I'm just so blessed to be around them. And so just very thankful. Obviously these two, KJ today and every day like I said, she's our glue, she fills up the stats sheet with a little does a little bit of everything, makes plays on D, rebounds, scores the ball, assists, just does it all, great basketball IQ. And then Camille, every time we call on her, she steps up against one of the best post players in the country and she did a phenomenal job on the defensive end and then was able to score the ball as well. And so, again, it's great to have this much talent and depth that you can, you know, rotate and somebody gets in foul trouble, somebody's having an off night, we got a lot of people that can step in and we don't miss a beat. So it's been a fun ride, and we're excited about what's ahead.
Kayla, today was your last game in Reynolds. After the game I saw you looking around at the crowd throwing up hearts for everybody. What did that moment mean for you to be able to stand there with arms around your teammates and sing the song one more time?
KJ: Just soaking up the moment. I have been excited all morning at shoot around. It's just been happy. I want to soak it in. I love Wolfpack Nation and I love our fans, the energy they bring. It was just an amazing feeling.
Kayla, just how proud are you of what Camille did today on [Ayoka] Lee, defending her?
KJ: I am so proud of her. Coach Moore always talks about next man up. He got on all of us in practice. You never know what's going to happen in a game. She showed it today. You have to be ready. No matter what's going on just stay ready and then the opportunity presents itself, and she was ready.
This is for Camille. Walk me through a little bit your thinking when Elissa [Cunane] gets the fouls, you come in and obviously you scored. You avoided cheap fouls. You didn't get your team in worse position by the way you played defense. How did you handle that?
CH: Coach Moore always talks about being ready. Like KJ says, I was ready for that moment. At practice that is what we do every day. When the moment presented itself I felt I was prepared enough to take on the responsibility.
On the defensive end, Lee, she presents so much of a challenge. What was your mindset, your approach to trying to keep her off the boards and trying to keep her from scoring as well.
CH: Just trying to keep her pushed up against the lane. She has a great touch around the basket. So I was just trying to disrupt what she likes to do, and what she's really good at. That was my mindset and to just help the team win.
You had a big game at Virginia Tech last year, but because of the circumstances and the fact that it's a tournament, did you consider this your best performance as a Wolfpack?
CH: I'm pretty hard at myself, I can always pinpoint things I can need to do better. I'm just going to continue to work hard and do the best I can for this team.
Kayla, I think you only missed one shot tonight. I think you were 8 of 9 from the floor. What was working for you? Did you just like the looks you got?
KJ: Just being aggressive and my teammates found me in the open spots. That was really the biggest thing. Go in the game and be aggressive, being the threat. Rebounding, making assists, making a play on defense, just stand ready with energy.
This is for either player. Congrats on the win first and foremost. But can you just talk about the show that you guys wanted to put on for this Reynolds Coliseum crowd, obviously the last game that you will be playing her before you head to Bridgeport? I know you wanted to put a show on for them. Can you speak on what that meant to do that for them?
KJ: It was amazing, just to hear how loud they were and just to leave on that note. As a senior, I mean, it was a great feeling. And I'm sure all my teammates can say the same. To come out with a win like that, it was amazing.
Among all the crowds you have experienced at state, how would you rate how loud it was today?
CH: It was extremely loud. Just look around, you see everybody jumping around like little kids and adults just going crazy adds to the atmosphere and just makes it a lot more fun.
Coach Moore was named a finalist for Coach of the Year earlier today. I was wondering, he's kind of bragged on both of you. Can you brag on him and what he means to you?
KJ: Yes, I can.
WM: Please stop recording.
(Laughter)
CH: Coach Moore is extremely hard on us, it's just because he cares about us so much. He wants the best for us. You have to know his heart, where it comes from. And his wife, Linda, she's a great woman. And she definitely feeds into him. And he's a great person and coach, too.
KJ: I love Coach Moore. Like Camille said, he is hard on us but we know it is coming from a genuine place. He sees the potential in us and how far we can go. I mean what kind of coach is not going to push you? That's what he does. He pushes us to be the best that we can be. And I appreciate you so much.
(Laughter)
Taking a big picture look at the state of the tournament and considering last year's gender equity issues, you know, a lot of spotlight on the men's tournament getting a lot more stuff., having a lot more attention. How does this tournament this year for you compare to last year?
KJ: It's just a great feeling that they are recognizing women's basketball, and it's a step they took. And we are just happy to be a part of it.
CH: Sometimes women's sports don't get the same respect as mens. But I think they are doing a better job of trying to be more inclusive and diverse in the things that they do. Like Kayla said, this a step, but I think there could still be more things in the future for us.
Wes is obviously known for his one-liners and isms both in post games and y'all have talked about during practices. Do you have a favorite one that sticks out in your mind as your favorite one-liner from Wes?
CH: My favorite is when he's like urgency, you need urgency. He gets low and says like, urgency, we need it.
KJ: Guard the ball! Guard the ball! In there he turned red, I don't really know. That's it. That's how you know he's not playing.
(Laughter)
First of all, Camille, obviously you have your coach in Coach Moore. I noticed your dad was here again tonight. He had his Camille shirt on. He coached at the highest level in the NFL. What's it like growing up with a father who is a coach? Does he coach you up in talks in conversations before a game during the season. What are those basketball conversations like with a coach who is a father?
CH: I think there's a difference with him being a coach and him being a dad. He's my dad first. He talks to me like any other parent talking to their child also with the experience of being a coach. So there's definitely some coaching but there also is father time and just supporting me and wanting the best for me.
WM: Both of them have unbelievable fathers. And moms. Don't want to get in trouble here.
(Laugher)
Follow-up for Camille. Can you expound on what you would like to see more done for the women's game, because I don't think there's a greater platform than this right here than to speak on what needs to be done to continue the improvement that's taken place in the women's game?
CH: Just having support. We've seen in the past when women's games are on TV, people watch them. So more games need to be on TV, not ESPN+ but ESPN. Have us on there and give us a chance to perform and show that we're great. And we're some of the best athletes that there are, that there can be.
This is for Kayla. At the preseason media day in Charlotte, you said the goals have to be bigger than winning another ACC tournament. I think you said you were tired of just going to the Sweet 16. Now that you are in this position again, what is the mindset for you now for you and the team, considering the expectations that followed you guys all year?
KJ: Well, first, like I said, we always take it one game at a time. And then we're going to listen to Coach Moore's game plan. Whoever we have next, we're going listen to him, know the scout. Be ready, and just be ready to play ball. It's not going to be easy. So going out there, throwing the first punch like I always say and being aggressive.
Wes, how did you like the way -- you touched on this -- how they responded. This is a big game, it's an emotional game. They came out and they played well even with things didn't go with Elissa picking up the quick foul. That didn't seem to affect anything.
WM: They have a lot of confidence in Camille as well. And they have a lot of confidence in themselves. They feel like we have the depth to overcome that. But I was a little concerned about it because this was their last game in Reynolds. And didn't know how that would sit with them, affect them, but they just, you know, they just come out and play and they enjoyed it. The crowd makes it so easy to get excited and have confidence. And we went out to eat last night, the whole team, and to dinner, and when we walked out of the restaurant everyone stood up and applaud. It's amazing what they have done in this community. And part of it is winning. I mean, there's no doubt about that. But part of it, you just saw what kind of young ladies they are, and so everybody's really been unbelievable. So we're just so blessed. I mean, I'm shocked. I look at this place selling out about every game, and it's just -- you know, we're very blessed. And it goes all to these players, the student athletes that have been here four years, five years, and took it from where we had a lot of empty seats to where now it's just an unbelievable atmosphere. And I think they feed off of that night after night.
Coach, you talked about the confidence they have in Camille. But can you just kind of touch on the confidence that she has to come on the floor. She's aggressive right away. She doesn't get rattled. You said yesterday you have seven starters. Can you talk about her role coming in. And looking the part to start her right of the bench.
WM: Camille Hobby? Yeah. You're right. She got a lot of confidence. And she wants to have a bigger role, obviously, she will. But how many kids are going to do what she's done? And the modern times of transfer portals and all that stuff, how many kids are going to sit there and say, you know what, I'm just going to keep working and loving my teammates and being prepared. And you know, there's been a lot of games that we wouldn't have won without Camille Hobby. So it's just a blessing to have here. It says a lot about her parents and how they have raised her. And great family. Just unbelievable family. And again, she has a lot of confidence. She wants to be out there. We were at -- I think it was at Virginia Tech, she picked up some quick fouls like she did today. She's coming out -- I'm not very smart, I look ahead too much. I said, Camille, what are we going to do next year when you go out and get fouls this quick. Coach Moore, I'm trying to win this game right now. I'm not worried about next year. That's a heck of a point, Camille, go sit down.
(Laughter)
Wes, towards the end of the game you sent Kai Crutchfield back out to get that one-last curtain call, how important was it to give them that moment in front of the crowd, to give them that proper send-off?
WM: Yeah, I thought KJ and Raina [Perez] kind of already had that. I wanted to get them back out there for a second. And I was hoping the shooter for them would hit the free throws that that would have been nice and easy. But worked out well anyway. And they deserve it. Like I said, when they came in here, they took a leap of faith. We weren't in the top ten year after year, whatever. And so they took a leap of faith to come to NC State and to build something. And first couple years weren't easy. It's not easy jumping from high school to this level. It is tough. And so sometimes they don't understand, but what they have done is unbelievable. They deserve a lot of curtain calls. Like I said, I have been riding their coattails now for a few years, and I may need to see if I can graduate this year, I don't know. We're going to miss them.
Wes, you talk about the confidence that they had when Cunane went out. Do you think some of that may have been, you know, you have been in that situation before, ACC title game a couple weeks ago. She goes out and you have to have players step up in the moment?
WM: Yeah. She's done it several times. Last year due to COVID Elissa was out. And we went to Virginia Tech and Elizabeth Kitley, one of the best post players in the country, Camille scored 19 points that night. We all had a lot of confidence in here. And Elissa obviously is All-American. You don't want to see that happening. That was one of my fears coming into this game. You got her guarding Lee and we could get in some foul trouble, and we tried to deny her the ball some so we wouldn't get in that position where she can attack us, but she did. Again, one of her fouls was diving for a loose ball. She needs to just give that part up, when you're 6'5" it takes so long to get down there, you're going to fall on top of somebody. You are not going to be the first one down. She needs to quit trying that. Yeah, I just think, again, you look at Diamond [Johnson], you look at Jada Boyd, on and on and on. In practice this year, normally I put the starters together like at least every other day. I'm not doing that this year. We got a lot of talent, I'm just mixing the teams up everyday because you don't know who you are going to be in there with in a game situation. Again, even the freshman when they come in, I mean, Aziaha James makes Sportscenter Top Ten. Hey, they all got confidence.
Lee, while she got some points, she really was not dominant in either of the games. What did you do defensively to neutralize her the way you guys did?
WM: Well, we tried to mix it up some. Tried to three-quarter deny her some, and tried to keep her pushed down a bit. And there was other times, maybe with an overload situation and we had two guards over there on the ball side, and we could help in front of her. And we just try to keep her pushed up and one of the guards would help. And they were just kind of on the rope, whoever's man had the ball the other one would help. We had some kids that we just took a chance on hoping they wouldn't hit shots, and we tried to sag and help on her in that situation. I know probably the fans a few times are like, why aren't you out there? You have to pick your poison. Lee is an unbelievable player. Again, I said it yesterday, she scored 61 against Oklahoma. You got to have a plan, you have to have some options because one thing probably isn't going to work by itself.
Coach, you guys have had some huge atmospheres and some big games here at Reynolds Coliseum this year alone. But what did it mean for you guys to have a performance like this tonight knowing this was going to be the last game of the year in Reynolds and four games left on the schedule?
WM: Like I said, I was worried about it. I didn't know how we would responded. We also had played this team earlier in the year. So I was worried about, you know, are we going to be a little complacent. Worried about are they going to get emotional about it being the last game in Reynolds. And all that stuff. Like I said none of that phased them. The ones that have been here five years, are probably saying oh, good, I don't have to hear Coach Moore on Reynolds anymore. But I think they just go out and play. They love playing the game. They play so well together. They just get lost in the moment. And don't think too much. Like I said, the crowd makes a big difference. There's no doubt. It's amazing. It really is. The atmosphere they are playing in right now, it's just a lot of fun. And that probably helps get them a little loosened up and pumped up as well.
Yeah, Coach, your All-American center played 14 minutes tonight and you almost won by 30 or something like that. We talked a lot about your depth this year and how it's been great. Did you have to change as a coach to learn how to trust the depth and deeper down the bench more this season?
WM: I'm still learning every day. And part of it, what's been nice is most of them are unselfish and are willing to maybe not score quite as much. If you look at our stats from a year ago to this year, most of their starters, their average is down probably three points a game. When you have Diamond Johnson out there putting up shots, that's going to happen. She's going to adjust everybody a little bit. Part of it, they made it easy. And I'm still trying to figure it out and learn on the fly a little bit. Just see how the game is flowing. If somebody is picking up a foul, somebody is looking tired, whatever, if we want a teaching moment, maybe there's something we need to point out and correct. It's great. I have never had this much depth before. It's definitely been a lot of fun. And that's how you go, you know, 20-1 in ACC games. You got a lot of people that on a given night can carry you and pick you up.
Coach, you get paid pretty well to worry about all the things that you talked about you worry about. Going into the Sweet 16, are there things that you feel pretty good about that you don't have to worry about going over these next couple of days before you head up?
WM: No, I always worry. So, you know, we got a great challenge ahead of us. And we know next step is going to be either Oklahoma or Notre Dame. Obviously, Notre Dame beat us this year up at their place. And Oklahoma playing extremely well right now. We know we're going to have a big challenge there. That's what our focus will be on. As you said, we've gone to the Sweet 16 three years in a row, now four. And they are not satisfied with that. They didn't come back to do that again. So I think they're still going to be hungry. And we know we're going to go into a hostile environment now. Now it's our turn. Okay, you know, these kids, again, they got a lot of confidence, a lot of experience. They have won big games on the road. Last year beating South Carolina and Louisville, both ranked number one in the country. Beat both of them on the road. I'm confident they will handle it better this time and we got the depth to hopefully overcome any adversity we might face.
Wes, congrats on the win. I saw you give Raina a big hug when she came off the floor for the final time. What has she meant to this program over the last years?
WM: Unbelievable. On one hand, I'm ticked off we didn't get her for four years. On the other side of the coin, we could have had her for one if it hadn't been for the COVID super senior rule. So we got really blessed having her an extra year. She's just unbelievable. Her work ethic, when we're doing drills, a lot of kids are just trying to get through the drill. She is trying to get better on that drill. Everybody loves her. You drop her into a group. We had everybody back from the year before, you drop her in, it could have blown up on us, everybody loved her. It's like she's been here for three or four years. Unbelievable person, player. You can't help but pull for somebody that's small, vertically challenged like she is, to be able to go out and do what she does. Again, just the confidence and she's not going to back down from any challenge. And just, you know, love her. Love her.
Hey, Coach, congratulations on a very impressive win today. I know there's always things to correct, but who did you do especially well today that you're going to look to build upon as you head to Bridgeport?
WM: Looking at the stat sheet, we had 16 assists and only 6 turnovers. So that was good. They went and got 4 offensive rebounds. So we did a pretty nice job keeping them off the glass. And they played zone pretty much the entire game, and sometimes that can be scary if you settle for jump shots all day. We shot the three pretty well. 9 for 19. But we were also able to still get the ball inside and score 42 points in the paint. So that's encouraging. Because we know we're probably going to see zone in the next game. So we definitely need to build on that as well.
Never miss the latest news from Inside Pack Sports!
Join our free email list