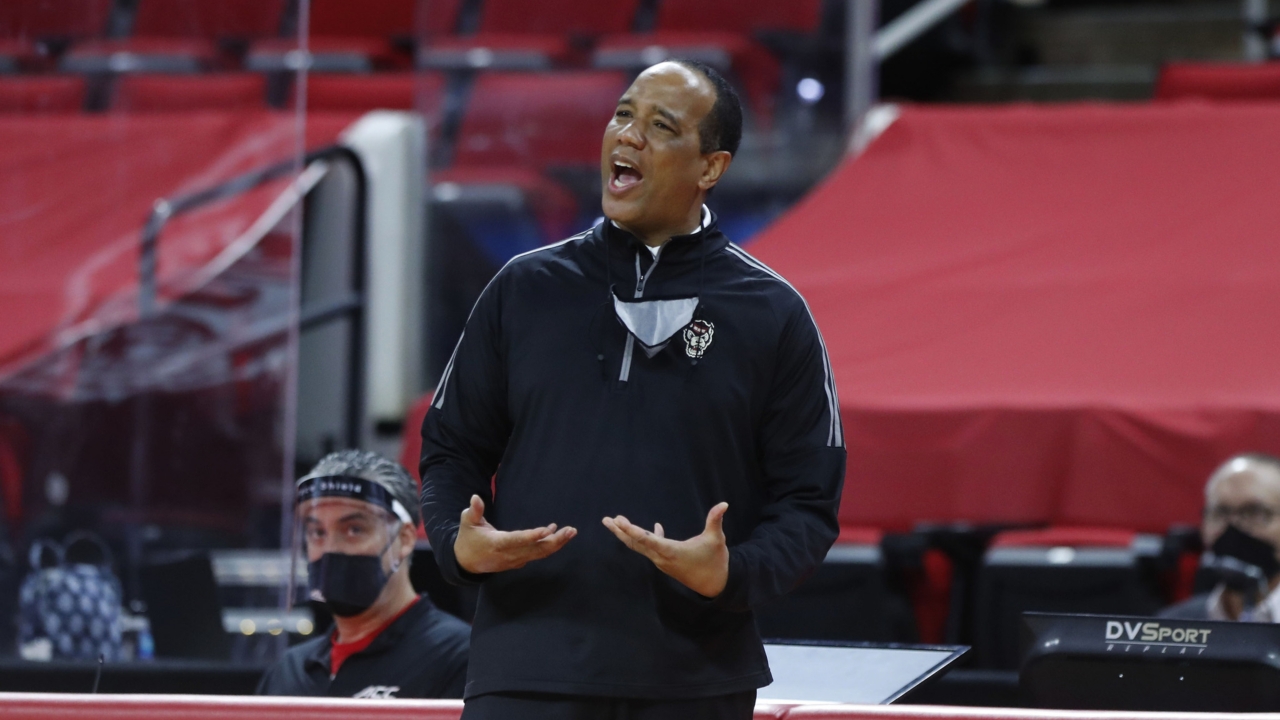 Photo by Ethan Hyman, News&Observer
NC State Basketball
Kevin Keatts: "Our Guys Are Still Fighting And Playing Together"
---
NC State head coach Kevin Keatts met with the media via Zoom on Friday ahead of the Wolfpack's upcoming road matchup against No. 8 Duke Saturday afternoon.
NOTE: Click the video in the player above to watch Keatts' press conference.
---
On Duke's roster and why they're so good
They have one of the most talented rosters, not just in the ACC, but in the entire country. When you talk about [Paolo] Banchero, he's a unique, special player. He's one of those guys that don't come around very often. His ability at 6'10" to be able to score inside and out, take you off the dribble, and be able to knock down threes is just a challenge all by itself. Their group is talented, and the reason why they're talented is they've got some really talented freshmen. But I think what makes them go, when you look at Mark Williams as a sophomore and Wendell Moore as a junior, those guys kind of lead them. They've got some leadership. It's a really, really talented roster and talented team.
On what Miami did to beat Duke and what NC State can learn from that
I thought Miami made some tough shots. I thought they played with extreme confidence, and they made shots. Of course, Charlie Moore had a tremendous game. He was the guy who was the engine and drove the ball. I thought they were able to get into the paint. That being said, the game could have went either way at the end of the game. I thought Miami played great, and Duke had its opportunities. But [Miami] just made shots. They were able to space them and get to the paint a little more and just made some plays and played off of each other. It was a very good college game that was a flip-of-the-coin game. It could have gone either way. I think Miami, because of Miami's age and experience, they were able to come away with a good win.
On if the young team is excited to play in Cameron Indoor
I just think our team is excited about playing right now. Certainly, that is a good venue to play in, but it's not just about going to play Duke. We were excited about going to play at Louisville. Our guys are having fun. They're gelling. They're coming together as a team. Though we've had some ups and downs early, our guys are still fighting and playing together. If you come to any of our practices, you'll see the excitement that's in every practice we have.
On how a road win against Louisville will help going into Durham
It helps. We had just dropped a game at home against Clemson, and if you lose a game against Virginia Tech and then obviously right now going to play Duke, the number one team in the conference, or right up top, it's tough. I think it helps our confidence because we played a very good Louisville team on their floor. I thought it was the most complete game we played, meaning we played as close as we can to 40 minutes on both ends of the floor, and that certainly has to help as you move forward.
On if there's some personal disappointment that he may not get to face Mike Krzyzewski one final time
No, I just hope he's healthy. We're still going to get the chance to play against a really good Duke team on their home floor. I just hope Coach K is healthy. We're in troubling times. I read a couple things and it's not COVID-related, but at the end of the day the most important thing for me is his health and everybody else's health.
On his players having a love for the game and on how much that helps with such a young team
We've got a bunch of new guys, even adding in our transfers that are new when you add Casey Morsell. The common thing about all of these guys is they love to play. Terquavion Smith is one of the most competitive guys that I've ever coached, and that's as a freshman. A lot of times, through recruitment, you've got to find guys that fit your culture. Our culture is having a guy who wants to play extremely hard and works out in the gym. I like where our program will be moving forward because we've got guys like Ernest Ross and Breon Pass, who you haven't seen a lot of, and then the sophomore class of Cam Hayes, Dereon Seabron, and even Ebe Dowuona and Jaylon Gibson. We're extremely young and inexperienced, but the one thing about it is that all of those guys are willing to work to get better. Because of our youth, we're going to take some lumps, but it'll help us as we move forward.
On if Hayes is healthy and on his recent struggles
He's ok. What happens is he's not making shots. When you're not making shots, including the player himself, everyone kind of figures, "Man, there's something going on with him." But it's one of those things he's working on. He and I, the last couple of days, have got in the gym together, and we got some shots up. It'll turn for him. When he sees the ball go in the hole, I think things will change. He's just not making shots behind the three-point line right now, but there's no issues with him.
On the rivalry with Duke and on the team having some extra juice heading into the weekend
Our juice is getting a chance to play against everybody in this league. I know everyone will say, "Well, it's Carolina" or, "You're playing Duke" because it's down the street. That's excitement, yes. Our guys know a lot of those guys and everything else, but at the end of the day, we don't have any more excitement to play against the other team. We always say that if you stay ready, you don't have to get ready. In our situation, our guys are pumped to get a chance to play against every team in this league, including Duke. It's a good Duke program. What Coach K has done with that program is amazing, but when you look at our guys, we're excited to be playing basketball. I think we're one of the few teams that, knock on wood, hasn't had a pause. Just to have the opportunity to play, we don't take that for granted anymore. The last couple of years have taught us a valuable lesson that basketball can be here today and gone tomorrow. I know a lot of people want to hear, "Hey, we're playing against Duke. We should be excited." I think our excitement is because we're playing against everybody.
Never miss the latest news from Inside Pack Sports!
Join our free email list