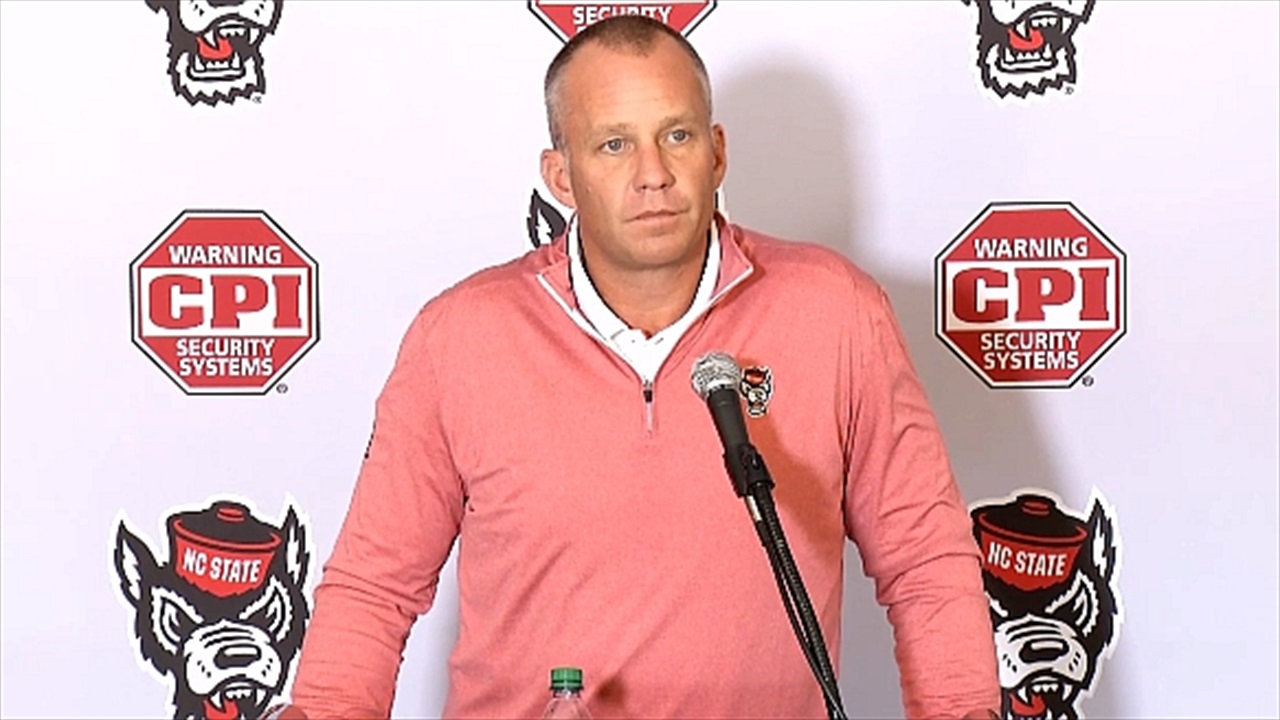 NC State Football Recruiting
Dave Doeren on 2022 Class: "I'm Very Excited About The Group"
---
NC State head coach Dave Doeren met with the media today and touched on a variety of topics, including the 2022 signing class and bowl practice.
NOTE: Click the video above to watch the press conference. Below is a collection of quotes from Doeren.
---
Opening Statement...
"I'm excited for the 12 young men... other than the one addition on signing day, there weren't any surprises. I'm very excited about the group."
"With our COVID numbers and super seniors... purposely this was a smaller class. We just didn't have as many spots. With that being said, it's the highest ranking in school history based on individual player rank per signee. I guess you'd say quality over quantity if you were going to rank our class."
"We met the needs we had. We led the state, out of all the ACC schools, there were 23 in-state signees in our conference, and we had the most of all 14 schools in the ACC... we had seven, the next school had six, and then five and four."
"I feel good that we continue to take care of our own more than anybody in this state. That's something I said I'd do nine years ago and I've lived up to my end. I'll continue to do that."
"It was great to have all of them send their stuff in early this morning. There was no drama and we were able to get out to bowl practice on time."
Overall thoughts on 2022 OL Jacarrius Peak‍...
We needed to continue to add offensive tackles to our depth chart, and Jacarrius is a very athletic young man. He's a long-wingspan, tall kid who plays basketball, shot, discuss.
We feel he has tremendous upside and is a hard worker. He comes from a great program in Valdosta. He's a good fit for what we do.
Obviously having what we've had here at tackle, we'll have Speas and Tim McKay back, obviously it's a year we'll lose Icky. We have to get some guys in the program we can develop, and we feel like he's one of those guys. To have a chance to work with a young man with his pedigree and ability, we found him somewhat late.
Coach Garrison did a really good job recruiting him... I think it was a win-win. I know they were very happy leaving here on their visit. They went and compared us to another school and felt like this was the best fit.
How is the health on the defense heading into the bowl?
Defensively we'll be healthier than in the last game. Devan Boykin is back with us now. Outside of that, it's the same group we've been playing with.
There were several guys playing sick and beat up and all the above in the last game. We had a lot of guys with the flu, and I think we'll be in a much better place. The guys out for the season are still out.
Icky... do you expect him to play?
Icky has been practicing with us and he's excited to go down to the bowl site with us and get our tenth win.
Can you reflect on the challenges from this cycle?
The last year and a half has been a lot of virtuals... like you guys in your profession.
Our recruiting staff deserves a lot of credit. Merci Falaise has killed it. He's done a tremendous job, and the staff we've assembled with him are really working well together. They do a great job communicating with the recruits... once things opened back up here in June, there was a flood of recruits coming through campus.
I wish we had 25 scholarships. When you have back-to-back years like we did, we could sign 25 guys easily, but we just don't have that kind of room with the number of players coming back.
That's a story for another time. That's taken over the excitement of our football team, running it back. Now we even have fans saying they are coming back. it's kind of funny seeing their messages. I love the guy who broke his leg putting his stuff on social media.
With recruiting I think this is a really good class, and I hope it doesn't slip through because there's not 25 guys in it but 12 really good players.
Thoughts on running back Michael Allen‍...
A really talented young man. It's easy to see as a runner why we like him... powerful, quick fast... good vision, good balance.
The things he can do as a receiver, we really thought made him stand out. He can catch the ball out of the backfield as well as run it. He's tough. He has the body type to hold up in protection... he's a multi-sport athlete so he's true competitor, year-round.
He comes from a winning program and great family... very mature.
With us having Ricky leave and Bam still undecided, we felt like we needed maybe not as much of a developmental player but a player who could maybe come in and play a little earlier if need be. I think he fits that... but until you get him on campus and see him react to the speed of the game, that's kind of the biggest unknown with any recruit.
With these recruits, were they concerned with guys coming back?
The conversation wasn't a negative, it was a positive.
The two linebackers we signed today are going to play with Isaiah Moore, Drake Thomas, Payton Wilson, Levi... they get some really good mentorship in that first year. For me, that's a positive for a freshman coming in the front door to have that player to learn from. They won't be here for three years but for one.
I look at this place as one of the best in the country in terms of developing players. Our players do a really good job, if you come to practice and watch them, of coaching each other, and helping each other learn.
That's a positive, not a negative, when you talk about the experience we have returning.
How much did the NCAA 85-man limit make it a challenge?
The NCAA has completely failed us as coaches with our roster management. I'm sure they thought it was a great idea during COVID to reward everybody with an extra year, and I can see why. I feel like the model we had last year to allow the super seniors to not count in our 85 was the right model.
To say that's a one-year deal but you awarded it to five years of players is not a good situation to be in as a football coach.
You are either recruiting fewer players, which means the future of your program isn't how you want it... which hurts the high schools. The number of high schools I've went in to where players have nowhere to go because of this rule, it's sad. It's really sad.
It increases the number of guys who want to stay. It changes our ability to predict attrition.
The NCAA really screwed this one up. That's my opinion, and they probably don't care what my opinion is. I hope there is some relief at some point to help the high school kids go who have nowhere to go. Not just them, they created a portal where guys can go where they want but there is no scholarship space to take any of them.
Do you have anymore space to add on to the class?
It depends on attrition. If we have attrition, the portal stays open until August. If things happen between now and then and we can add, we will; if it doesn't, we won't.
Does the small class hurt you down the road?
It can. It probably puts you in more of a portal recruiting mode at some point to make up for lost players, maybe not.
I think there will be a lot of rule changes in the next 24 months... with the addition of the portal guys and the calendar doesn't really meet their needs, either. They go in after the season and it's a dead period and they can't even visit anywhere. The whole thing needs to be re-looked at.
Maybe they will allow us to recruit differently in the future... it definitely needs a tune-up based on the evolution of college football.
How much was NIL a topic with the class?
Not as much as you would think. It comes up some, but it's not a point of contact for every conversation. It's talked about a lot in the middle. In the small circles of recruiting, more about what our players currently have and how do they go about doing that... less about what can you give me, at least in our experience.
Do you know early enrollees of the 12 signees?
Not yet, no. That will happen in the next week or so. Again, another rule... you can only replace mid-year the ones you lose at mid-year, so until I know the exact number we'll have to hold and wait.
Quality over quantity... the best attribute of the class...
It's hard to answer. This is based on how the recruiting people rank them. So when I saw that it's the highest-rated it's based on how 247 and Rivals... rank the recruits. For what that's worth, it's the highest-ranked class in school history.
You guys know me well enough to know I care more about how they play and their career in four years than their stars today.
Developing the players... how much pride do you take in your staff doing that?
It's the only way we're going to win.
We have to find guys that fit the measurables we want on the field, build them up with the work ethic and intangibles to be developed. That takes a certain guy, too. Find guys who fit Hard, Tough, Together who will come in here and battle and compete.
We all work really good together, and that's the thing -- there is really good synchronicity in our building, and they all understand each other. Merci can sit in the room with me, Thunder, and Ruff... we'll go through the roster with coach Trevathan and talk about these guys.
It's a good group of people who understand the vision. They all work well with me and help me take this program from the signing day to the finish line to get to where we are in the league, the top three in the league.
Is Daejuan Thompson‍ the epitome if what you're referring to?
Yeah, total upside guy, very long and fast. He's an explosive player. Coach Gibson has raved about him as a contact player, went and watched him play in person.
He'll come in here around 190 pounds, and if things go the way we plan, he'll leave here between 225-235 pounds and flying around. He can really run. Now it's getting him into that college strength program and put that weight on.
Is Michael Allen similar to Nyheim Hines?
Not really; similar ballskills out of the backfield.
Nyheim was built like a wideout too, he could play in the slot. Body-type, he was 175 or 185 and left at 195. Michael Allen will end up a 215 or 220-pound running back; it's a different body type, but he does have really good ball skills.
It's a position we like to throw the ball to if they have that skillset.
Overall thoughts on MJ Morris‍...
He did a great job throwing the ball in our camp, he's tremendous athlete and a winner; state champion and state semifinalist at two different schools.
He's a two-sport athlete, he'll try and play baseball here as well for coach Avent. He's a really good competitor and [from] a great family.
He has that demeanor you'd gravitate to as a player. He brings a different dynamic athleteic probably to the position than we've had in a while. He can really run which gives us a true dual-threat back there.
Never miss the latest news from Inside Pack Sports!
Join our free email list