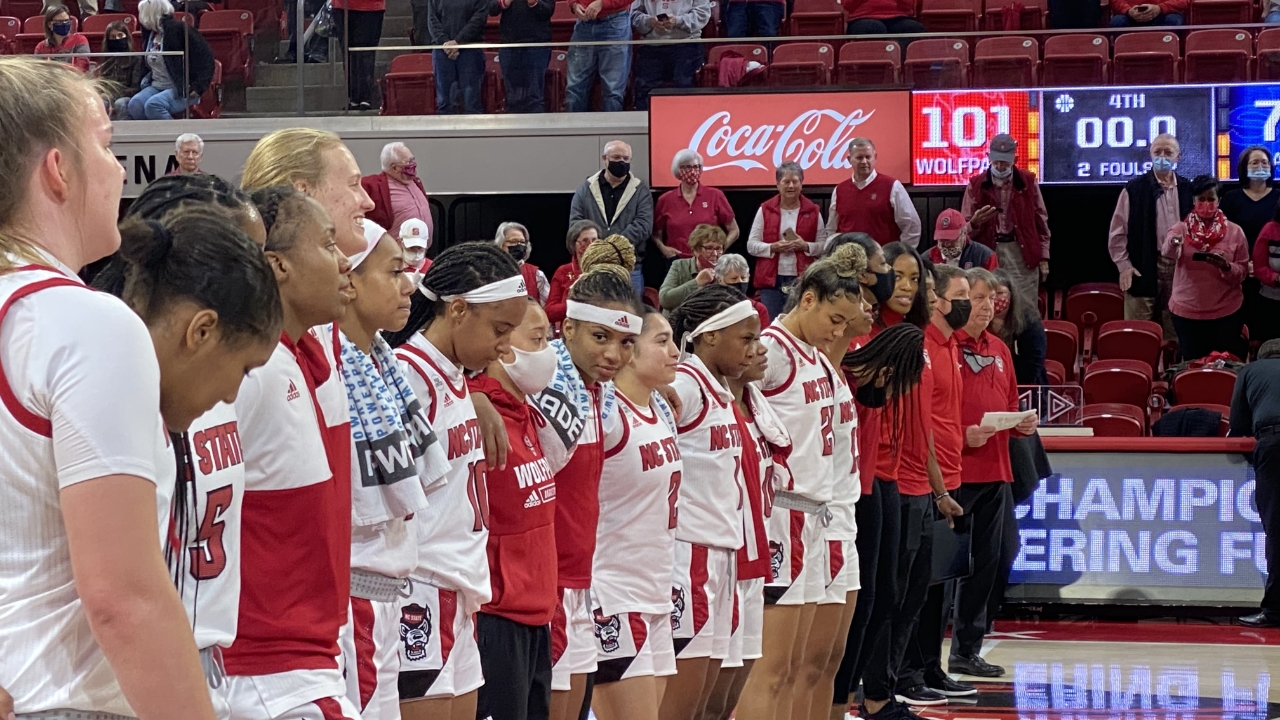 Wes Moore
Elissa Cunane & Kayla Jones
NC State Women's Basketball
LOCKER ROOM REPORT: Moore Wins 200th Game at NC State as Pack Blows Past Gaels
---
NC State head coach Wes Moore, center Elissa Cunane, and forward Kayla Jones met with the media following the No. 2 Wolfpack's 101-73 win over Saint Mary's (CA) Sunday afternoon.
Cunane led the Pack offensively with 15 points and nine rebounds in her 100th career game wearing red and white. With her scoring output against the Gaels, she became the 18th player in NC State history to record 1,500 career points. Jones tacked on 13 points with three assists and one rebound.
NOTE: Click on each respective thumbnail to watch each interview. A transcript of Moore's comments is posted below.
---
Opening Statement
Offensively, we shot the ball pretty well and did some good things. We scored 100 points, so that's a pretty good day. We shot free throws extremely well, 13-for-13. [We were] 10-for-20 from the three, so we shot the ball well. We had a lot of people come in and do good things. Defensively, I'm a little disappointed, but you've got to give Saint Mary's a lot of credit. They do a great job with feeding the post and cutting off the post. We got beat on backdoors several times. We got beat off the bounce some. We had some kids knock down some threes. I'm a little disappointed that we gave up 73 points, but, again, give Saint Mary's a lot of credit for their execution, their scheme, and what they did. We've got a big game Thursday night against Georgia, then an ACC game Sunday against Virginia. Hopefully, we can fix some of that, clean some of that up, and do a better job defensively.
On this game serving as a warmup for the next two games...
We saw a different style of play today than maybe we'd normally see. They're really good with give-and-go, backdoor cuts, and things like that. I also thought their post players buried us some. We've got to figure out a way to do a better job of keeping them from getting in the deep post like they did. Our perimeter players have got to do a better job on the ball guarding, especially trying to defend without fouling. We've been really good at that in the past, but this year we haven't been as good. We've got to figure that out as well. We've got things that we need to address and clean up.
On the bench getting significant playing time...
I think it's important, and hopefully, it's going to pay off down the stretch. Last year, I don't know if we did that as much, and when we had Kayla Jones go out with injury in the NCAA Tournament, I thought it was a real blow to us. This year, even though we've played a really, really good schedule, we've had opportunities to play some of the young players, and hopefully that's getting them prepared for ACC play as well.
On Cunane's 1,500th career point...
It's pretty amazing. She's got 1,500 points, and also at Pitt she broke the free-throw record for NC State. Obviously, Elissa's made a huge impact on this program and the success we've enjoyed the last few years. She's a home-state girl and all that. It's been special. I'm very proud of what she's done so far, but we have bigger and better things on our mind. Hopefully, we can continue to grow.
On the post-game ACC Championship ring ceremony...
It's pretty impressive what these young ladies have done. I start with mentioning Kai Crutchfield, a Raleigh kid, Kayla Jones, an eastern North Carolina kid, and Elissa Cunane from the Greensboro area, the impact they've had on this program, and what they've done throughout their careers. Obviously, Kai and K.J. are on their fifth years, but to think about where we were and now back-to-back ACC Championships, it's pretty impressive what they've done and how they've helped this program progress.
It was very special. I was kind of removed from it, but when you're passing [the rings] out, you have a lot of memories that come rushing back. They deserve all the credit, and you're proud of them.
On Aziaha James' and Jessica Timmons' performances off the bench...
I'm not really surprised. We knew they were special players. We knew, because of the extra year with the "super seniors," we still have Kai Crutchfield, Raina Perez, and Kayla Jones here. It definitely affected Aziaha's and Jessica Timmons' roles coming in as freshmen, but they've handled it well. They're going to make an impact right now, but they're also the future. It's exciting to see what they're able to do right now. They're not shy; that's for sure. They're going to get their shots up.
On giving the players a hard time when the team is ahead by a large deficit...
You don't really pay attention to the scoreboard. When we sit down and look at the film, we're going to see all the mistakes. At Pittsburgh the other night, they were shocked when I came in and we celebrated. I thought they did an awesome job. Today at halftime, I was a little disappointed. We gave up 18 points in the second quarter, 22 in the third. Last year, when we held teams to 70 points or less, we were 22-0. When they scored 71-plus, we were 2-3. That's our threshold, and today we didn't get it done defensively. It's just fortunate that we shot it well. You're going to have a night that you don't shoot it well in the NCAA Tournament, and you've got to win that game to keep going. We've learned, and we can keep trying to keep it up.
Never miss the latest news from Inside Pack Sports!
Join our free email list