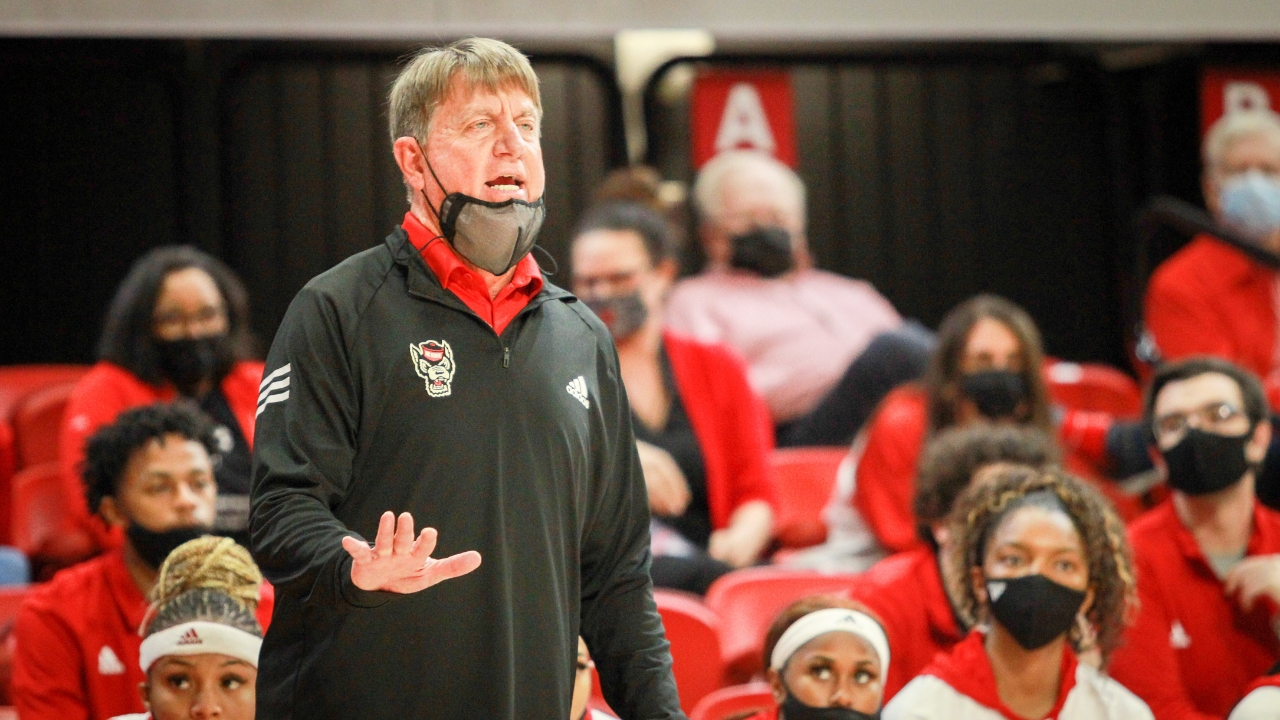 Wes Moore
Hobby, James, Boyd
NC State Women's Basketball
LOCKER ROOM REPORT: Second-Ranked Wolfpack Extinguishes Phoenix
---
NC State head coach Wes Moore, center Camille Hobby, guard Aziaha James, and forward Jada Boyd met with the media following the No. 2 Wolfpack's 78-46 win over Elon Sunday afternoon.
Boyd led the Pack offensively with 17 points on 5-for-8 shooting from the floor, 1-for-2 from three, and 6-for-9 from the free-throw line with four rebounds, one assist, and one steal. James and Hobby each added 11 points. Hobby also hauled in four rebounds with two assists and one steal. James added one rebound and one steal.
NOTE: Click on each thumbnail to watch each press conference in the player above. The transcript of Moore's comments is posted below.
---
Opening Statement
In the first half, I was a little disappointed in a few things. I thought we gave up way too many offensive rebounds. They really went and got nine offensive rebounds that led to nine points in the first half. We turned it over too much. We were a little sloppy with the ball, a little careless with the ball. Again, we've just got to clean things up. We've got to be sharper. I thought our bench was phenomenal with 50 points. I thought they did a really nice job, too, with scouting and knowing what's going on. That's not always the case when you start subbing. I thought they played extremely well. It's good to have that kind of depth and being able to get the young players that experience. It was good. We're in the middle of final exams, so in the next couple of days we'll focus on that, and we start ACC play Friday.
Do you have an update on Jakia Brown-Turner?
She's getting an MRI tomorrow, so we'll know more. She's been playing through it, but there's been a lot of pain bothering her. It's on her shooting hand which doesn't help any, and there's been people slapping it and hitting it. I decided to play on the safe side, get the MRI tomorrow, and hope it'll come back clean with a little bit of rest.
What does the team need to do to clean up after the second straight game with 16 turnovers?
We're just a little careless with the ball. I think we had a few charges which count as turnovers also. It's tough. We had a lot of play-stoppage today. On our side, we've got to clean it up a little bit and do a better job of playing defense with our feet, keeping our hands off people. I thought it was a lot of stoppage. I'm disappointed in the turnovers, without a doubt. We've got to figure that out and do a better job. We want to run. We want to push tempo and all that, but we've got to know when to down-shift and try to get into a four-out or whatever and get another look instead of forcing things.
With Elissa Cunane getting into early foul trouble, Hobby had a strong game, especially in the second quarter. What did you think of her performance today?
I thought she played great. Camille's a great player, so we're fortunate to have two players of that caliber at that spot. Sophie [Hart] is coming along. She's going to need time, but she's got a lot of potential as well. Camille's just so skilled. She's worked extremely hard to get where she's at. I hate it for Elissa. She picked up two early fouls, and looking back, I probably could have played her some there in the second quarter. What's really tough is when she gets [fouls] in the backcourt. She's got to learn to let the play go, move on, and get back on defense instead of picking up fouls 80 feet away from the bucket.
Did the South Carolina loss light a fire under the team?
I think South Carolina, first of all, is a great team, so you understand that, but also it was the first game. We had some new players. We've added the two transfers with Diamond Johnson and Madison Hayes. We had Kayla Jones on a "pitch count," so to speak, where she couldn't play more than 20 minutes. Jada Boyd was out with her injury. We weren't full force or whatever, but that's part of it. I'm proud of the way we've rebounded, and we've had some big wins. We've played a brutal schedule, and they've weathered it really well. Hopefully, that's going to pay off down the road because the ACC is looking brutal as well. The conference is so strong not only with the returners but with transfers and the "super seniors." These rosters are really, really packed with talent. Every night out is going to be a big challenge. Hopefully, this non-conference schedule is preparing us for that.
Boyd led the game in scoring in her first start of the season. What did you think of her performance?
It was great. She's a great player. We've been easing her back since she's missed so much time, but with Jakia out today, I decided to go with a big lineup. I thought she responded really well. We're still trying to monitor K.J.'s minutes a little bit when we can. It was good to get Jada Boyd and Madison Hayes in there. I thought they both played really well.
Never miss the latest news from Inside Pack Sports!
Join our free email list