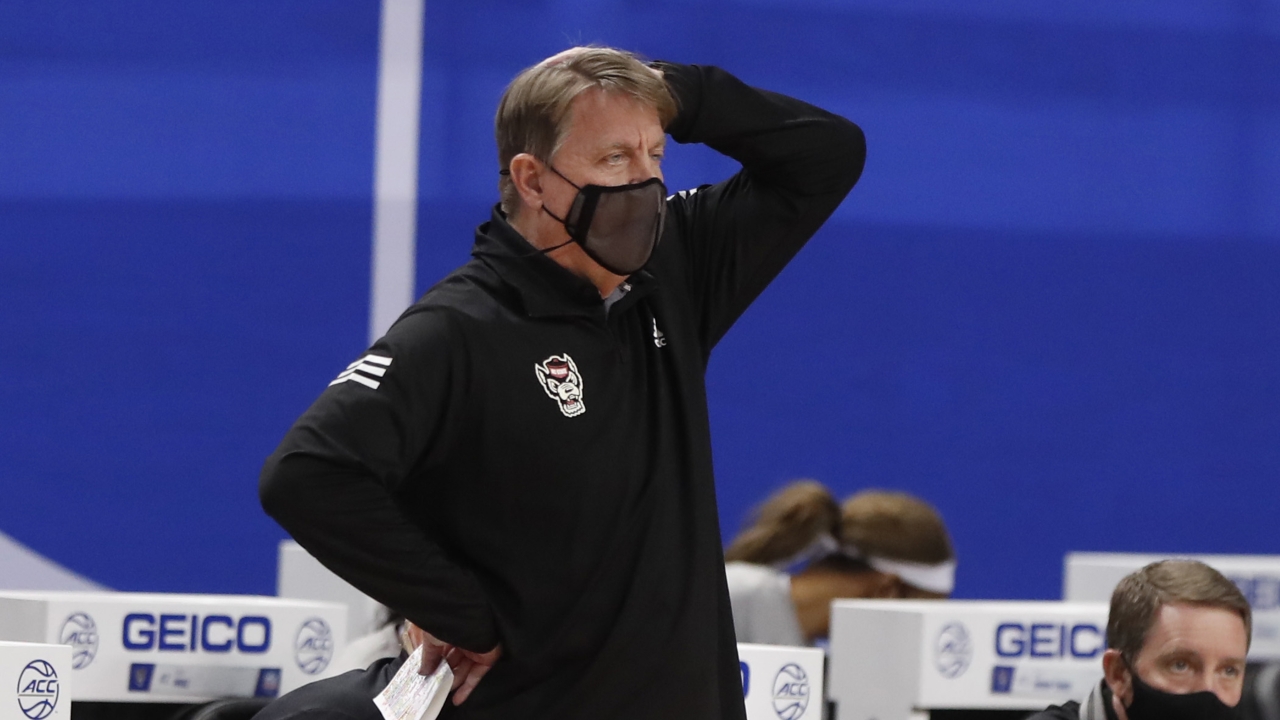 Photo by ehyman@newsobserver.com
NC State Women's Basketball
LOCKER ROOM REPORT: No. 2 Wolfpack Hangs On To Beat Sixth-Ranked Hoosiers
---
NC State head coach Wes Moore and forward Kayla Jones met with the media via Zoom following the No. 2 Wolfpack's 66-58 road win over No. 6 Indiana in the Big Ten/ACC Challenge.
Jones recorded a double-double against the Hoosiers, leading the Pack with 17 points and 11 rebounds. She shot 6-for-14 from the floor, 2-for-7 from three-point range, and made all three free-throw attempts.
NOTE: Click the video in the player above to watch the press conference.
---
Wes Moore

Opening Statement
What can I say? U-G-L-Y, we ain't got no alibi. It was ugly, but I'm proud of this team, proud of the way they battled. They really flipped some numbers in the second half. At halftime, they outscored us in second chance points, 17-0. In the second half, we outscored them, 11-3. First half, we had 11 turnovers; the second half, we had five turnovers. We had 14 out of 17 free throws. We went with the veterans down the stretch. I know we have to get those young kids ready, but really we just didn't use our bench a ton in the second half. You do what you've got to do to get the heck out of here with a W. We fought and battled. We were in foul trouble all night long. We had to play smart. Kayla Jones had a double-double. I thought she gives us so much great leadership out there. It was just a great team win. I'm proud of them.
On having someone like Raina Perez who can hit free throws down the stretch...
You go with whoever you think is most comfortable and confident stepping up there, and Raina's been really good at that. After you hit a couple, you just keep going with it, and she did a nice job with it. We had some others that knocked them down as well, so it wasn't just her. Kayla Jones was 3-for-3, but Raina being 6-for-6 was big down the stretch. As a team, 14 out of 17 is pretty good.
On if they expected a lack of fast break opportunities...
We definitely want to try to run and push tempo, but the first half, we were just out of control. We had 11 turnovers in the first half, but it seemed like we had at least as many bad shots. At some point, you've got to settle down a little bit and make sure we get good looks. We're still a work in progress. Tonight, we just found a way in the second half and down the stretch. We still have a lot of things to clean up, but we've played a brutal schedule, too, and there hasn't been a whole lot of time to clean things up as much as we'd like. We've got to figure that out though, how we can transition, push tempo, but still know when to downshift and when to maybe not force the issue. Give them credit; they did a nice job of slowing us down.
On playing through a scrappy game...
We were in a lot of foul trouble and had to adjust a little bit. Second half, maybe we did a little better job of it. It was tough. Both our post players picked up a couple of fouls there in the first half, and I thought Sophie Hart did really well the couple of minutes she got out there. Defensively, [she] was solid and handled the pressure, so that's a good sign. You just have to keep adjusting. It was tough, a little bit, maybe, touchy out there, whatever, as far as the calls, but that's part of it, and you've got to adjust the way that you're playing.
On the lineup down the stretch of Elissa Cunane, Kai Crutchfield, Kayla Jones, Raina Perez and Diamond Johnson…
We got hot down the stretch. The third period and fourth period, we really got on a roll and were able to, I think we had trailed most of the game up until then. And that's what's happening, when we're playing well and executing, which again, the first half was so ugly but the second half, 45 points or so, that's a pretty good second half. We just went with the people that were playing well. With Raina and Diamond out there together, you can push the tempo, and I thought defensively we were doing a pretty good job. We definitely gave up more points than we would like, but at the end of the day, we did well enough. [MacKenzie] Holmes for them was really tough inside, and we were hoping to maybe double her a little bit, but we never did seem to be able to get in a position to do that. What a great game she had as well.
Kayla Jones

On if playing against Indiana was personal after missing the game last year...
Going in, we all felt that it was personal. For me, I just felt like all the rehab and everything has paid off. It was the game after I got injured, so I was excited, for sure. How hyped my team was going into this game, I felt like I needed to bring the energy too.
On taking pride in winning an "ugly" game...
You just realize that you're a good team, being able to endure the hardships. Being on their home court, their crowd was amazing. And I was thinking, this is what you come to NC State for, being able to play the best teams. It was fun. Just seeing what we could work on. I'm ready to watch film. Coach Moore, the team is [too]. Just seeing what we can be better at. We knew we were gonna make mistakes, and like I said, the crowd was really into it but we finally found our composure and just seemed to play our game.
On the closing lineup down the stretch...
We kind of knew that. He really doesn't switch nothing if it's working, and he said that after the game. But we know that we have a great bench, and we never know who's gonna be hitting each night, so when you go out there you've just got to make the most of it.
On if she was tired at all down the stretch...
I think it was just energy. That's what Elissa kept telling me, she was like, 'Come on KJ, hype us up.' That's why I kept yelling. I feel like they feed off my energy, so I really took pride in that and you kind of overlook the fatigue.
On how much she thinks tough early season games help the team...
I feel like it shows us what we need to work on just to get to our final goal at the end of the season. We wanna win another conference championship, but of course we want to make it to the Final Four and do something big. I feel like this is the year, so I'm glad Coach Moore has us playing good competition. You're not winning the championship in this part of the season, but you can learn. That's what we're doing, we're trying to learn. And we're sticking together. Every night's not gonna be the best night, but we're learning from it and we're just gonna keep pushing.
Never miss the latest news from Inside Pack Sports!
Join our free email list