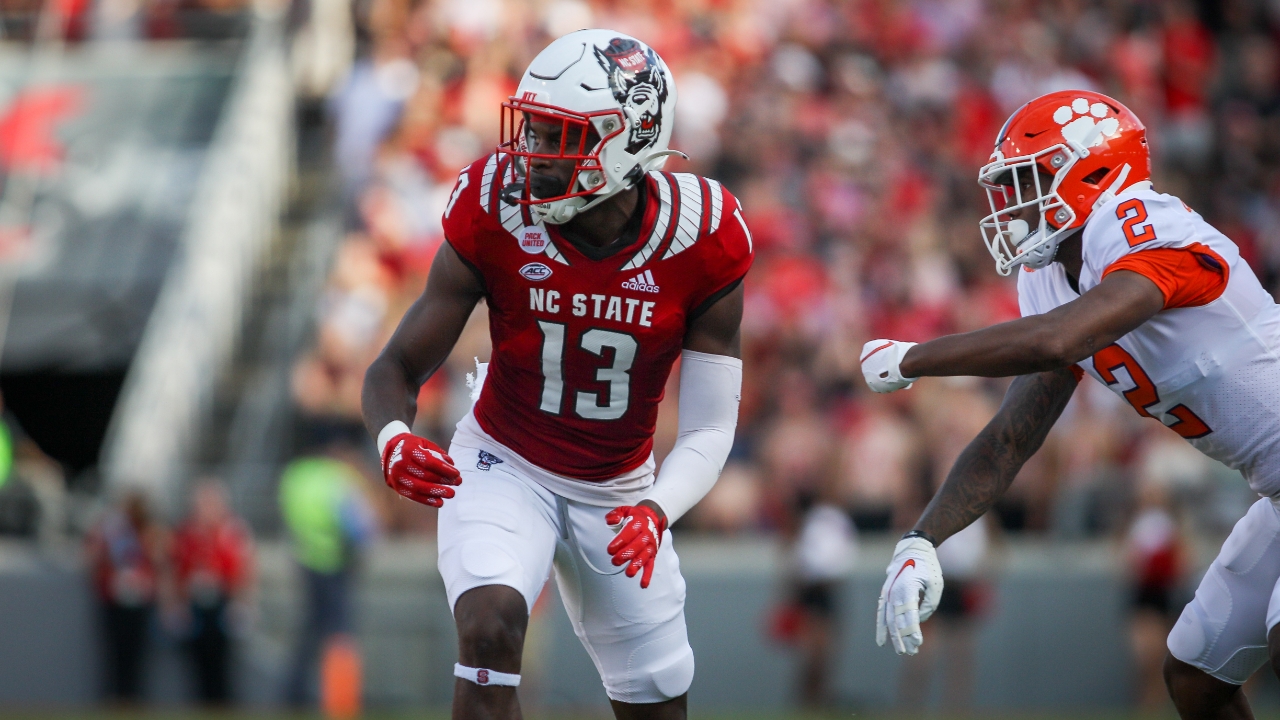 Photo by Steve Murphy/Inside Pack Sports
NC State Football
Tyler Baker-Williams: "Last Year's Film Session Made Us Sick"
---
NC State nickel Tyler Baker-Williams has a big challenge this week against North Carolina wide receiver Josh Downs. He recently spoke with the media about the rivalry game.
NOTE: Click the video above to watch the interview.
---
Tyler, with this big game coming up this week, Coach Doeren said, "There are a million things to play for. Undefeated at home, a chance for a nine or ten-win season, Senior Day." How much does all that stuff add up to it already being North Carolina and being a big game anyway?
We don't really focus on that stuff outside. We don't focus on the outside world. We really just maintain our inside MO, with just the stuff that we were going about. Mainly watching last year's film.
Last year's film session made us sick. We just didn't like that film. We decided we were just going to go motivate ourselves off of that film, and go to the game and just be more aggressive.
Happy Birthday... what's the best birthday gift you've ever got?
The best birthday gift I ever got? Probably, I would say a necklace from my mother when I was younger.
Do you still have it?
Yes, sir. It was a gold rope chain with a cross on it. My mother and my father, they both got it for me when I was young. I always wanted a chain when I was younger.
Do you still... Are you wearing it right now?
No, I don't have it on right now. No, sir.
You've got a lot of your guys announcing their plans for the future. Do you know what you're doing?
No, I'm still discussing... I'm still talking with my parents, talking with my coaches, talking with people closest to me just to make the right decision, to do what's best for me.
Obviously, playing the nickel, you've got a big matchup this week, potentially, against Josh Downs. Watching him on film and the production he's had, what makes him so productive at that slot position?
The way they use him... He's a quick guy. The way they use him on offense is pretty unique, but we go into the game just thinking of every opponent the same as what we did the week before that.
Every week, we try and dominate in the slot position. We go into the same week with that same mindset, and the same outcome as well.
Is he similar to anybody you faced this year, that you could look back at maybe on film and compare?
No, he's a different guy. He's quick. I can say maybe USF's number five, slot from USF. He's a fast guy, but no, not really. Nobody can compare to him, but we still approach him the same way.
You've got some considerable matchups against UNC's wide receivers. How do you feel like you guys match up against them, and what gets you excited about that competition?
Just the game itself and the way we play, and the way we play for each other. We know what type of game it is. We love when the game is on us, when the game is on the DBs.
In the home game, we just decided to step up, take that challenge, and just take it head on as well. I know I take my matchup head on. I know our outside corners do the same, as well, with their matchups. I feel that we're ready for this matchup as well.
Never miss the latest news from Inside Pack Sports!
Join our free email list