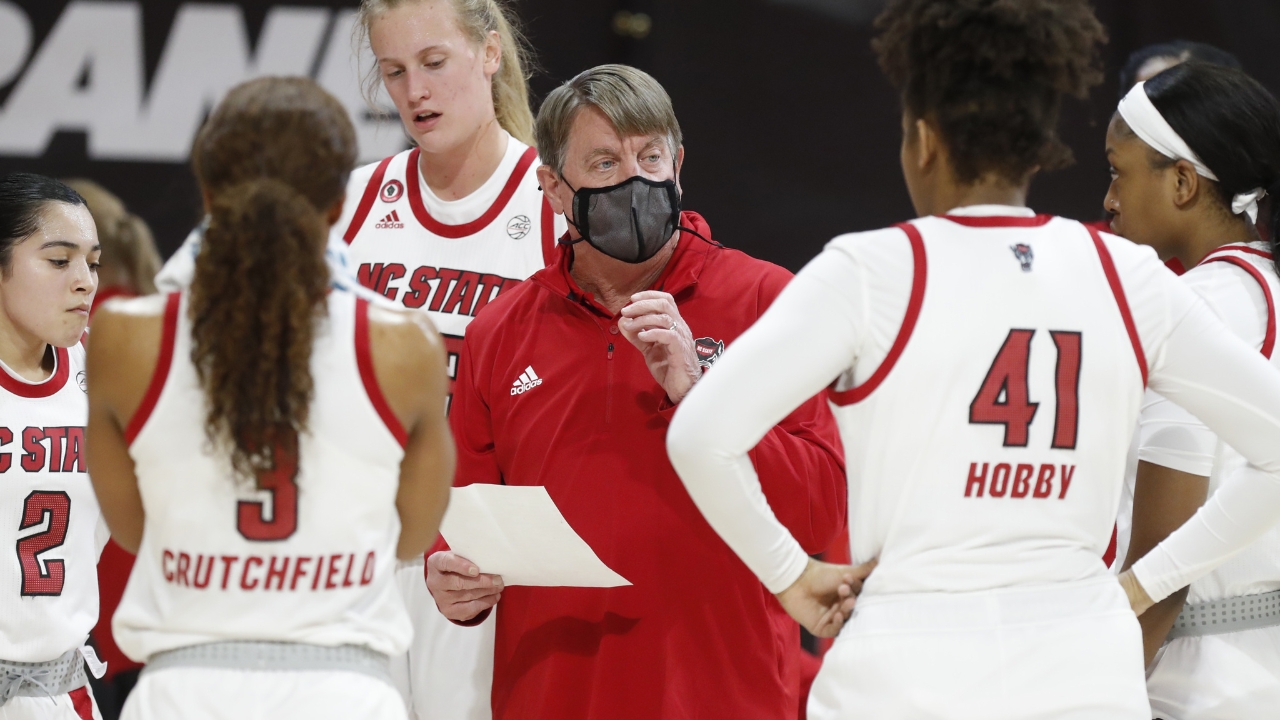 NC State Women's Basketball
LOCKER ROOM REPORT: Wolfpack Tallies Triple Digits, Trounces Tigers
---
No. 5 NC State head coach Wes Moore, forward Camille Hobby, and guard Diamond Johnson met with the media following the Wolfpack's 100-52 win over Towson Monday evening.
Both players finished the contest with double-digit scoring off the bench. Hobby made six of her seven shot attempts for 12 points with five rebounds and one steal. Johnson led the team in scoring with 16 points on 7-for-10 shooting from the floor, adding six boards, three assists, and two steals.
NOTE: Click on each respective thumbnail to watch each press conference. A transcript of Moore's comments is posted below.
---
Opening Statement
Yeah, I'm really excited about the way we've come out in the last couple of games and the start we've gotten off to. That's been kind of an area of concern for the last year or so. We've just seemed to be not ready at the tip, and so I thought we did a nice job of that. We want to be uptempo and running, and I think we did a pretty good job of that because Towson's a team that really excels in transition. Tonight, [we won] in fast break points, 19-6, against a team that really runs well. I thought we did a nice job there. Probably rebounding was the main concern. I think, at halftime, we'd only gotten one offensive rebound. Elite teams rebound. They really do. They dominate the boards, and even on a rough shooting night, they're able to win. That's an area we need to do a better job in. Overall, I thought everyone played well, and it was good team win.
Both high-profile transfers played well tonight. Johnson led in points, and Madison Hayes led in rebounds and assists. How big were they?
Those were two kids we recruited hard out of high school. Unfortunately, we couldn't get it done then, but when they went into the transfer portal, we knew them well, and we knew what kind of people they were as well as what kind of players they were. They're great additions, and trying to juggle that and mesh it all together has taken a little bit of time. Fortunately, they're all good kids, and they're unselfish, but we've got to try to make sure we utilize all of them. Even for me, that's new. I'm not used to really going that deep on the bench. We've got some freshmen that are really good and have some potential there. We've got to keep trying to incorporate everybody. They're special, and hopefully they'll continue to get better as the year goes on.
It can be easy to be overlooked when someone's playing behind an All-American, but how crucial is Hobby's performance in that spot?
We're very fortunate. Camille works her tail off. When we need her, she always steps up and does a great job. In this age of transfer portals and everything else, she's been very loyal to the program and just kept working hard. Just like last year, we had Elissa [Cunane] out with Covid, and Camille scored 19 in the start at Virginia Tech. It's a great luxury to have two players of that caliber at that position. Obviously, she's playing a key role for us now, but also in the future, she's a big part of what we're doing.
How important was winning these last three games convincingly after the loss to South Carolina?
We lost the opening game, and even the Wofford game, we didn't execute and perform the way we needed to whether that was a hangover from the South Carolina game or whatever. The last two nights, we've really seen a change. I know I was hard on them. I'm hard on them when they lose. I felt like, leading up to the South Carolina game, the practices weren't as good as they'd maybe been a few weeks ago. That was frustrating to me. They say, 'If Mama ain't happy, ain't nobody happy.' Well, I guess I'm Mama. I guess I wasn't really fun to be around. The last couple of games, they've allowed me to have a little more fun and maybe be a little more positive around them because we're doing some things well.
Did you think Johnson took control of the offense when she came into the game midway through the first quarter?
Yeah. We've got six starters right now. That's the bottom line. I don't know if we'll ever rotate it some or whatever. We probably need to, but it's nice when you can bring Diamond Johnson in to give you a spark. She can give you more than a spark; she gives you a forest fire out there. We're very fortunate to have the talent we have, but we have to keep getting better. If we want to get where we'd like to get and compete at the level we want to compete at, we can't be the same team a month from now, and we definitely can't be the same team in March. We've got to keep getting better and clean things up, but I thought we made big strides in the last five or six days, so that's encouraging.
On Kayla Jones…
K.J.'s going to be a little up and down. Some days, the knee feels better than others. Today, it was bothering her a little bit, and we were able to jump out to a great start. Obviously, we could have played her more, but it didn't make sense. We were able to patch it together without her and save her. We're going to take tomorrow off, so she'll have the chance to hopefully receive better. We've got Kansas State Friday night, a great team, and we'll probably give them the weekend off before we prepare for Maryland. Hopefully, that'll help a little bit. It's been a rough stretch. You've got practice on days you don't have a game. You've got shoot around the days you do have a game. You've got preparation and the game itself. It's been a tough stretch. It'll be good to give her a little bit of a break.
When you've got a game where it seems everything's going right, is it easier to find things to criticize where the things that go wrong are a bit more glaring, or is it harder where it's like trying to find a needle in a haystack?
I never have trouble finding things. Don't worry about that. When I was at Chattanooga, we knocked off the Lady Vols, took the day off, came in the next day to watch film, and we were walking out, and I heard a couple of players say, 'Did we win that game?' That eye in the sky don't lie. It's going to expose every mistake, and you're not going to play perfect. There's always plenty of things that we can point out and clean up.
Towson shot 3-for-31 from three-point range. Do you attribute that to your defense or the Tigers' poor shooting?
I think it's a combination. I thought we played with good urgency and did a good job at times. Other times, I just think they had a rough shooting night because they can shoot it. They came in with three kids shooting over 50 percent from three. That's what I try to remind them. The Florida game, we shot it really well, 60 percent from three ourselves. I just told them, 'It's not going to be that way every day. We've got to make sure we're doing the other things.' Towson had a rough shooting night. Again, hopefully, we had a little bit to do with that, but to their credit, they normally shoot it better. Threes aren't layups, so you're going to have nights like that.
Never miss the latest news from Inside Pack Sports!
Join our free email list