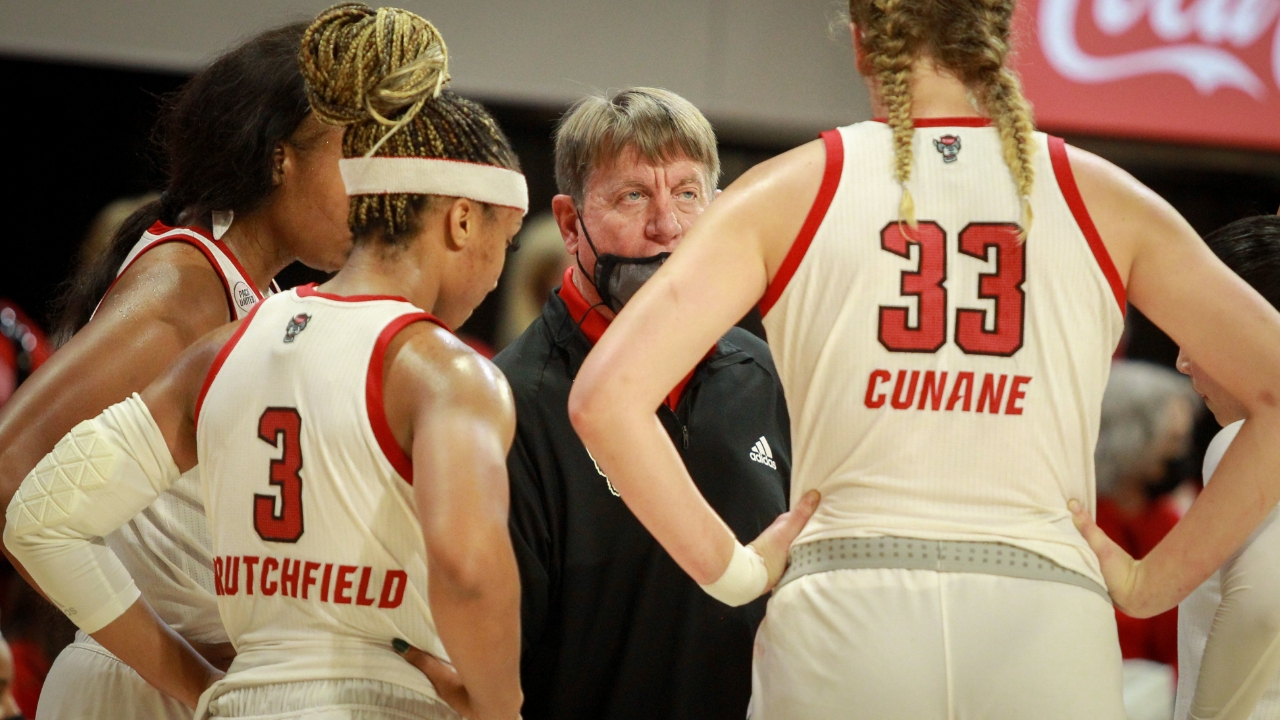 Wes Moore
Cunane & Crutchfield
NC State Women's Basketball
LOCKER ROOM REPORT: Fifth-Ranked Wolfpack Trounces Gators
---
No. 5 NC State head coach Wes Moore, center Elissa Cunane, and guard Kai Crutchfield met with the media following the Wolfpack's 85-52 win over Florida Sunday afternoon.
Cunane led the Wolfpack with 18 points and 12 rebounds for her first double-double of the season. She also recorded three assists, two steals, and one block. Crutchfield tacked on 17 points on 5-for-7 shooting, 4-for-4 from three-point range, along with one assist, one block, four rebounds, and a team high in steals with four on the afternoon.
NOTE: Click on each respective thumbnail to watch each press conference in the player above. A transcript of Moore's comments is posted below.
---
Opening Statement
I'm really excited about the way we came out. I know in the first few minutes, maybe to the media timeout, it was tight in there, but I think we ended up with 29 points in the first quarter. That's pretty nice. I thought our veterans set the tone and came out with a lot of energy. We're really trying to do a better job of getting to the offensive glass. I think we did some good things there. We messed with the press a little bit and got a few things out of that. Elissa Cunane had a double-double with 18 points and 12 boards. I've been talking to her a lot about rebounding outside of her area and things like that. Kai Crutchfield knocking down four threes, and just as exciting, as a coach, was her getting four steals also. I just think her potential is so great. Kayla Jones, Raina Perez, and all of those seniors did a great job of setting the tone, and then everybody else came in and performed really well. It was a great team win, and I needed it. I know they've been sick of me. I've been pretty hard on them, wanting to see us come out and play like that. It was a good win.
On Cunane's performance...
No doubt. That's how we want to play: inside-out. It's just so much easier to shoot the ball when you are spotted up. When you're coming off a pick on the ball or curling off a pick and on the move, it's a little tougher of a shot, but when you can get that post a touch, [you] let the defense pick their poison. If they double Elissa, we're going to kick it out and knock down a three. If they stay one-on-one with Elissa or Camille Hobby, we're very confident they are going to score the ball.
On the assists and ball movement versus Florida...
I thought it was good. Florida did some good things as far as they tried to double the post some. They made it really tough when you came off a pick on the ball showing big or whatever. I thought we made some good decisions. We probably had a few more turnovers than I would have liked, but I loved the way we shared the ball. Those things led to buckets.
On what the difference was that led to the stronger start today...
Well, if I knew that I'd be a genius. I don't know. Again, I think, at the first media timeout, we were behind. I don't know what kicked in after the media timeout. We only had 10 points, so that means we scored 19 points in about five minutes. That's pretty impressive. We were on a good pace there. Really, [in] the third quarter, we only scored 10. That was disappointing. When we have a lead like that, we need to come out and make a statement and put the game away. I don't know. We talked a lot about having energy and those sort of things. I worried about everything. [During] our pregame warmup, "Are we doing enough to get them really warmed up and ready to go at the tip?" Whatever the reason, we need to figure it out. We don't like being in a hole, but for the most part, it was a good day.
On the experience of the team and his expectations...
Like I said, I know I've been hard on them. I know it's been tough on them, but the biggest thing is my expectations. I think we've got a lot of talent. I think we ought to be playing at a certain level, and you want to keep getting better. You don't want to be the same team in March that you are now. Hopefully, we can keep building on it, but I would think, with all the veterans we had and all the experience we had, we would have started a little bit higher. It is tough. Jada Boyd is still out. You can't forget about her, ACC Sixth Player of the Year a year ago. We're having to play some different folks and adapt a little bit. I don't know, but I'm excited about it after today, and it's going to be a good test tomorrow night because, after the South Carolina game, I thought, Friday night, we didn't come out ready to play. I always use the analogy of McDonald's french fries. No matter where you are in the world, you go to McDonald's, and you know the french fries are going to be pretty good. Well, we've got to make sure no matter where we are playing, who we are playing, we're the same. We show up, and we're playing against ourselves. We're trying to be great instead of just worrying about that scoreboard.
Never miss the latest news from Inside Pack Sports!
Join our free email list