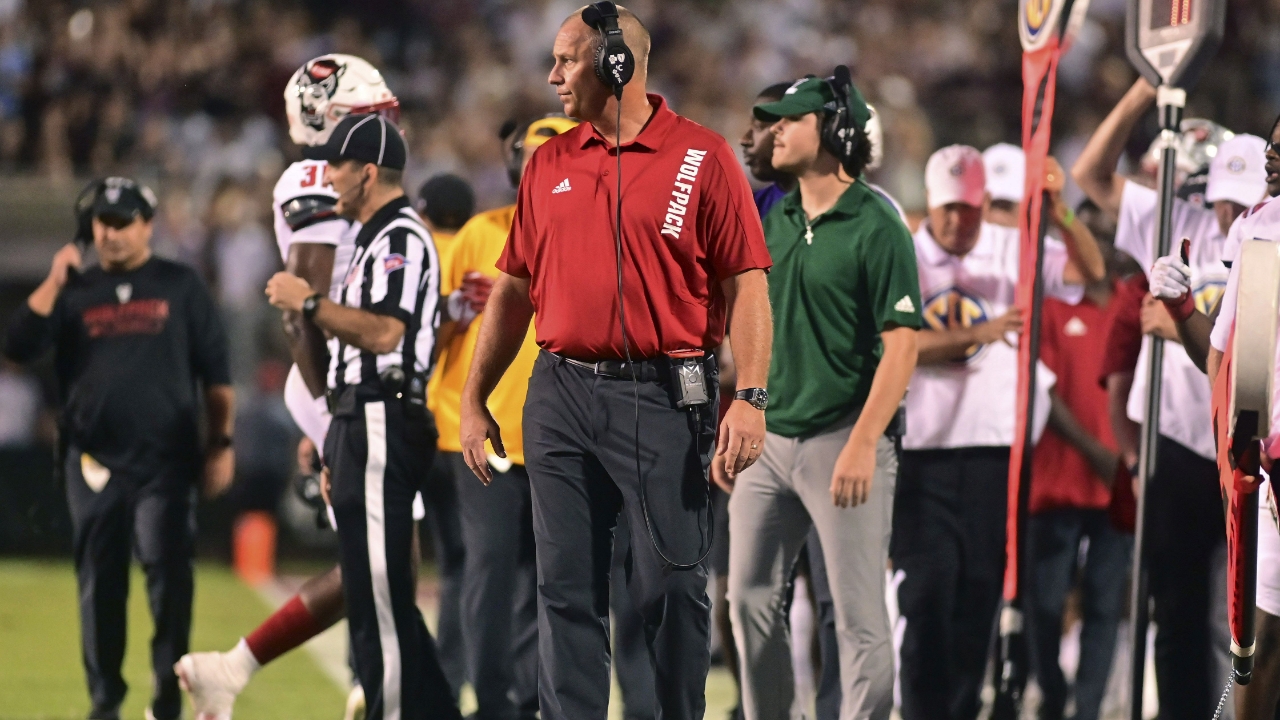 Photo by Matt Bush-USA TODAY Sports
NC State Football
Video + Quotes: Dave Doeren on win over Louisiana Tech
---
No. 23 NC State survived for a narrow win Saturday at Carter-Finley Stadium, coming up with a 34-27 victory over Louisiana Tech.
There was plenty to like, and plenty to not like, on both sides of the ball in this one. Head coach Dave Doeren spoke to the media following the game, here's a full breakdown of everything he had to say:
Opening statement
First, I want to thank our students. It's fall break here. For them to stay and be a part of the game atmosphere and help us the way they did, I really appreciate it. It's awesome. It hasn't always been like that here. There's been many a fall break where the student section was empty, and that means a lot to our players and to me. And so I thank you.
As far as the game goes, Louisiana Tech did a nice job and played really well. I thought it was two different halves for us. In the first half we struggled on offense. We didn't finish drives. I didn't think we strained on the offensive line. Defensively, we did enough to have a lead at halftime. We got off the field on third down until we had two penalties on Daniel Joseph, both on third down.
In the second half, I thought offensively we played really well and I was happy with how they responded, how physical we were. I thought the backs ran hard and the linemen finished blocks. [Devin Leary] did a nice job with the football, coaches made adjustments. Defensively, we didn't play well. It was the opposite of what we saw in the first half. We didn't tackle. Our corners didn't play technique football, didn't make plays on the ball. But we did enough to win.
I thought our special teams were really good tonight. Chris Dunn, it was great to see him bounce back. [Thayer Thomas] had some nice returns, [Bam Knight] had a nice return. The guys did a good job fielding a bunch of junky kicks with their kickoff team, and just managing where they were putting the football. It was great to not play great and win a football game against a team that I think is really good. I said this all week, and I didn't just say it. I think Louisiana Tech's offense is really good. We helped them at times, but from an offensive standpoint, they were the best offense we've played against, and they looked like it in the second half.
How did the last possession of the second quarter set the tone for the second half?
It was a great job getting down into field goal range. To be able to go down the field in 38 seconds, really 32 seconds because we kicked it with six on the clock, was just really good execution, a good job by the receivers, getting positive yards, getting out of bounds, using our timeouts the right way, and then Chris knocking a kick through. And then starting the second half with the football, we had a chance to get a two-fer, back-to-back scores, and we didn't, but I thought it was a good way to go into halftime with a lead.
What were some of the big differences in getting the run game going in the second half?
We stayed on people. We were falling off blocks and we weren't finishing or sustaining our blocks in the first half and we're not given the running backs a chance. I think schematically, we didn't do a whole lot differently. We got into our snugs in bunches and were able to run a few things with our toss play out of that and or counter back the other way. We had a couple change ups formationaly but the biggest parts just the way we strained. I think I told them at halftime, 'I think we're playing not to you know not to lose instead of playing to win' and that was disappointing and I think the offense responded. They relaxed and just went out there and played aggressive.
How excited are you going into the bye week with both Person and Knight running well and healthy?
That's great and we need a bye right now. We're definitely ready for one, physically and mentally. It is a lot. Getting back up from the win the previous week, that was a monumental task for the guys. More than people probably understand. When you win a game like that in double overtime and then you have to get up and play a team that, I'm not sure how much guys respect teams like that or not, I was worried about it. I know everybody talks about that but that was a lot and to go into the bye week somewhat healthy we're you know got bruises and things like that guys are definitely going to take advantage of the rest I'm going to give them, but we have things to work on too and we need to get better.
How much did the running game open up the passing lanes?
It was great to see C.J. Riley score. I thought the receivers played well. They caught the ball well. We had one drop. You can throw that ball to Emeka 1000 times and he catches it 1000 times you know? Some key plays in the past game and I thought Porter's first down on that third and 10 down in the red zone was a critical play. It is a nice play call as well, but just a really good job catching the ball tonight and it's awesome to see CJ Riley, a 6th year guy, get a touchdown.
Once Bam and Ricky got the running game going, did the secondary start to play differently and open up the passing game?
It gave us some one on one matchups for sure. They were playing a little bit more cover two in the first half, there were a lot more quarters and cover four, one-on-one type stuff on the outside. So I think formationaly, we did some good things where we were able to kind of see what they're in and check the run game where we wanted it and you know we had some just quick game and then some double moves off of it and so yeah, I mean when you're running the ball it's hard defensively to help the corners.
Never miss the latest news from Inside Pack Sports!
Join our free email list