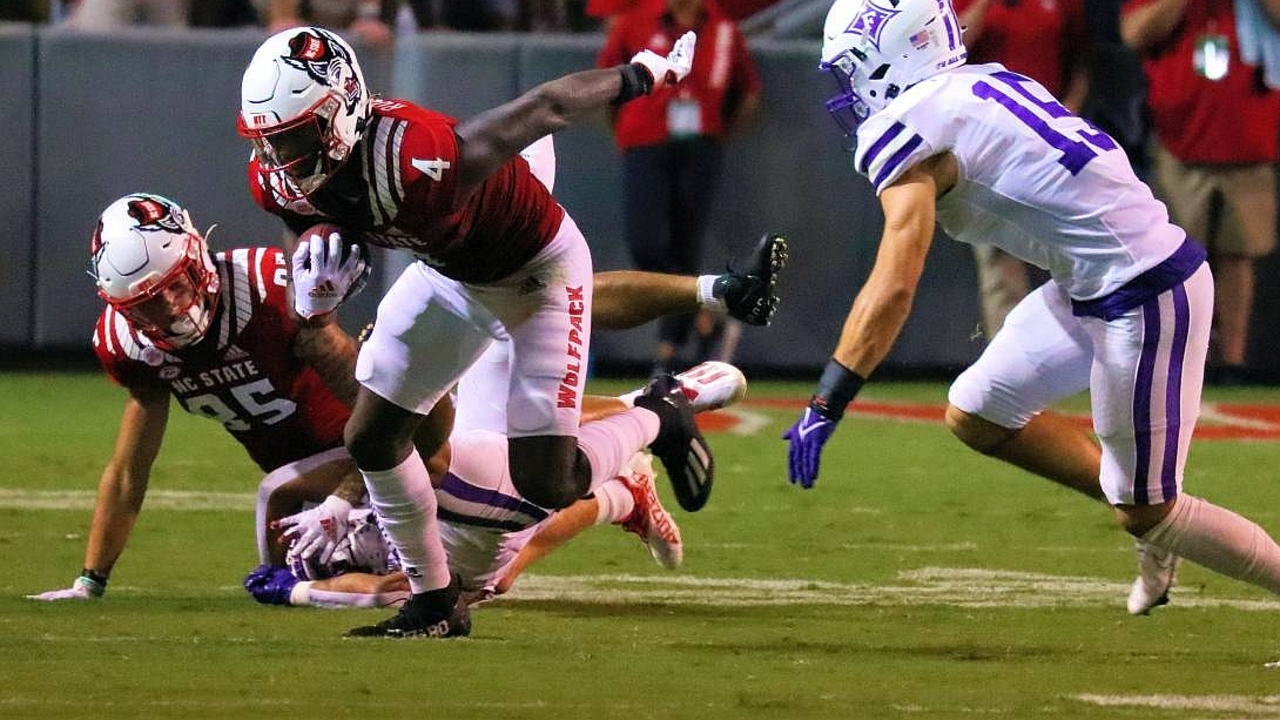 NC State Football
Porter Rooks: "We Have All The Pieces"
---
If NC State football is going to beat Clemson for the first time since 2011, it's going to need its offensive playmakers to step up and make plays, including receiver Porter Rooks.
Rooks, who had three catches for 52 yards against Furman last week, was told by the coaches after the loss to Mississippi State that he's viewed as a starter and is looking forward to taking on a bigger role in the offense.
Rooks spoke to the media ahead of this week's game, and here's some highlights of what he had to say:
---
Coach Doeren told us that the coaching staff told you they felt like they should have gotten you more involved against Mississippi State. What were those conversations like, and how excited are you to be a bigger part of this offense going forward?
They told me they view me as a starter, but as far as that, I just go out there and try to make the plays that come my way, do my job, and be somebody the team can rely on.
How exciting is it knowing the atmosphere will be great and you have a chance to beat Clemson?
This is the game that a kid would dream about. This is the ideal football game, a top-10 opponent. But all that doesn't really matter. We've got to play our brand of football, execute and go home with a W. This is a big one. The atmosphere should be swinging. Wolfpack nation will be in full effect. It's a 3:30 game; I'm excited.
Does it give you a little more confidence knowing that Clemson is struggling?
Confidence is something that nobody can wipe off. Confidence has to be there regardless. Regardless of who's in front of you, you've got to line up and win your rep, do your job to the best of your ability so the team can operate as one.
Something coach Doeren really harped on is complementary football. Do you agree that you guys did better at that this week, and how important is that going into Clemson?
Complementary football is huge -- the offense setting up the defense, special teams shifting the field position battle. It's huge. It's a momentum swinger. It can change games at the snap of a finger. It's going to be big for us to keep our foot on the pedal. We just have to keep going and go 1-0 each play.
What makes you think this team is ready to beat Clemson?
I feel like we have all the pieces. We've got depth, a great staff, and we have a great plan in place.
Coach Doeren has talked about the game at Mississippi State being a missed opportunity to win a big game. This is another opportunity coming up. Is that something that's been discussed?
I actually completely agree, it was definitely a missed opportunity, because we just came in and didn't execute. I wouldn't necessarily call it a wake-up call or that we got too comfortable, we just didn't execute that game. And in college football, especially in these Power Five conferences, you've got to come to play each week. Anybody can get upset. Even last week, if we didn't come to play, Furman could have given us a problem. So just coming to play each week is big for us.
Why has this NC State defense been so good?
I feel like the main thing about our defense is they fly to the ball every snap. Every snap, there's 11 guys to the ball. As a runner on the other side, it makes it hard for cut-back lanes, things like that. It's hard to outflank a defense that can really run. We've got linebackers running 20 miles per hour, so it's kind of a tough defense to get away from, especially when everybody's running to the ball all the way from the other side of the field. So it's just hard to get a big play, so to speak.
How much will your defense prepare you to face Clemson's defense?
They'll prepare us well. We take them very serious. We'll be prepared and have a good place to go out there and execute, come home with a win.
Never miss the latest news from Inside Pack Sports!
Join our free email list