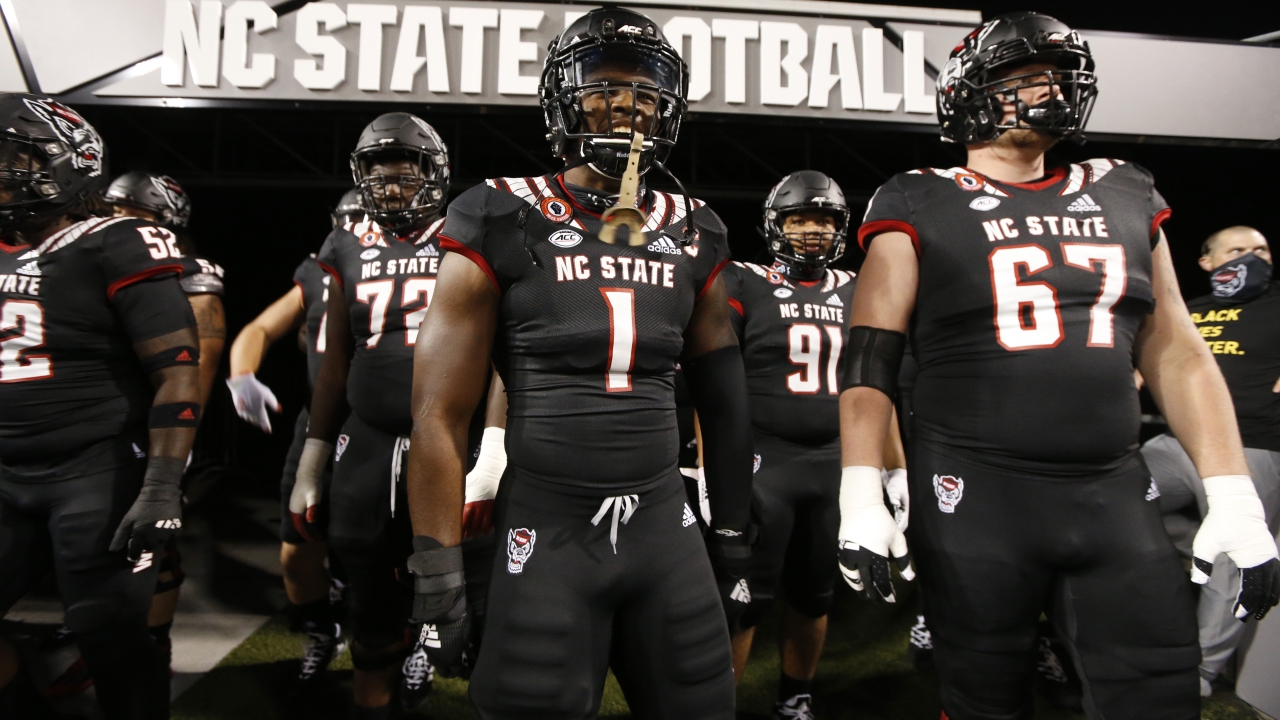 Photo by ehyman@newsobserver.com
NC State Football
Isaiah Moore: "We Just Respect All, Fear None"
---
NC State linebacker Isaiah Moore is preparing to lead the Wolfpack's defense into a hostile environment against Mississippi State's pass-happy offense this week.
Moore spoke to the media after practice Tuesday, and here's some highlights of what he had to say:
Coach Doeren talked about how Mike Leach is known for throwing the ball 50 times a game. He said first and second down is more like third down for Mississippi State. How do you prepare for a team knowing they're going to throw the ball more times than they run it and they're going to throw it all across the field?
The biggest thing is just to make sure we're hitting our spots in our pass drop and being disciplined in our coverage. Understanding our roles, understanding where our help is and passing off routes, locking off routes when we need to, playing within the rules of our system. That's what it comes down to.
Coach Doeren pointed out how you guys didn't get any sacks against South Florida, but you made the quarterback uncomfortable. Can you talk about your system and how you guys get quarterbacks off their spots?
Our base is a three down, that's no secret. With a three-man rush, it's sometimes hard to get pressure, but we'll dial it up when we need to, and we'll choose our moments when we want to bring pressure and when we want to drop eight. So that'll be a big focus going into this week – getting pressure on the quarterback.
What did you see from Drake Thomas against South Florida? It seems like a lot of the offseason attention went to you and Payton Wilson, but how important is Drake?
Drake is probably... if not the most important, one of the most important guys on this defense. He brings a lot to the table. What he did against South Florida didn't surprise anybody. He's a great player. He brings energy every day. We don't consider him forgotten at all. We tell him how much he means to us every day, how important he is to us and this defense. He's going to have a great year for us.
What are your thoughts on the buzz the SEC always seems to get?
It's a good conference. Much respect to them, but we respect all and don't fear anybody. I had a chance to play A&M, I had a chance to play Kentucky in the bowl game. So it's not our first time playing an SEC opponent. So we've got to prepare for them like we prepare for any other team. Go in there, be ready to come into a hostile environment, and hopefully win the game.
How important would a win be for you guys?
It would be big. You want to win every game on your schedule, but beating an SEC opponent, night game on the road on ESPN, it would be a big lift for our team if we can pull this win out.
What's the impact Cyrus Fagan has had on this defense?
When Cyrus came in, it was an immediate gel. He fit in well right from the get go. He came in and wanted to work as hard as he could, and he did that. We definitely appreciate hard work here in our program. On Thursday night, he didn't surprise any of us. That's what he's been doing in practice since the spring. He came in there, was confident, played well, played really fast, and I'm excited to see what he does the rest of the season.
What's the energy that he brings?
He brings a lot of energy to that back end. Having him and Tanner [Ingle] back there is like two energizer bunnies back there, just running all over the place. He brings a lot energy, he's very live, very talkative calling out what he sees, and we need that in the backend.
Is this a confident team?
I would say we're confident. I think that's the stem of everything that we've been through. A lot of these guys were on that 2019 team that went 4-8, and last year's team that battled through COVID. So we've been together for a very long time. We're very tight-knit as a group. We have a lot of confidence in each other, rather than just ourselves. So we just want to go out there and play the best ball we can and play as fast as we can – not just for ourselves, but for our brothers beside us.
Is there a difference when you're playing an SEC team?
You respect all, fear none as a football player. So the SEC, you hear a lot about how physical they are, how big they are. Kentucky and A&M were a little bit different in that they were more run-heavy teams; this is a little more open, spread-out team. It's probably not going to be the same SEC type of feel that we had in the past. But we just respect all, fear none. We just want to go out there and play the best ball that we can no matter who we play.
Never miss the latest news from Inside Pack Sports!
Join our free email list