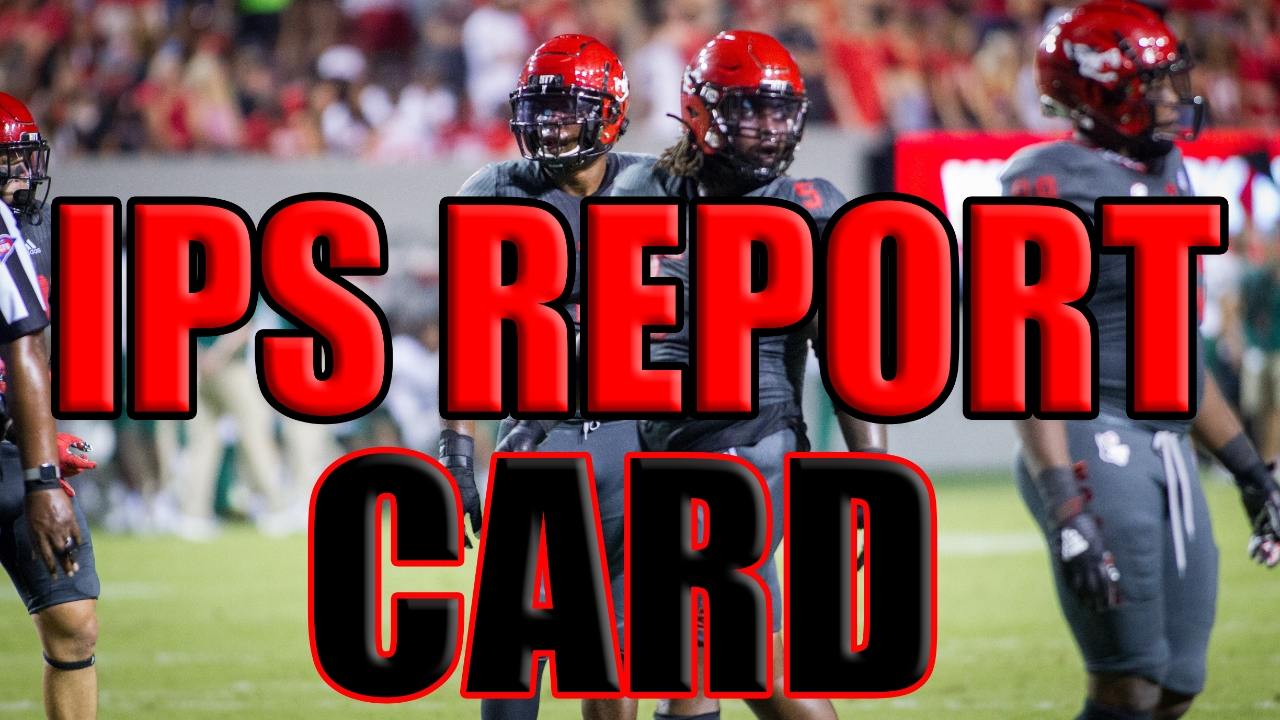 Photo by Steve Murphy/Inside Pack Sports
NC State Football
IPS REPORT CARD: Pack Earns High Marks In USF Blowout Win
---
While not everything was perfect for NC State in week one, there wasn't much more you could have asked for in a season-opening 45-0 win over South Florida, the Wolfpack's first shutout to open a season since 2004.
The running backs shined, the defense locked it down, and the passing game has a bit of work to do. Let's hand out some grades for NC State's opening-week win.
Quarterbacks
Playing in his first game since suffering a fractured fibula on Oct. 17, 2020 against Duke, Devin Leary was predictably a little rusty and a bit of a mixed bag in this one, completing 17 of 26 pass attempts for 232 yards, two touchdowns, and an interception.
Leary had some miscues, such as an overthrow of Porter Rooks in the end zone on the Pack's third possession, and an ugly interception on an underthrown deep ball to Thayer Thomas in the first half.
He also showed off the arm talent that has NC State and its fans so excited about Leary's potential this season with some beautiful throws, including a perfectly-executed 33-yard wheel route to Ricky Person for the first touchdown of the game and a 51-yard bomb to Devin Carter to set up a late first-half touchdown.
It was somewhat predictable for Leary to take a little bit to get his feet under him after such a long time without game action, and while there were miscues, there was plenty of good to takeaway from his first game of the season.
Grade: B

Running Backs
It was the Bam Knight and Ricky Person show for NC State in this one. The two backs combined for 268 yards and three touchdowns on 38 carries. Knight led the way with 163 yards and a touchdown on 16 carries for a whopping 10.2 yards per carry. Person had 148 all-purpose yards and three total touchdowns.
Both backs took advantage of the holes the offensive line was able to open for them, and both broke off several big runs to move the Pack down the field throughout the game, including a 46-yard touchdown run on fourth and 2 from Knight in the third quarter. Both also made an impact in the passing game, with Person catching the aforementioned first touchdown of the game and Knight catching two passes for 16 yards.
If Knight and Person can both stay healthy and continue to run like they did Thursday night, the Wolfpack could have a two-headed backfield monster that's a nightmare for opposing defensive coordinators to deal with.
Grade: A+

Wide Receivers
The Pack's receivers weren't asked to do much with Knight and Person producing the way they were, but they still made some big plays to move the chains when needed and didn't really have any miscues.
Carter made the already-mentioned 51-yard reception to set up Person's late first-half touchdown, and Emeka Emezie had the highlight of the night with a Kelvin Harmon-esque one-handed catch in triple coverage down the sideline to set up the Pack's fifth touchdown of the game. Emezie was the Wolfpack's leading receiver on the night with five catches for 75 yards.
Grade: A

Tight Ends
The tight ends also weren't asked to do much in the passing game, but Chris Toudle did score a touchdown and catch two balls for 22 yards. They also made an impact blocking for the run game's big night.
Grade: B+

Offensive Line
The O-Line started a bit slowly opening holes in the run game but more than made up for it with some of the gaping lanes they were able to give Knight and Person as the game went along. Ikem Ekwonu, Grant Gibson, and friends were road graders on the ground to open the season. The Pack's front five put on a clinic in run blocking, which also likely helped the defense play as well as it did with some clock-killing drives.
While the pass blocking wasn't perfect, as Leary was sacked once and hurried twice, his offensive line mostly kept him clean. This was a good start to the season for a group that should just keep getting better if it stays healthy.
Grade: A

Defensive Line
South Florida's first play of the game was a 16-yard carry. After that, running on this Wolfpack front was a futile prospect. The Bulls amassed just 104 yards on 32 carries, a paltry 3.3 yards per carry. Savion Jackson had a good start to what could be a breakout season for him, with a quarterback hurry and strong night setting the edge.
If there's a complaint here, it's Davin Vann's late first-half facemask penalty that ended up letting USF get a drive going, but that's about it.
Grade: A

Linebackers
Coming into the season, the linebackers were the most vaunted group on this NC State roster. They didn't disappoint in week one. Drake Thomas led the way with eight tackles, 1.5 of which were for a loss. He also killed the Bulls' first red-zone trip, which was late in the first half, with NC State's first interception of the season.
The Pack's linebackers, particularly Thomas and Isaiah Moore, practically lived in USF's backfield, blowing up run plays and screens all night. In other words, an as-expected performance for an elite group.
Grade: A

Secondary
The secondary had a couple hiccups and allowed a couple deep balls, and Cade Fortin missed some open receivers early in the first half, but the Pack's defensive backs had an excellent night overall. Florida State transfer safety Cyrus Fagan made his presence felt immediately with seven tackles, and he also had the Pack's second red-zone interception of the night.
The Pack allowed just 167 passing yards and picked the Bulls' QBs off three times.
Senior safety Tanner Ingle had NC State's third pick, as the takeaway bone got plenty of work in the first game.
The Pack's other transfer defensive back, corner Derrek Pitts, also had a strong night with a TFL, though he did have a helmet to helmet penalty that was reviewed for targeting.
The Pack's secondary also got involved in stopping the run, getting into the backfield to force negative plays repeatedly.
The Pack's reserves came up with a late goal-line stand to preserve the shutout.
Grade: A

Special Teams
Special teams matter, and the Pack's were great on Thursday night. Chris Dunn made his lone field goal and all six extra points he attempted. Trent Gill had some booming punts to flip the field, including a 57 yarder in the first half.
On fourth and 2 in the first half, the Pack sent out Ben Finley to quick kick, something everybody in the stadium other than apparently USF expected, but it still worked to pin the Bulls on their six yard line.
With no mistakes in the return game on either side, NC State's special teamers did their job in this one.
Grade: A

Intangibles
NC State had some luck on its side in the early going, such as a tipped Leary pass that fell right to Toudle. The Pack also had two red-zone interceptions to kill scoring chances for USF. The Pack was the more disciplined team, with just three penalties for 25 yards compared to six for 70 for USF.
In a blowout opening victory, the Wolfpack did the little things much better than its opponent.
Grade: A

Overall
While there are things to work on after this one, namely some rust to shake off for Devin Leary and the passing game, this was an opening victory in which the Pack pretty much fired on all cylinders. NC State should have been expected to overwhelm an inferior opponent Thursday night, and it did just that.
There's plenty to be happy about going into next week's road tilt with Mississippi State.
IPS Grade: A
Never miss the latest news from Inside Pack Sports!
Join our free email list