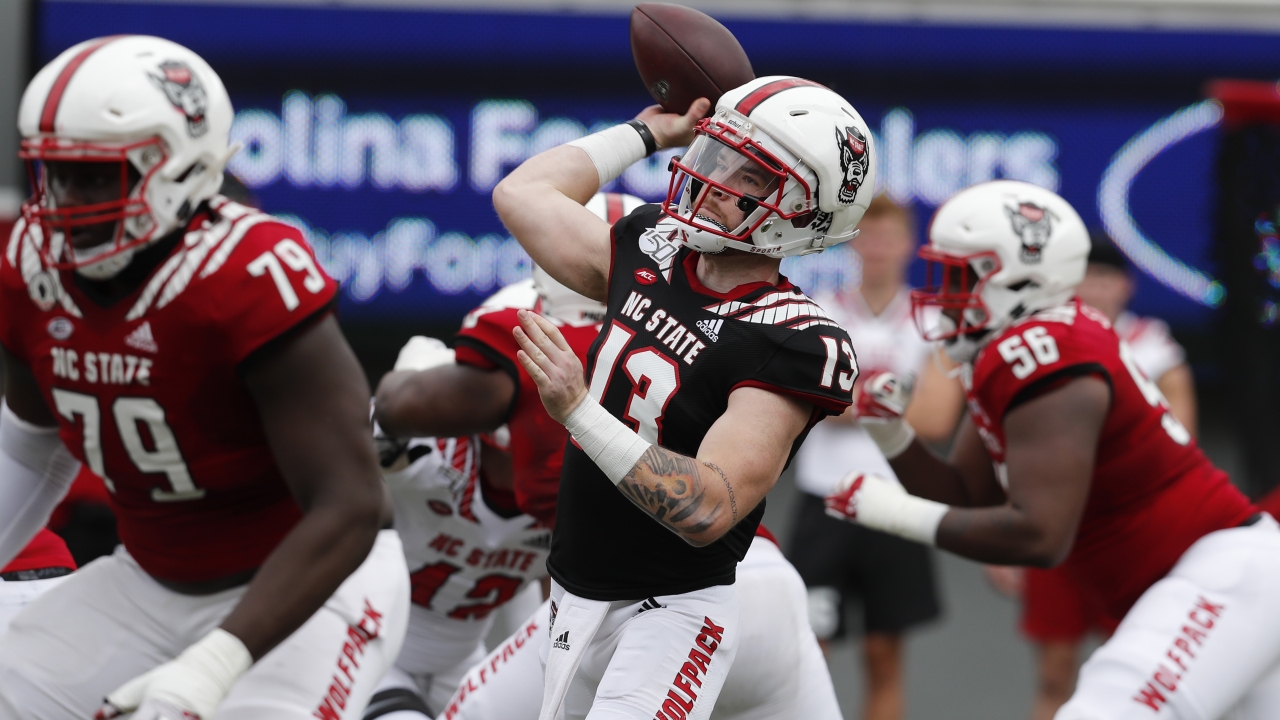 NC State Football
Locker room report: Devin Leary, Tanner Ingle on spring game
---
NC State football hit the field for its 2021 spring game Saturday and got a look at several of its top players for next season, including quarterback Devin Leary and safety Tanner Ingle.
Ingle and Leary spoke to the media after the game, here's a full breakdown of everything they had to say:
---
Devin Leary
What was it like to be back?
It was amazing. It was just fun to be back out there in a live setting competing with everyone. But it was also fun to just compete with all the brothers that we've created such great chemistry over the offseason. It's been a pretty long time coming but it was fun out there.
How nice is it to have so much experience?
It's awesome. We were able to create such great chemistry and build off of what we did last year. We know what we want to accomplish and we know what we want to set out to do. Being able to have all familiar faces, bringing guys back, it's very fun to see everyone have the same mentality.
Did it take a few passes to get back in the swing of things?
A little bit. I think the first [incompletion] it was just a little bit excited, and then the interception, [Caden Fordham] made a pretty good play. But as far as rhythm, I think Coach Beck did a pretty good job today of calling the right plays, getting not only myself but Ben [Finley] and Aaron [McLaughlin] into a pretty good rhythm too. But for myself, it was just getting back into the flow of the game. We do a lot of scrimmages in practice too so it was very fun.
On your fumble recovery, is that something you're taught to do?
Usually every play we're taught to carry out our fakes, so as soon as I saw Jordan [Houston] break a tackle, I was actually trying to catch up to possibly make a block if I needed to. As soon as I saw the ball pop out, I hopped right on it.
How would you evaluate Ben Finley and Aaron McLaughlin?
I think they're both doing a great job. Aaron, he's really supposed to still be in high school. He early enrolled, got into the spring, and has been trying really hard. I've even come back up to the facility watching film with him. And me and Ben have a great relationship as well. Going into halftime, I kind of got word that I wasn't gonna be coming back out for the second half, so I was just giving a little bit of points, a little bit of tips of what our defense was doing, who to key. Ben's a really smart player, he was able to pick up on everything really fast. We all have a really great relationship in that quarterback room.
Did Delbert Mimms and Demarcus Jones prove they can contribute to the running back rotation?
Absolutely. I think going into spring they both knew they needed to step up with Ricky [Person] and Zonovan [Knight] not being able to participate and they've been doing a great job all spring. They've been very excited and hungry, as well, just to get all those reps and learning the offense as far as running the ball and protection. I'm really proud of both of them.
How would you rate your performance?
I'm always hard on myself. Obviously I wanted to get back a couple of throws, like Coach Doeren was saying, the first one, the pick. But I think the most exciting thing that I can take away today was just the energy of our whole team on both sidelines. The second half I actually had to go over to the opposite sideline on the white team and they had almost the same energy as the red team. Just being able to be out there, feel all the energy, feel the camaraderie between our team was probably the biggest takeaway I had from today.
Tanner Ingle
Can you talk about what it was like to be back on the field?
It was exciting, actually, just being able to be out there, y'all know last season I had a few issues with injury and getting targeting and stuff. It was just actually a good feeling and exciting feeling to go out there and be able to play again.
How would you rate the secondary's chemistry at this point in spring ball?
We came a long way throughout spring ball, we did a lot of self evaluation, we worked on what we needed to work on. So as far as chemistry, we got some transfers that came in but they fit in right away, as far as chemistry I would say like an eight [out of 10]. But we got some transfers come in, we ain't do what everything that we need to do, we got room to build. But as far as chemistry, we got a pretty good chemistry.
How would you evaluate some of the younger guys who got most of the snaps in the second half?
I was actually pretty impressed with a lot of the younger guys. Especially 41 [freshman linebacker Caden Fordham], you saw he had a little pick-6 towards the end, that was pretty good. As far as all the younger guys and specifically in my position group, we did a good job, we didn't have that many mental errors which is always a good thing. We still got room to grow obviously, it's their first actual college football experience, they got some room to grow but as far as that, they've been doing a good job.
Were you guys focused on limiting defensive penalties?
Yes sir, last year we dang near led the nation in penalties, so moving forward that's what we tried to work on. We came out there and what, there was one flag today? So I feel like that's a pretty good success.
Never miss the latest news from Inside Pack Sports!
Join our free email list