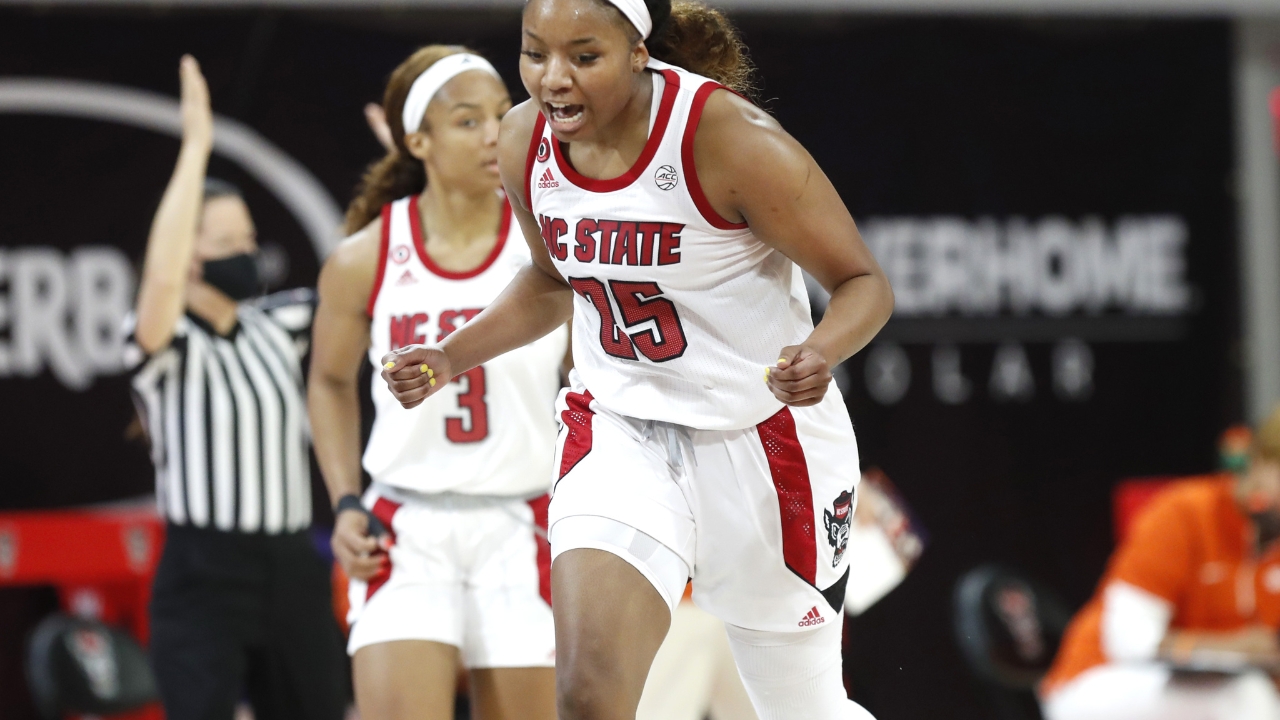 Photo by Ethan Hyman, News&Observer
NC State Women's Basketball
Wolfpack set to run it back with return of Perez, Jones, Crutchfield
---
NC State women's basketball accomplished plenty in the 2021 season, including a second straight ACC Championship and the first NCAA Tournament No. 1 seed in program history. The season ended in disappointment, however, as the Wolfpack fell in the Sweet 16 for the third straight time.
But the team didn't have to wait long for good news as it sets its sights on getting over that hump in the 2021-22 season. The Wolfpack will have all of its key players from last season's group back for next year.
The team officially announced Tuesday that seniors Raina Perez, Kayla Jones, and Kai Crutchfield would use the NCAA's extra year of elibility to return for one more season.
The importance of the trio returning can't be overstated for Wes Moore and the Wolfpack. Here's a look at what each player coming back means, what each of them provides, plus the big picture for a Wolfpack team that will return all of its top six players from the 2020-21 team.
Keeping its glue
Elissa Cunane is NC State's best player, but one can make a pretty good argument that Kayla Jones was the Wolfpack's MVP in the 2020-21 season. The 6-foot-1 senior is one Wes Moore has referred to as both the "glue" for this team and a "Swiss Army Knife" type player.
Jones is certainly someone who can do a little bit of everything for the Wolfpack. She's a more-than-capable scorer from the 4 position, as she averaged 11.9 points per game and was the Pack's second-best 3-point shooter, finishing the year hitting 42% of her shots from beyond the arc.
Jones' ability to score both inside and outside the 3-point line also helps take pressure off Cunane in the post. She's an excellent defender and rebounder, as she finished the season averaging 7.1 rebounds per game (second only to Cunane), and 125 of her 163 total rebounds came on the defensive glass.
Jones is also a more than capable ball handler as a "point forward" from the four, as she averaged about 2.8 assists per game today.
She showed a knack all season for stepping up in the biggest moments, such as a sequence in the last minute of a road win over No. 1 South Carolina when she hit a 3 to put the Wolfpack up by five, and then drew a charge on the other end to seal the deal.
Even when she didn't necessarily have her A-game on offense, the Pack's Swiss-Army Knife found a way to make an impact, such as in the road win at Louisville, when she scored just five points on 2-of-10 shooting but posted 13 rebounds and four assists.
Jones suffered a patellar tendon injury in the Wolfpack's first-round NCAA Tournament game against NC A&T and ended up missing the next two. Her absence was clearly felt in the Pack's Sweet 16 loss to Indiana.
Now, instead of having to watch her college career end from the sideline, she'll get a chance to help NC State achieve its goals and get back to the Final Four for the first time since 1998.
Kai Clutchfield returns
Crutchfield had a bit of an up and down season as a hand injury hampered her shooting at times. But she still finished as the Wolfpack's best 3-point shooter, hitting .473 of her shots from beyond the arc.
In returning Jones and Crutchfield, an NC State team that led the ACC in 3-point shooting returns its top two finishers from downtown.
Crutchfield averaged eight points per game this season, and though Raina Perez emerged as the team's primary point guard, Crutchfield was also a more than capable distributor with a 1.7 assist-to-turnover ratio. But two facets of her game stood out the most throughout the season: her defense and her ability to make big shots in big moments.
Moore consistently matched Crutchfield up with the opposition's top players, and she showcased a consistent ability to hold them in check, highlighted by a defensive showing in the ACC Championship win over Louisville in which she held ACC Player of the Year Dana Evans to just two points in the first half.
Crutchfield often used her 3-point prowess at the perfect times. The "Kai Clutchfield" moniker really kicked into overdrive with NC State's ACC semifinal win over Georgia Tech, in which the senior scored eight points in a fourth quarter that saw the Pack erase a 10-point deficit.
In the NCAA Tournament, she hit at least three triples in every game, and finished the tournament 10 for 11 from beyond the arc.
Crutchfield and her lockdown defense, underrated ball handling and clutch shooting will be back for one more season.
Getting its floor general back
Coming into last season needing to find a way to replace Ace Konig at the point guard spot, Moore knew adding a veteran point guard was a priority. He was able to bring in Perez from Cal-State Fullerton, and called her addition a "blessing" througout the season.
It was easy to see why. Perez was the perfect distributor in chief for this team, capable of both dishing to her teammates and knowing when to call her own shot. She led the team with a whopping 118 assists, and led the ACC with a sterling 2.62 assist to turnover ratio.
Perez showed instant chemistry with her teammates and the ability to almost always make the right play. She also proved herself a strong defender and capable scorer, averaging 9.5 points per game and shooting 35.3% from beyond the arc.
Perez proved herself capable of coming through in the clutch with big plays throughout the season, and said she came to NC State for the opportunity to play in those big games. She came up with one of the biggest shots in program history against Louisville in the ACC title game, hitting the game-winning jumper in the final seconds.
Returning for another year, the Wolfpack's point guard should have plenty of additional opportunities to play, and shine, in those big moments.
The big picture
While the 2021 season ended in disappointment, NC State's outlook for the 2021-22 season remained positive.
Cunane, the All-American center who averaged 16.3 points and 8.3 rebounds per game, earned ACC Tournament MVP honors with a dominant showing in Greensboro and said after the Sweet 16 she wasn't satisfied with where her game is, would lead the way again. And talented juniors Jakia Brown-Turner and Jada Boyd would be back to, at worst, give the team a very strong four-player nucleus.
But, with Perez, Jones, and Crutchfield all back in the fold, the Wolfpack will have all of its top six players back. There won't need to be any "building chemistry" for a lineup that will be familiar with one another and comfortable in their roles.
The Wolfpack did lose depth players and potential future pieces with the transfers of Elle Sutphin, Dontavia Waggoner, and Jada Rice. But with Camille Hobby and Genesis Bryant, both of whom played some valuable minutes off the bench last season, returning, and a talented freshman class led by four-stars Aziah James and Sophie Hart coming in, the Pack will have plenty of options off the bench.
Moore will have to figure out how to fairly spread minutes out among his top six. He said throughout last season he had six starting caliber players, which was true. Boyd made just three starts in the regular season, but averaged 11.5 points and 5.9 rebounds per game in earning the ACC's Sixth Player of the Year Award.
Boyd put up 18 points in each of the Pack's NCAA Tournament games, including in two starts with Jones out, earning her a spot on the All-Region Team for the Mercado Region. However Moore does it, Boyd has more than earned more consistent spots going forward.
There are options for doing so. Perhaps it involves rotating Jones and Boyd, both of whom have dealt with knee injuries in their college careers, at the four. Perhaps Crutchfield comes off the bench more, with Brown-Turner sliding up to the two and Boyd and Jones playing the three and four.
However he gets it done, finding a way to spread minutes between six starting caliber players is an excellent problem for Moore to have, and NC State's roster situation for the 2021-22 season is one most women's college basketball coaches -- with perhaps a very small number of exceptions would trade places with.
Especially with Evans declaring for the draft, the Wolfpack should be the odds-on favorite to win a third straight ACC title and should be in a strong position to again earn a No. 1 seed in the NCAA Tournament.
In what's likely to be Cunane's last year, anything short of a Final Four run next season would be a disappointment for NC State. With the return of Perez, Jones, and Crutchfield giving the Pack its top six rotation players from last year back, this group definitely has the pieces to make that happen.
Never miss the latest news from Inside Pack Sports!
Join our free email list