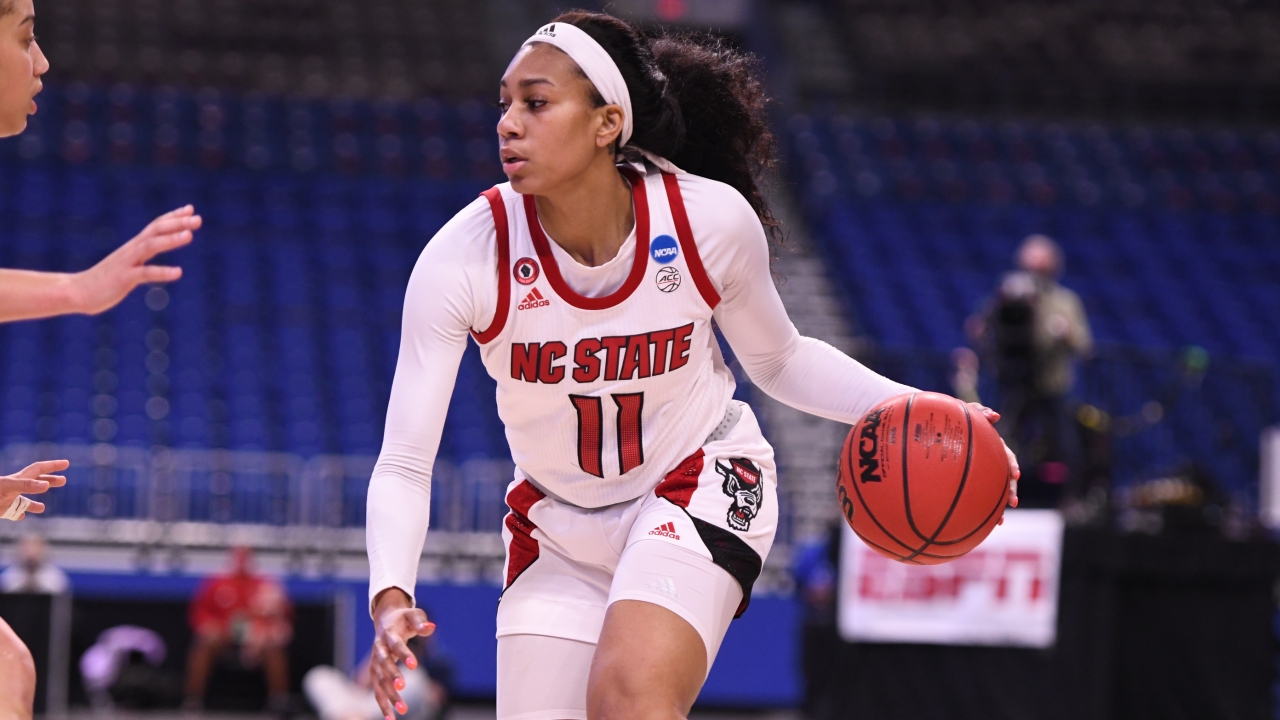 Photo by Chris Downey, NC State Athletics
NC State Women's Basketball
Jakia Brown-Turner: 'I'm ready to play in the Sweet 16'
---
In NC State women's basketball's 79-67 win over South Florida in the Round of 32 Tuesday, all five players in the starting lineup scored in double figures. Jakia Brown-Turner led the way in that regard, with 19 points on 7-of-12 shooting, four rebounds and two assists.
Brown-Turner spoke to the media following the victory, here's a full breakdown of everything she had to say:
---
What is it about the third quarter that gets you guys going?
It's definitely the halftime speech from coach Moore. I always tell my teammates the first three minutes of the third quarter are the most important. Get out and get some stops, so defense created offense for us and that's how we were able to get up.
Is there a PG version of the halftime speech you can give us that [Wes Moore] told you guys in the locker room?
He just tells us that we have to do the things that we can control. Boxing out, making sure we rebound and keeping our man in front of us.
What does it say about this team that [Elissa Cunane] can go 3 of 15 from the floor, [Kayla Jones] doesn't play and you're still able to beat a really good team by double digits?
I just know that everybody on our team is good in every way and that's what makes us great. We don't just have one player, we have multiple that can come in and do what they do.
Did it take a while to adjust to their physical play?
Oh yes it definitely took a while. It always takes a while to get used to the way certain teams play. They were definitely physical, so we had to up our game a little.
How far ahead of the game did you know that you were going to be without Kayla Jones and what was the message you had in the locker room coming out before the game?
We really didn't know if KJ was going to play or not today but we just knew she was there for us the whole time, talking to us and just telling us what she saw out on the court from the bench. So she helped us a lot, cheering for us and telling us things that we could do towards winning the game.
How good was it to see Jada Boyd go out there and make the impact she did in the starting lineup?
Jada is a great player, very athletic and can score in every way so just having that spark starting the game was really, really good for us.
What does it mean to be in the Sweet 16 again?
Well this is my first time being in the Sweet 16 so I'm just happy that we made it here, I'm ready to play in the Sweet 16 and take every game at a time so we're able to win.
What do you know about Belmont and Indiana?
I really do not know any about those teams. We're just going to get ready to prepare for the scout that we see.
What does the rest of your day look like?
I'm going to go back, we're going to eat and rest up. We have a day off tomorrow, and then we're going to get right back to it and prepare for the winner of the game.
What do you think it's going to take for this team to continue to advance?
I think if we do the small things like rebounding, boxing out and doing what we can control, I think we can go far in this tournament.
What was your mindset entering the tournament and being able to put the shooting performance from the ACC tournament behind you?
I did struggle, but we came out with the championship. The past is in the past. My teammates believe that I can shoot. My coaches believe in me. So, just having my teammates' confidence is what I needed.
What did you do in the second half to take away the 3-point shot?
We just had to lock in on defense. It was definitely staying close to our man and just chasing them off the staggers that were happening. Just staying close and being on edge and getting to the shooters.
Never miss the latest news from Inside Pack Sports!
Join our free email list