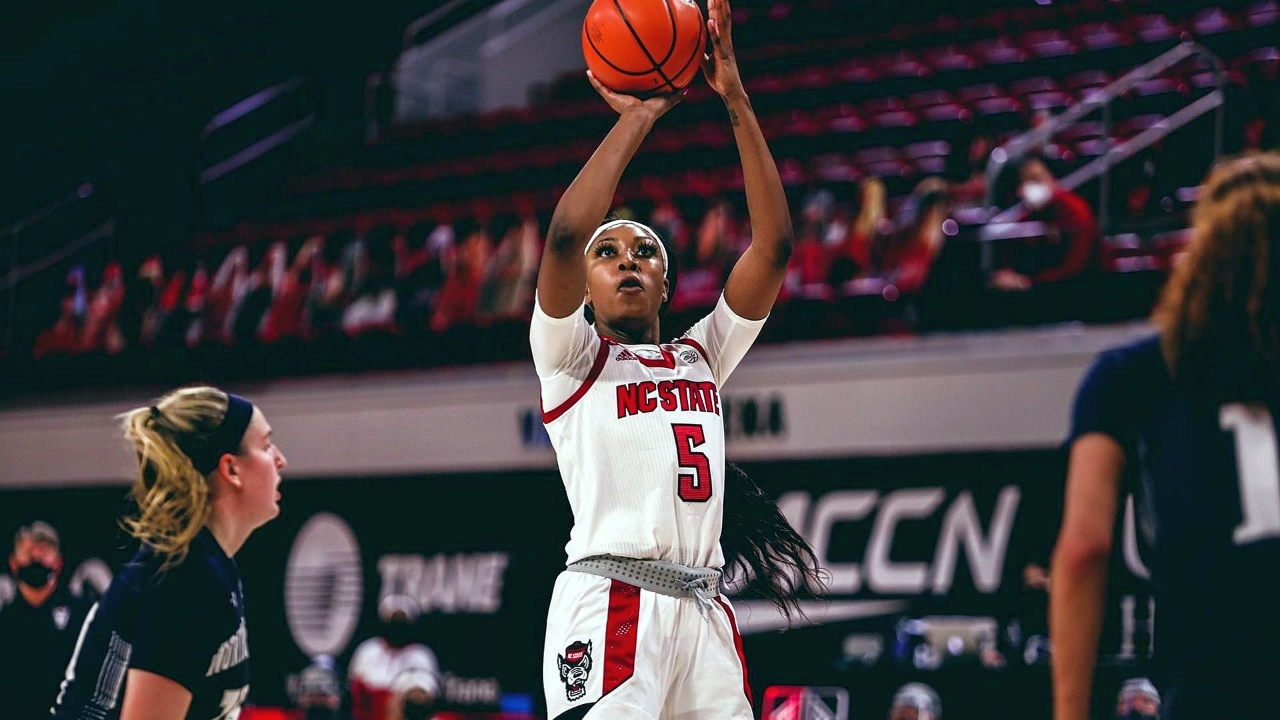 NC State Women's Basketball
Jada Boyd: 'We're ready to go'
---
In a 79-58 victory over NC A&T in the first round of the NCAA Tournament Sunday, NC State women's basketball used a balanced attack, with four players scoring in double figures.
None had a bigger performance than Jada Boyd, who put up 18 points on 8-of-11 shooting and five rebounds. Boyd spoke to the media following the victory, here's a full breakdown of everything she had to say:
---
What do you think the key was for you to be able to get going in the second half and allow you guys to pull away?
We just had to get back to our game, we were running all over the place at first so we had to just get into our normal game of four-out, transition, push the ball and just come in with some energy.
Given your team's history of coming from behind and going on long spurts, did you feel like it was only a matter of time before you guys got things together and pulled away even when you were down six late in the first half?
Yeah I always have faith that our team is going to come together, get it together.
How big was the basket by Genesis Bryant to get you guys going in that run?
Yeah it was such a big basket, I'm so proud of her.
Coach Moore said on the television broadcast that he thought there was some rust to shake off after two weeks, do you think that at all in the first half, was it more what you guys weren't doing versus what they were doing or what did you see there?
Well, A&T they came out hitting all their shots, so it might've been a little bit of both. Two weeks is a long time to go without playing a game so coming in and just playing a game, it was difficult but we ended up getting it together.
You guys had four players in double figures all roughly around the same number, how good is it for this team to have that depth and versatility that everybody can contribute on a day like this?
It's a great day when we all can come and share the ball, when we're all doing what we're supposed to do, we're definitely going to come out with a win.
How nice is it to get that first win and does it feel like you guys can relax a little bit and get back into the motion of playing games now that it isn't this unknown of, 'what are we gonna look like after two weeks off'?
Yeah it definitely feels good, we all came in a little bit nervous so now that we've got the rust off and got the ball rolling, we're ready to go.
What about today's performance overall are you most proud of for your team?
I'm most proud of the people that came off the bench and stepped up in areas that we needed, they just worked so hard in practice so them coming out and showing it, it makes me feel great.
Never miss the latest news from Inside Pack Sports!
Join our free email list