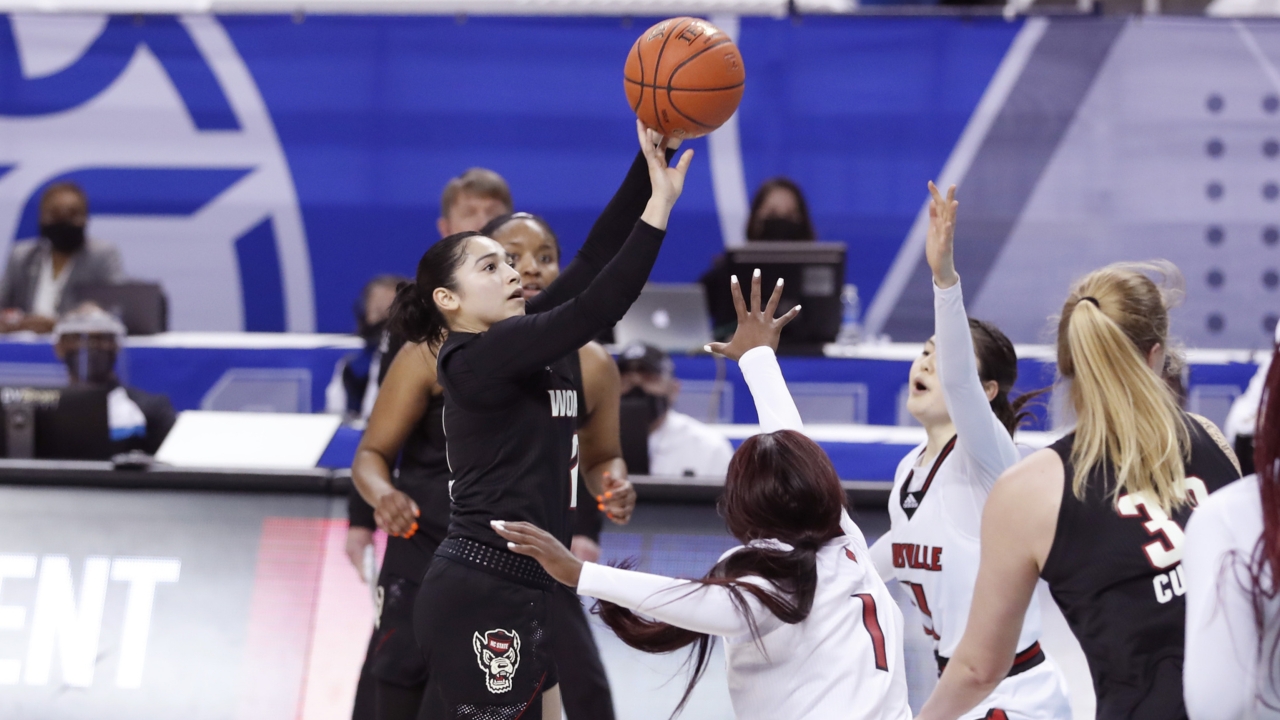 Photo by Ethan Hyman, News&Observer
NC State Women's Basketball
LOCKER ROOM REPORT: Cunane, Jones, Perez on NCAA Tournament
---
After earning its first number one seed in program history, NC State women's basketball will face off against NC A&T Sunday at 4 p.m. on ESPN to kick off this year's NCAA Tournament in San Antonio, Texas.
Elissa Cunane, Raina Perez, and Kayla Jones spoke to the media about the upcoming tournament, and here's a full breakdown of everything they had to say:
---

Raina Perez
What has a day been like down in Texas?
Well, we wake up and we go get COVID tested. Then we come back and we eat lunch and we're just chilling in our rooms. I think we had to wait, we quarantined I think the first two days we just quarantined and came back and chilled in our rooms. But finally on Thursday we were able to practice. Other than that, we just go and get COVID tested then come back and just chill in our rooms all day.
How excited was the team to get the No. 1 seed?
We were stoked. We weren't expecting it, honestly. Of course we wanted to have a No. 1 seed, but when we saw it pop up on the TV we were just super excited. We're just so grateful.
How do you compose yourself and get back to training after such a high moment in the ACC Tournament?
We've just started this whole tournament like it's a new season. That's just how we've been going about things. So, I just kind of put that behind me. Starting on Sunday it's a new season.
Have you seen the differences between the resources of the men's and women's tournaments, and how does that make you feel as a student-athlete?
I mean, it is what it is. It's unfortunate. You don't really expect those things coming into the NCAA tournament, but at the same time we try to find the positive in things as a team. We're just excited to play games.
Can you [talk] about your collegiate journey and how it has led to now having a chance to win an NCAA title?
I started at two mid-majors. I'm finally here at a Power Five. Yeah, my journey has been different than most. I'm just excited to be here. It's my first NCAA Tournament. First game on Sunday. I'm stoked. I'm just super grateful, and I'm excited to see what this program can do.
What is your mentality like coming into the tournament knowing that there is a target on your back as a No. 1 seed?
I kind of think that's how our whole season has been this year. I feel like every time we play a team, we get their best game. I think we're just taking it game by game. We're just doing what we've been doing. I don't think anything has changed. Our mentality hasn't changed. We're just going into each game as a new season.
Elissa Cunane
What has the routine been like for you guys in Texas?
It's been tough. We've had a lot of down time. But we've kind of made some games waiting for COVID testing, just interacting with people that we can. But for the most part, I've just been doing school work. We've had study hall. So I've just been reading books in my room, sleeping a lot to prepare my body for these games.
Has finding things to keep your mind occupied taken your mind off the tournament and let you relax?
Yeah, a little bit. I've kind of lost count of the days. But now I know it's like two days until game time. As soon as we were able to practice, we kind of got our mindsets all back to it's about to be game time, so now I just have a lot of pent up energy that I'm waiting to get out.
Have you seen the difference in resources between the men's and women's tournaments, and how do you feel about that?
I see it on social media, and also we're living in it. So, I definitely know what's going on. It's unfortunate. And it just shows how far women's sports has to go. But I think in this moment, I'm just grateful that there is an NCAA Tournament this year, and we came to win games at the end of the day.
Have you guys talked about using this tournament to prove to the rest of the world that NC State has arrived?
For sure. There was an ESPN article the other day that said like 'top five teams that could win the tournament.' And NC State wasn't on that list, even though we're a No. 1 seed. So even though we got the respect that we deserved as a No. 1 seed, we have a far ways to go.
You said you've lost count of the days. As someone who's hoping you're there for about a month, is there anything you're doing to frame yourself mentally?
I've tried to keep my room clean, but it hasn't worked out the past couple days. I think for the most part, homework's kept me on schedule. I had a test to take yesterday, I have stuff due Sunday. So I think that's kind of kept me on track, as well as when games start up, it'll be kind of back to some semblance of normalcy.
What did it mean to you guys to get that number one seed?
It was really cool. We weren't expecting to be No. 1. We were just kind of like 'Whatever happens, we're going to roll with it.' So when we were all sitting there and the first name to pop up was us as a one seed, we were all looking around like 'Oh, that's us.' So it was really exciting to see that, and it definitely is a tribute to all the work we've done this year, winning the ACC Championship against a very tough Louisville team, but now there's even more work to do. It's an honor, and we were really excited about it to make some history, but we have more work ahead of us.
You will have been off for two weeks before you play, but how are you guys trying to keep momentum?
It's a new season. At the start of this, you have to take it game by game, because you won't move past is you don't win the game. So we're just going to have a bunch of energy, especially after not getting to the NCAAs last season. We're going to be ready to go every game. There's not going to be any drop off.
Kayla Jones
Have you seen the differences between the resources of the men's and women's tournaments, and how does that make you feel as a Division I college athlete?
I've just seen it. It's fine. It's new. We all are going through COVID here. We wanted to have a tournament, and they made it happen. So, we just decided to be able to play games and be here.
How do you embrace the underdog role even as a No. 1 seed?
We still do, you know. We still feel as if we have something to prove. We're still just taking it one game at a time.
Having the platform to use this tournament as a chance to put NC State on the map as a national contender, how do you want the legacy of Kayla Jones to be remembered?
Like you said, I want to win a natty. That's the biggest thing, really. We're just gonna take it one game at a time. I just want to have fun these last couple games this season.
How different is this roadtrip?
Most of us brought our game systems. And then they've been playing ninja down in the lobby, in our little meeting area. When we get to practice, we just try to have fun. I feel like yesterday's practice was the best practice ever. We felt like we were just out and free. When we see each other, we laugh and joke. It's best when we see each others' faces because we've been just stuck in our rooms.
What does this tournament mean to you as a senior?
It means a lot. We can't take it for granted. We're just excited to be here.
How do you stay fresh after not playing for two weeks?
In practice, we're just trying to build good habits. After the ACC Tournament, we had a couple days off. And then once we got back to Reynolds and started practice, you could tell coach Moore was on us. We had to start correcting things and become a better team. March is here, now we're just trying to do the improvement.
Do you guys view yourselves as a title contender?
For sure. You have to have that confidence in yourself. And we know we're here to compete with the best teams. We're ready. We know it's not going to be easy, but we're just taking it one game at a time and focusing on us.
Never miss the latest news from Inside Pack Sports!
Join our free email list