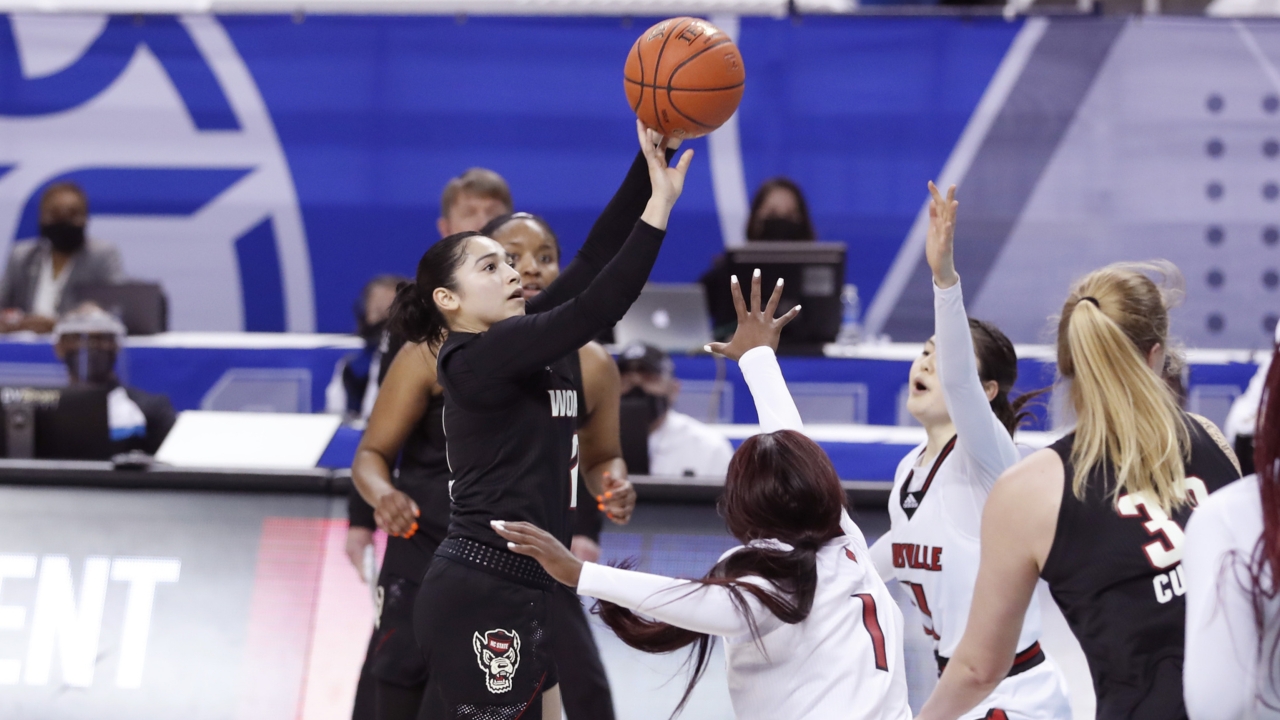 Photo by Ethan Hyman, News&Observer
NC State Women's Basketball
TAKEAWAYS: Wolfpack women win back-to-back ACC Championships
---
Wes Moore said after NC State's semifinal win over Georgia Tech on Saturday that champions find a way to win. That's exactly what NC State women's basketball did against Louisville in Sunday's ACC Championship Game, wiping out an eight-point, fourth-quarter deficit to top the Cardinals 58-56 and capture back-to-back conference titles for the first time in program history.
Raina Perez hit the biggest shot of her career, the game-winning, mid-range jumper with two seconds left to give the Pack the win, and Elissa Cunane, the ACC Tournament MVP, finished with at least 20 points and nine rebounds for the third consecutive game.
"This team is just so resilient and they just find a way to win," Moore said. "Obviously dug an eight-point deficit there in the fourth period, and they didn't blink an eye, just kept battling. … We found a way to get it done. Players made plays. It's a great day for NC State."
Here's some key takeaways from the Wolfpack's championship day:
---
Tournament MVP, and no doubt about it
For the third straight game in the ACC Tournament, Cunane reminded everyone why she's one of the best players in the country. She again battled through physical play from her opponent to be the Wolfpack's trademark weapon inside, finishing the game with 20 points on 7-for-12 shooting and nine rebounds, also adding three assists.
In the tournament as a whole, Cunane was on another level, as she combined for 70 points, 27 rebounds and shot 62% from the field in NC State's three games. The Summerfield, NC native was not going to be denied a second straight ACC Championship in her backyard, and dominated, always being there to make a play when the Wolfpack needed it.
"She's the centerpiece," Moore said. "Without her, we'd be running that doughnut offense with nothing in the middle. I say that, now Camille Hobby has been pretty danged good, too, but Elissa is a special player. Again, we ride her pretty hard, and she just finds a way to get it done. … The girl has got a lot of confidence. I think because of that, our team has a lot of confidence"
Cunane followed in Aislinn "Ace" Konig's footsteps as tournament MVP.
"Ace is one of my best friends, so it's huge," Cunane said. "She's winning championships in Switzerland. To follow in her footsteps and just like the legacy she created, the way she left this team, it's huge. I can only thank my teammates and coaches. I wouldn't be here would you say them."
Perez comes through in the clutch
All season, including following the Wolfpack's road wins over top-ranked South Carolina and Louisville, Perez said that the biggest reason she came to NC State as a grad transfer from Cal State Fullerton was to play in these big games and big moments. Sunday, she came up as big as could be in the biggest moment of her NC State career so far, knocking down the Wolfpack's biggest shot of the season to secure the championship.
"I'm just so thrilled to be here," Perez said. "I feel like I belong here, and I think I proved the point. I'm just so excited and grateful to be here, honestly."
To that point in the second half, Perez had not hit a shot. In fact, she said on the play she was looking to pass, which was a logical choice for her given that she leads the ACC in assist-to-turnover ratio. But, of course, that's not how it played out.
"I was honestly looking for the pass," Perez said. I hadn't made a shot all second half, so I think I was kind of more in my head. But then they doubled on [Cunane], and I was wide open. I had to take it, and what do you know, it went in."
Perez was one of the most important ingredients in the Wolfpack's second straight ACC Championship run. Following the departure of Konig from last year's team, the biggest question for NC State was how to fill her shoes at point guard.
Perez has been a perfect fit both on and off the court.
"I don't know where we'd be without Raina," Moore said. "We felt like we needed somebody with experience that you could just drop into this lineup and not miss a beat. I think that's what's happened. For her to come in and first of all be accepted, you've got to give our players credit, too, for having open arms and being excited, but a lot of that has to do with Raina, not only as a player. She works, she comes in and prepares like a pro, but she also is just an unbelievable person off the court, great personality, fun to be around, and so that's why it worked. It doesn't always work that way, but Raina made it work on the court and off, and our team is whole lot better because of it."
Heart of a champion
Following Saturday's game, in which NC State erased a 10-point deficit in the fourth quarter, this team knew it could be confident in coming back trailing late (the Pack also came back from down double digits in the fourth quarter twice in the regular season as well).
It was probably not advised to try that against Louisville Sunday, but the Wolfpack basically did it again, this time finishing the game on an 18-8 run after trailing by eight.
In extremely similar fashion to Saturday's game, an early fourth-quarter 3, this one from Evans, seemed to spell trouble for NC State as the Cardinals took an eight-point lead. The Pack again responded, however, ripping off a 15-6 run with some big buckets by Cunane, Crutchfield and Boyd to give NC State a 55-54 lead on free throws from Cunane with 2:23 left.
After Evans gave Louisville the lead back with 1:59 left, the teams traded stops, Cunane split from the line with 47 seconds left to give the Wolfpack the lead. The Pack then got another stop, and Perez hit the shot that will live forever in NC State lore to clinch the championship.
"I think it's just keeping our heads and keeping our focus," Perez said. "Obviously we know the score but we try not to pay much attention to it. We just try to focus on ourselves and do what we can."
Kai comes up clutch again
There was no way to give the ACC Tournament MVP to anyone other than Cunane, but NC State would not have won this tournament without the efforts of Kai Crutchfield, who joined Cunane on the First-Team All-Tournament team.
On Saturday, she scored eight points and made some of the biggest plays in the comeback win over Georgia Tech. On Saturday, she hit two 3s, including one in the fourth quarter to answer Evans' triple. But by far her biggest impact was her defensive contribution, as she matched up against arguably the best player in the country in Louisville's Dana Evans. Crutchfield held Evans, who averages over 20 points per game, to just 15 on 7-for-21 shooting, and completely locked her down in the first half, allowing her just two points on 1-for-5 shooting, and even drawing a charge against her.
In what ended up being a close, down-to-the-wire game, Crutchfield's defensive contributions were vital.
Battling through adversity
While the feeling of last year, which was NC State's first ACC Championship in 29 years, was tough to top, for this year's team, the feeling of getting to the finish line had to be extra gratifying.
NC State's season last year was unceremoniously cut short following the ACC Tournament due to the COVID-19 pandemic. The pandemic impacted every team throughout the season, and NC State was no different as the Pack went through a three-week pause in January as part of its path back to glory.
"Coming off last year's win, we knew it took literally everything in us, so after last season ended we knew we still had more fight in us," Cunane said. "Coming back to Greensboro, stepping on this court, I told the team before the game, 'This is our court now. We have to defend this court.; So coming back and being able to win it, it's huge. Throughout this season we've had so much adversity, just like everyone else in the league, everyone else in the country playing basketball and living right now.
"It's just been so tough with COVID. For our team to stick together to pull it out, and honestly shout out to the ACC for our season being here and for there being a tournament. We had fans in the stadium. I'm just really grateful for this moment, and winning makes it even better."
Wes Moore is a winner
There's no doubt that Moore is building something special at NC State. In his seventh and eighth seasons at the helm, the Wolfpack's bench boss has taken this program to new heights, with its first back-to-back conference championships in program history.
Throughout this season, the Wolfpack has proven time and again that it can compete against the top programs in the country with a win over South Carolina and two over Louisville, as NC State looks to establish itself among women's basketball's blue bloods.
"There was a time there when I thought, we may never get to put the hat and the tee shirt on and have the balloons rain down on you," Moore said. "This league is very, very good. Great players, first of all, great coaches, and it's just an unbelievable experience. I didn't know if it would ever happen, and now it's happened back to back.
"It's all about the players. I learned that a long time ago. They When it counted, they made some plays. It's really great for our program, obviously, trying to break through. I had somebody tell me a few years ago when I first got here, 'There's a pecking order in women's basketball, and you'll never change that. Well, you're right, I didn't, but we've got some players that are trying to change that."
Moore might not think he's the one changing it, but he's certainly had a lot to do with it. Unlike last year, the Pack should now get a chance to prove itself in the NCAA Tournament.
The Wolfpack will know its seeding and draw a week from Monday with the selection show at 7 p.m. on ESPn and will look to achieve its goals of getting back to the Final Four and competing for a National Championship. If this season so far is anything to judge by, it would be unwise to bet against this group.
Never miss the latest news from Inside Pack Sports!
Join our free email list