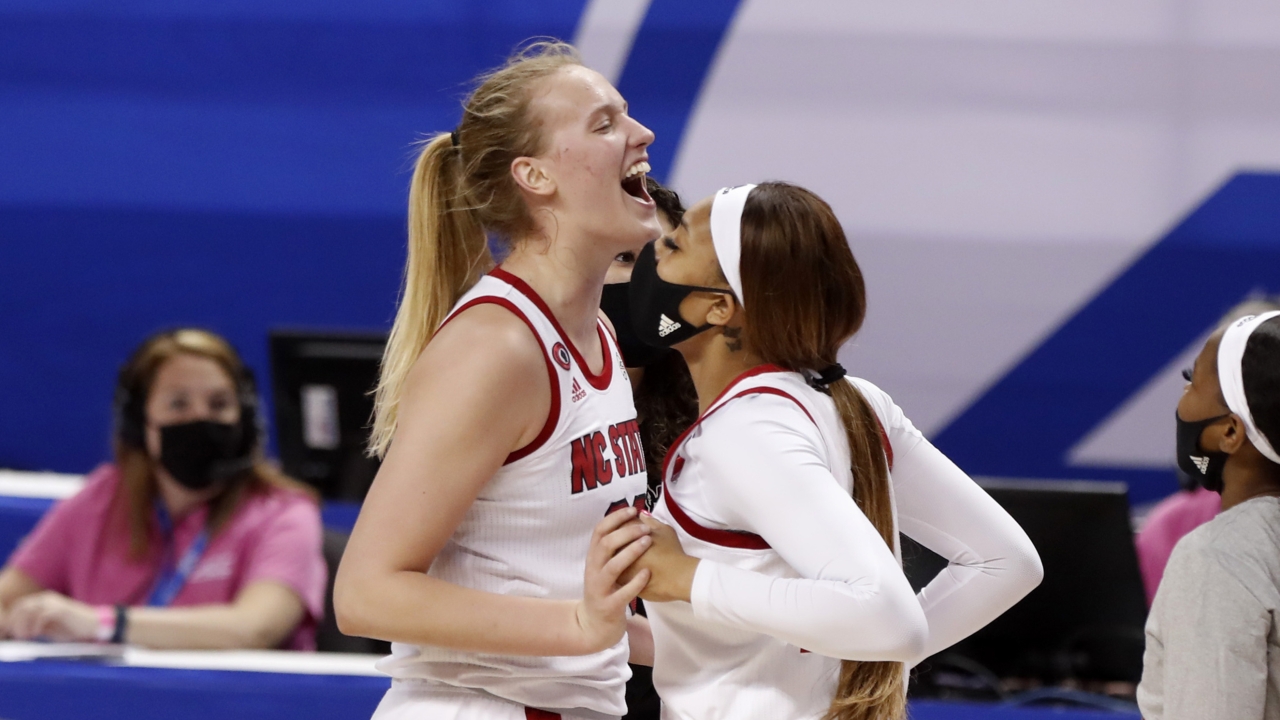 Photo by Ethan Hyman, News&Observer
NC State Women's Basketball
ACC Tournament Takeaways: Cunane dominates as Wolfpack knocks out Hokies
---
GREENSBORO -- NC State women's basketball knew it would be facing a tough opponent Friday night against Virginia Tech, one of two teams it lost to during the regular season. The Pack answered the challenge, topping the Hokies 68-55 in Greensboro Coliseum to move and face Georgia Tech Saturday at 2:30.
The first ACC Tournament game with a double bye against an opponent that's already played, but the Pack overcame poor shooting with strong defense and attacking the paint at opportune moments, with Elissa Cunane putting up a season-high 27 points and Jada Boyd posting a double-double.
"This game always scares me to death because the other team has played a game," Moore said. "I really feel like they have an advantage in this first game. If you're trying to win the tournament, the whole thing, then obviously it's great getting that double bye, but that first game they've gotten the tournament jitters out of the way. … But again, proud of our team the way they hung in there. I thought we handled things pretty well. Elissa Cunane, obviously she makes a big difference, so having her in this game obviously was really, really a big part of it. We didn't play our best game by any means and we had some people that struggled, so hopefully tomorrow, now that we've got this out of the way, hopefully we can get a little momentum.
Here's a few key takeaways from the Wolfpack's victory:
Battle in the post
Coming into this game, the battle of top centers Cunane and Elizabeth Kitley was given top billing, especially with Cunane missing the first two games against the Hokies.
It lived up to the hype. The duo combined for a whopping 47 points and 18 rebounds, with Cunane a season-high 27 points on 10-of-15 shooting and nine boards, and Kitley posting 20 and nine.
"I always love playing against Liz because she's my friend and also a great post player," Cunane said. "So playing against her I learn a lot about myself and I feel like my game grows. It's just cool to play against somebody from my hometown, and added on that she's been one of my best friends."
Kitley did a lot of damage from mid-range, but Friday was a vintage game for Cunane, as she used her bevy of post moves to both score at will from under the basket and get to the line, finishing 7-of-8 from the charity stripe.
Seeing the pair of Summerfield natives going head to head was worth the price of admission, but Cunane, who was making up for lost time, definitely got the better of the exchange as she powered her team to victory.
"There was definitely a lot to play for today, Cunane said. "I had some time to make up after not playing Virginia Tech the first two times this season, and we're on a bigger stage now. It's tournament time. One loss and you're out, so we really have all notches turned up, offensive and defense. We're coming out here because we've got business to do."
Pack attacks the paint
For the second game in a row, NC State struggled from beyond the arc, shooting just 4 of 22 on the night from downtown. For the second game in a row, the Pack made up for it and attacked the zone by pounding the paint. The Wolfpack scored 42 of its 68 points in the paint, out-scoring the Hokies 42-16 in that regard.
"Liz got a quick foul in the first quarter, which really affected her defense, she couldn't play as physically, just as I did as well early in that first quarter," Cunane said. "We knew we could attack the bigs. They don't have much depth like we're fortunate to have, so we were able to just go in and attack. They didn't want to get fouls, so we were able to make easy lay-ups."
Cunane was obviously the Wolfpack's top weapon inside, but, for the second game in a row, Boyd also made a major impact, finishing with 13 points and 10 rebounds off the bench. It was the ACC's Sixth Player of the Year's fourth double-double of the season and second in as many games.
"[Boyd] shows us why she was the Sixth Player of the Year," Cunane said. "She's able to step out on the court and make a difference as soon as she gets out there and she's so explosive. When the guards were shoving a little bit she was able to step in there, play defense and just attack, and they couldn't guard her inside. She's unstoppable."
Defense and rebounding wins the day
For weeks leading up to the ACC Tournament, Wes Moore talked about the need to be able to win with defense and rebounding when the outside shooting isn't there.
Lo and behold, against the Hokies', the Pack shot just 44% from the field and 18% from 3. It made up for it on defense, however, holding Virginia Tech to just 35% shooting (23% from 3) and grabbing 32 defensive boards. NC State has made its living all season as one of the best defensive teams in the country, especially in big games, and Friday was no different.
While the Pack was able to contest shots Friday, however, Moore said some of it was simply the Hokies missing some shots.
"I think we did defend pretty well," Moore said. "I thought we did a nice job. But yeah, there is another aspect called HTM: Hope They Miss. Sometimes we play that HTM defense. But again, I thought we did have good energy. We flew around. We tried to cat and mouse a little bit at Kitley because she's so good when she gets it down there on the block."
Pack closes it out
Following a closely-contested first three quarters that saw NC State take an eight-point lead into the final quarter, the Wolfpack made the plays it needed to down the stretch. Whether that was a 3 fro Raina Perez, who finished the game with eight points and six assists, and-one from Kayla Jones or jumper from Kai Crutchfield, both of whom finished with seven points and five boards, the Pack always had the necessary response.
The Pack outscored the Hokies 21-16 in the final frame, closing out a tough opponent and advancing to Saturday.
"I think they're a very dangerous team," Moore said. "I'm glad, hopefully if we see them again it's going to be deep, deep in the NCAA Tournament because I don't want to see them early. They're very good."
Never miss the latest news from Inside Pack Sports!
Join our free email list