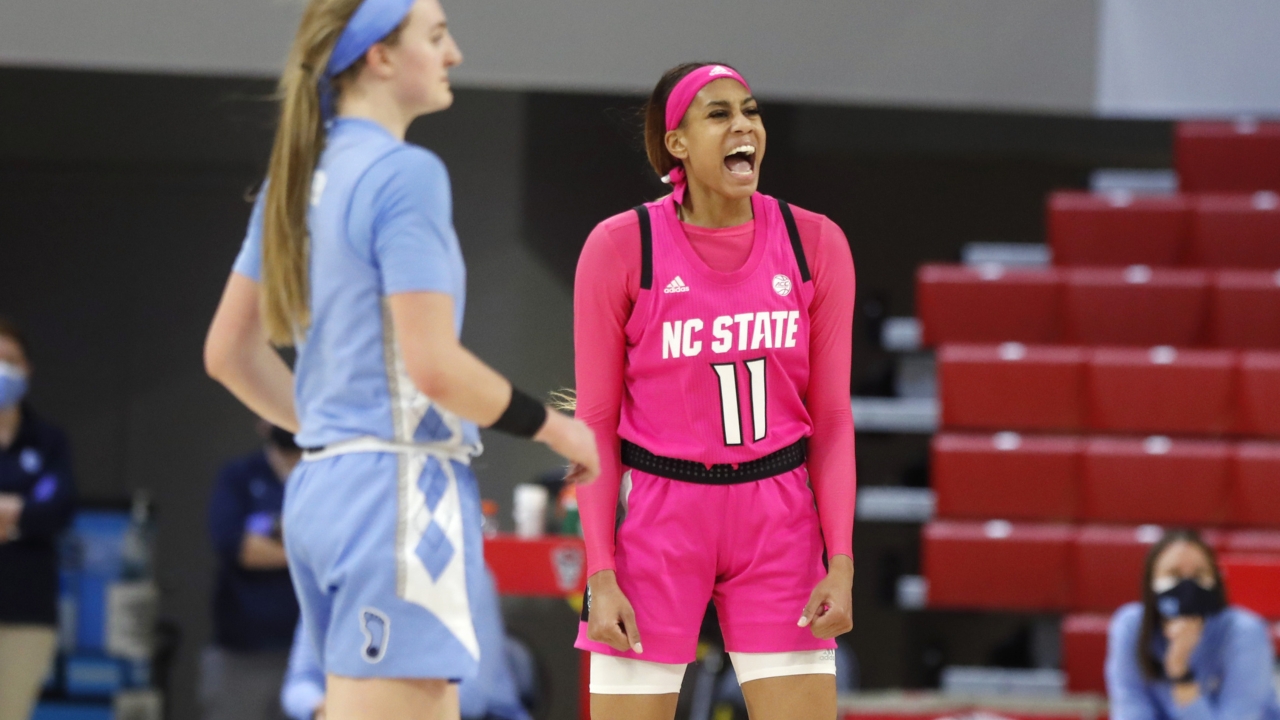 Photo by Ethan Hyman, News&Observer
NC State Women's Basketball
TAKEAWAYS: Jakia Brown-Turner Posts Career Day
---
The NC State women's basketball team lost at UNC on Super Bowl Sunday, and that contest immediately became the team's most disappointing game of the season. In the rematch at Reynolds Coliseum this past Sunday, however, the Wolfpack had no problem getting its revenge in an 82-63 win.
The Pack used a strong defensive game, an offensive outpouring in the second half, and three players finishing in double figures to knock off its rival.
It was also the Pack's annual Play4Kay game in celebration of the late Kay Yow and those who have battled breast cancer. A half-time tribute spotlighted the legendary coach.
"It's special playing for all the cancer survivors and the people who have cancer," said senior Kayla Jones. "It's just very special, and we don't take it for granted. We're very thankful to be a part of it, and it's just a special day."
Here's a few key takeaways from the win:
Big three gets it done again
For the third straight game, NC State's big three on offense of Kayla Jones, Elissa Cunane, and Jakia Brown-Turner got it done -- all finishing in double figures.
"I just feel like we're all good in our own ways," Brown-Turner said. "Anybody can have a big night any night. So everybody has to guard us."
Brown-Turner has scored in double figures in all but one game: the loss at UNC. Sunday, she exploded for a career-high 25 points on 10-of-16 shooting while adding six rebounds.
"It felt great," Brown-Turner said. "We finally played the way we wanted to play as a team. Like I said before, we didn't play like ourselves when we played them a couple weeks ago. But we definitely played Wolfpack basketball today."
Against Wake Forest on Thursday, Brown-Turner diversified her game a bit in what head coach Wes Moore said was one of her better games attacking the rim. On Sunday, she reminded everyone why her shot is such a weapon, finishing the game a blistering 4-of-5 from beyond the arc.
"I was just playing, taking good shots, looking for my teammates, rebounding, playing defense," Brown-Turner said. "When you're doing that, it just comes."
It was a tale of two halves for Jones, who struggled in the opening 20 minutes with just two points on 1-for-7 shooting. She came out with a vengeance in the second, scoring from all over the floor as she put up 18 points on 8-of-10 shooting in the second and finished the game with 20 points and eight rebounds.
Jones attacked the rim and picked up a three-point play to lead off the third quarter, which seemed to spark her going forward.
"I just knew I had to be aggressive," Jones said. "At halftime, I talked to [assistant coach Erin Batth]. She was like, 'It's OK, calm down. It's going to come to you. Just play ball and have fun.'
Cunane had an uncharacteristically inefficient day on offense, shooting just 5-of-15 from the field and missing all three of her attempts from beyond the arc. She still made a major impact by attacking the paint and finished with her fifth double-double of the season with 17 points and 14 rebounds. Cunane was able to get to the free-throw line regularly, finishing 7-for-7 from the charity stripe.
Defense carries the load in first half
NC State had a strong day overall on defense, limiting the Tar Heels to just 35% shooting and grabbing 35 defensive rebounds. Unlike the first game, when UNC's 3-point shooting was a major culprit in the Pack's upset loss, the Heels were ice cold from 3-point land, going just 5-of-24 and missing their first 16 attempts from beyond the arc.
That defense was sorely needed in the first half, as NC State shot just 34% from the field and went 2-for-10 from three, missing plenty of open shots but taking a 31-21 lead to the locker room thanks to the defense.
"North Carolina has a lot of weapons out there offensively," Moore said. "I thought Kai Crutchfield did a great job of trying to slow Stephanie Watts down. She was coming off a 26-point game the other night at Clemson. She's playing really well. I thought Kai did a nice job. We had [Raina Perez] trying to keep up with [Petra Holesinska]. She hit a couple of 3s. Overall, I thought she did a nice job. Just overall, I thought our team defense was much better. More energy, flying around."
Pack offense awakens in second half
NC State finally got its offense going in the second half, shooting 56% from the field. The Wolfpack outscored UNC 51-42 in the final 20 minutes to cruise to its 15th of the season.
The Pack ran its trademark inside-out offense in the second half, scoring 28 points in the paint and hitting 5-of-10 shots from beyond the arc.
The Pack also had much better ball movement in the second half, with 11 assists to six turnovers, compared to two assists and five turnovers in the first.
"I think we settled down a little bit offensively and shot the ball better, obviously. … "The first half, I don't know if we were just too hyped up, but I thought we maybe rushed some shots. Part of it is being patient and getting good looks and getting in a rhythm. At halftime, we had two assists and five turnovers. So, that means in the second half we had 11 assists and six turnovers. So, we played better team ball. We worked inside out and set teammates up. It was good to see us bounce back and be able to do that."
NC State now has two regular-season games left before the ACC Tournament, and the team seems to be rounding into form at the perfect time.
"I'm calling them dress rehearsals," Moore said. "We've got two more dress rehearsals before we start playing in the postseason, start a new season. I need to probably lighten up a little bit. I know I'm hard on them. I'm thinking 'If it ain't perfect, it ain't right.' So, I probably at some point need to lighten up a little. I'm driving them pretty hard. We're trying to close that gap between where we are and where we could be if we cleaned everything up. We're trying to close that gap as much as we can. So definitely, like I said, we've got to keep getting better. We've got to keep fixing things and hope that we are playing our best basketball in March."
Never miss the latest news from Inside Pack Sports!
Join our free email list