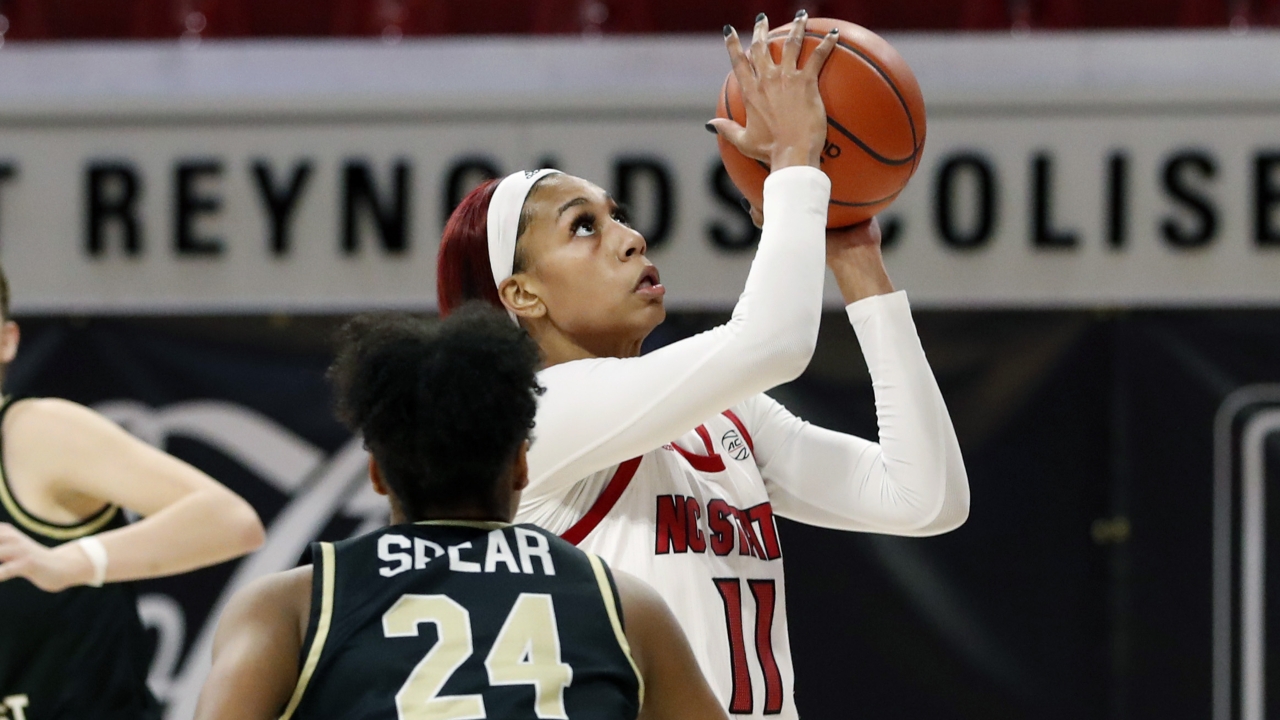 Photo by ehyman@newsobserver.com
NC State Women's Basketball
Takeaways: Wolfpack shuts down Demon Deacons
---
No. 4 NC State women's basketball went on the road Thursday night and picked up an emphatic win, knocking off Wake Forest 66-47.
The Pack saw three players score in double figures and, outside of a bit of a slow start, controlled play for most of the game.
Here's a few key takeaways from the win:
---
Strong defensive effort
NC State played great defense in this one, holding Wake to 31% shooting, grabbing 29 defensive rebounds, and forcing nine turnovers.
"I just think we played great defense," said Jakia Brown-Turner. "We met our goal of keeping a team from scoring under 60, so defense leads to offense and we showed that tonight."
NC State came up with 12 fastbreak points as it attacked the Demon Deacons in transition. Kai Crutchfield and Raina Perez helped the Wolfpack lock it down, holding their primary matchups, the Demon Deacons' duo of Gina Conti and Jewel Spear, to just six points combined.
"They've got some explosive offensive players," said Wes Moore. "Conti, I think she makes them go. She's the one that sets everybody else up. I thought Kai Crutchfield did a really good job on her. And then Jewel Spear, somebody that hit, I think, four 3s at our place. She's just been killing it from the 3-point line. So I thought Raina Perez did a pretty good job of shadowing her most of the night. We were rebounding and trying to limit them to one and done. I know we let them go get some offensive rebounds, but we limited them for the most part. I thought in the early part of the game we did a nice job there."
Brown-Turner, Jones, Cunane lead the way
NC State had three players score in double figures in this one: Jakia Brown-Turner (21 points, five rebounds), Kayla Jones (16 points, four rebounds), and Elissa Cunane (15 points, 10 rebounds, three assists, two blocks) – with Cunane posting her fourth double-double of the season.
All three players helped the Wolfpack achieve its goal of attacking inside out, as NC State finished the game with 40 points in the paint.
"I thought Jakia Brown-Turner attacked the rim better than I've seen her do in quite a while," Moore said. "She's obviously a great 3-point shooter, but I thought tonight she was aggressive off the bounce, so that was good. Obviously Elissa Cunane, we want our offense to run through her. I thought she did a nice job. And of course, Kayla Jones can post up, she can get to the rim through whatever. So I thought those players in particular did a nice job helping us go inside out, which is what we want to do. Like I said, Elissa makes us go in there."
Slow start, hot finish to first half
The Wolfpack got off to a bit of a slow start to the first half in this one, but that didn't last. After Wake tied the game at 24 in the second quarter, the Pack finished it on a tear, ripping off a 15-2 run over the last 5:26 of the half to take a 39-26 lead into the locker room.
"We definitely had to pick up our intensity on defense," Brown-Turner said. "Make sure that we boxed out and rebounded the ball. We were able to get out in transition and score."
Wolfpack shuts the door in third quarter
If the Wolfpack pulled away late in the second quarter, it left no doubt in the third. The Pack outscored Wake Forest 21-10 in the penultimate frame and shot 53% from the field compared to 31% for the Demon Deacons.
The Pack never led by fewer than 19 points in the final quarter and cruised to its 12th ACC win of the season.
NC State now has just three scheduled ACC games left before the ACC Tournament, and that starts with Sunday's rematch with UNC.
"I love the way we're playing," Brown-Turner said. "We're starting to recognize what we can do and what it takes to win every game."
Never miss the latest news from Inside Pack Sports!
Join our free email list