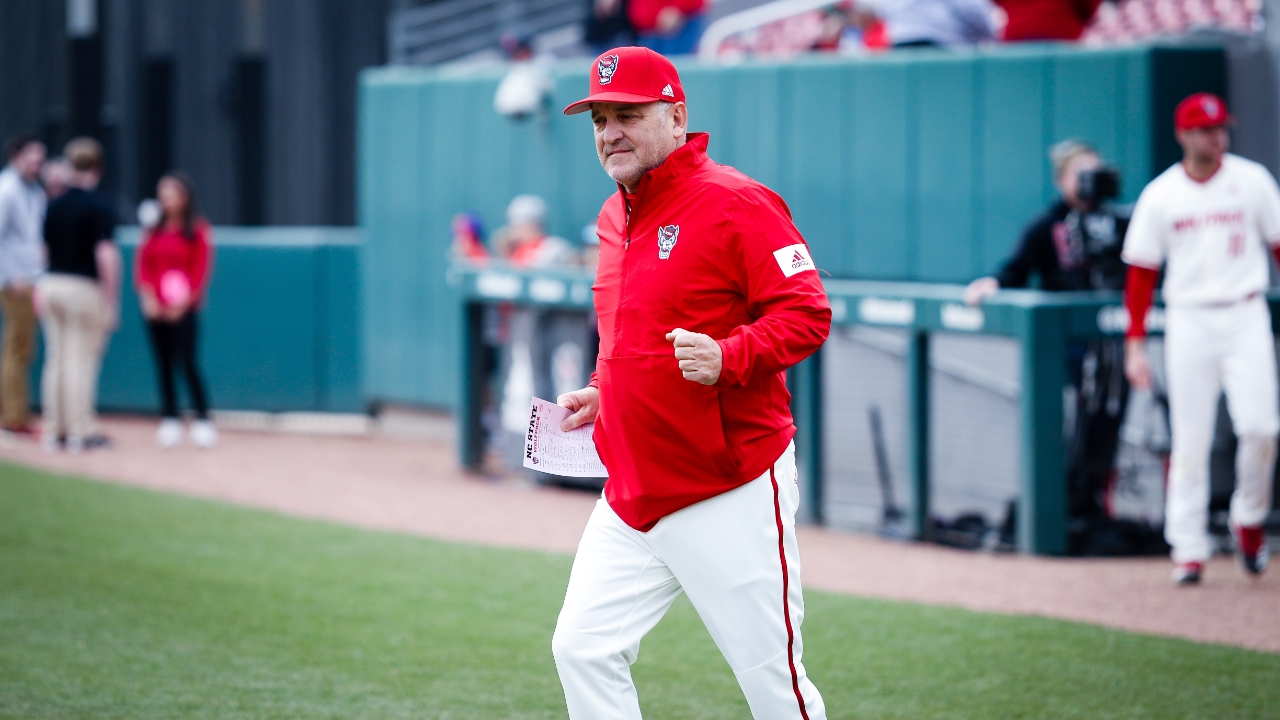 Photo by Photo credit: Steve Murphy
NC State Baseball
Elliott Avent: "They're More Preparing For May Than They Are For February 19"
---
NC State head coach Elliott Avent spoke with the media via Zoom ahead of the Wolfpack's season-opening series versus VMI. An abbreviated transcript of Avent's comments is posted below.
NOTE: Click on the video in the player above to watch Avent's press conference in full.
---
Opening Statement
"What I told the players yesterday is something that we try to build here at NC State, and fortunately have done it for the most part every year, is a great chemistry team. I think that's why a lot of times, not always but a lot of times, you'll see our team playing very well in the last couple of months of the season, and chemistry takes over, especially in a long sport that runs from February to June. You have a lot of adversity and a lot of adjustments that you have to make, and I think it's the chemistry of that team and the leadership of that team that allows things to function and keep the team playing hard because, if you don't play hard every day in this league and with our non-conference schedule, then you're going to lose that day. Playing hard just gives you a chance to play with the schedule that we create every year. I told this team, even though I think all of our teams have been relatively close, that I really believe that this team seems to have a closeness in the beginning that may be a little greater than I've seen in the past. We haven't lost yet. We haven't had any adversity, and that's what usually derails ball clubs, but I hope the leadership of this team will remain strong because it's going to take a lot with a lot of distractions that are going to happen this year and a lot of adjustments that are going to have to be made. I like this ball club. I like this ball club a lot. Even though they're excited about opening day as every ball club is, they don't seem to have the giddiness that some clubs have. I think they realize it's going to be a long haul, and I think right now they're more preparing for May than they are for February 19, and that's a good sign."
Do you get the feeling that there's a sense of unfinished business with this group going into this season?
"No, I've never been a coach that wants to use the words 'unfinished business' or 'chip on your shoulder' or all those kinds of stuff. I don't think you play for things like that. I think those things sound good, and you might practice with a chip on your shoulder or you might practice with unfinished business if you want to, but when it gets down to it, you play the game for the right reasons, and you play it for your teammates, and you play it for the fun of the game, and you play it to see who you can beat personally and who your team can be as a unit. That's what you have to focus on. We haven't talked about unfinished business. I just know they know they haven't played in a year, they love this game, and I think they're 18-to-22-year-old guys who can't wait to get back out there and play the game again."
How much of a challenge is it to maintain the team's chemistry and keep everybody happy considering the circumstances of this year?
"I've coached for a long time. I think for my first 30 years I tried to keep players happy, and I figured out you can't do it, even with 30 players. Brian Ward, one of my former coaches and one of the great players and hitters in NC State history, always told me, 'Coach, you're a lot better with 30 players than you are with 35,' and there's a reason for that. You can't keep everybody happy on a roster, and in trying to do so, there are some disruptions and distractions that will tear a ball club apart. About five years ago, I started telling players, 'As much I'd like to keep you all happy, I realize I can't do that. I've tried for 30 years. It's your job to keep yourself happy, and if you can't keep yourselves happy playing this game, being a college student, doing the things you do in a great city, in a great university, in a great league, in a great non-conference schedule, and traveling around like we do in great cities and nice hotels, if that doesn't keep you happy, you've got a problem.' We did not expand our roster like a lot of schools did. Even thought the NCAA allowed for the expansion of rosters, and I've heard stories of 45, 50, and upwards of 50, I'd never want to coach that many people unless I'm coaching football. We did not expand our roster like the NCAA gave us the ability to do because I think you're better off with a smaller number of people. The only that we're going to have to worry about is injuries, which you always worry about, and now contact tracing and stuff like that."
Do you have a rotation set for this weekend? Who are some guys that could potentially earn a starting role further down the line?
"The starting rotation this weekend is going to be Evan Justice… I texted his dad this morning and said that I hope he could be here this weekend. That young man has worked himself into an unbelievable pitcher since he's been here. He's done nothing but work. Turtle Zaun, a former player here at NC State, a great player who shares the home run record here at NC State with Tracy Woodson, told us about Evan, and he has been a remarkable person, and he's worked himself into quite a pitcher. He's going to open Friday afternoon, then Sam Highfill, a local product here, is going to pitch Saturday, and Sunday is going to be Chris Villaman from right down the road near Greensboro. We're excited about those three, but there were many guys who could have been: David Harrison, who has many starts, from Rocky Mount, N.C. and Reid Johnston from Enfield, N.C. who's had many starts here. We have a lot of players who do versatile things, but right now, that's the three guys that are going to step out this weekend."
Never miss the latest news from Inside Pack Sports!
Join our free email list