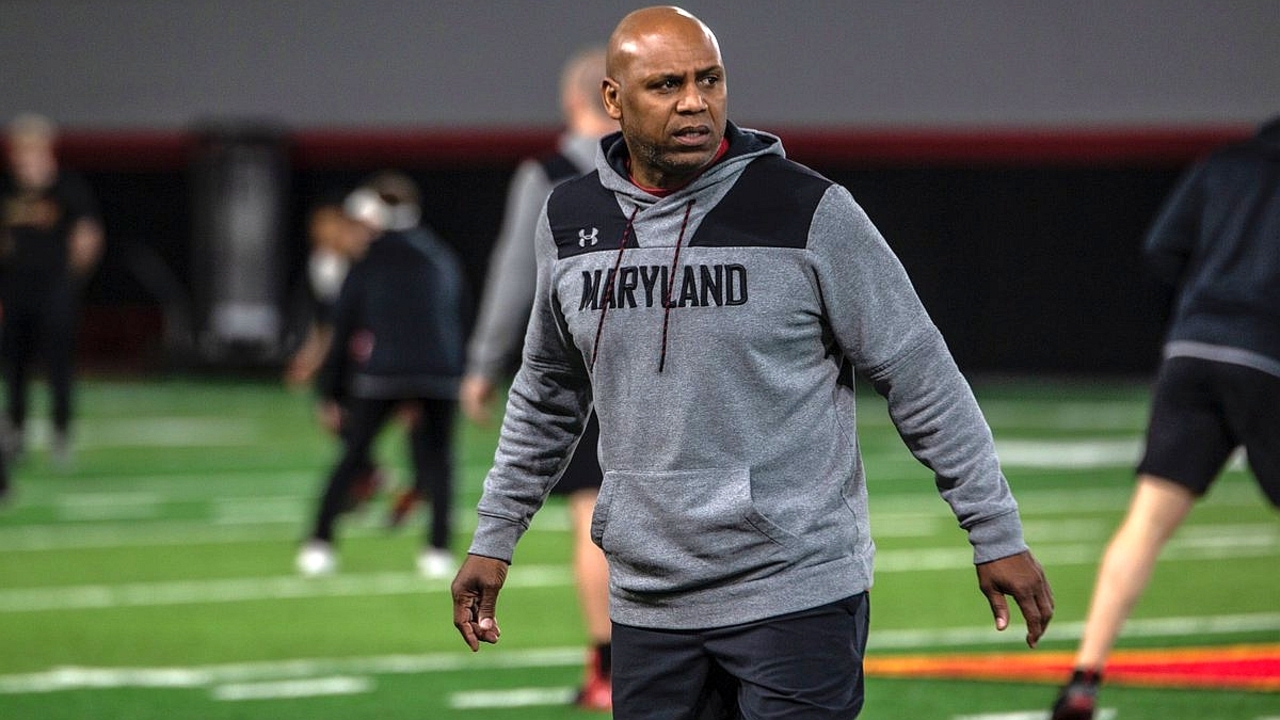 NC State Football
Joker Phillips: "It's A Natural Fit For Me"
---
NC State's new wide receivers coach Joker Phillips met with the media via Zoom to discuss his new role with the Wolfpack.
NOTE: Click on the video in the player above to watch Phillips' press conference.
---
How exciting is it to come into a wide receiver room that has a lot of talent between the veterans and newcomers?
"I'm very excited to have the opportunity to come to NC State with Coach [Dave] Doeren and have the opportunity to come back and work with Coach [Kurt] Roper and Coach [Tim] Beck. And I also had the opportunity to talk with Coach George McDonald on the way out. As I was leaving from my interview, he was actually on the plane leaving to head to his new job. It gave him and I an opportunity to talk about the room, and I could hear and feel the excitement in his voice. It was just a natural fit for me, knowing the type of program that Coach Doeren has built here, knowing Coach Roper, knowing Tim Beck, and hearing from Coach McDonald. What we have here made me even more excited."
On the timeline since arriving in Raleigh…
"I got here Tuesday night and got to the office on Wednesday. I've had very little time. I've had to hit the ground running. I've had to do individual meetings, calls to parents, and recruiting. I haven't had a lot of time to put anything up. It's generic, but it works for me right now."
On the timeline from getting the interview for the job and onward...
"It didn't take long at all. On Sunday or Monday, I got a call from Coach Roper: 'Hey, we might have an opportunity opening here.' By Thursday, it got a little bit more serious. I got on the plane on Friday and had the interview Saturday morning. I got offered the job and accepted the job on Sunday night, then transitioning on Wednesday to be in Raleigh. It happens pretty quick, but quick is a good thing for me. Personally, I think this was the thing that needed to happen for me with two really good friends of mine in Tim Beck and Kurt Roper and hearing from them what was going on here. That was important for me."
Was there anything from Beck and Roper that sparked your interest about NC State?
"It was just the things that Coach Doeren was doing here: what he was building, the type of players we have in the room, and the type of players we have on the team. I've been in this thing for a long time, and you win with good kids that are good athletes. All I heard from those guys and McDonald on his way out was about the type of kids we have here. It's a natural fit for me."
What's the origin of your nickname, "Joker"?
"There's not much to it. A lot of people think it's my personality, but it's not. I do have a joking personality, and I love to have fun. My dad's name was Joe, and my name is Joe, so my grandfather picked the name. He didn't want to say Joe and have both of us come running. As an infant, he nicknamed me Joker, and that's really the only name I've ever known. I've tried to use it in recruiting a lot more than using Phillips. One of the things I've learned in recruiting is sales, and you better be able to sell. If they can't remember your name, it's going to be hard for you to sell them in the end. They never forget Coach Joker. They might forget Coach Phillips, but they never forget Coach Joker. That's the reason why I try to use it a little bit more the longer I've been in this business."
What's your feel for the culture in the wide receiver room? What changes would you like to implement?
"My feel for the culture is that it's a competitive culture in my room. We're deep in numbers. We're talented at the top end, they've recruited some talent in the class that came in last year, and there's three other kids that just walked in the building that are mid-year guys. I'm a mid-year guy, so there's four of us that are mid-year guys that are trying to find our way around the building and the program. My expectation is for me to continue the great wide receiver tradition. I've had a lot of success at this position and coaching this position. You better have talent, and there's talent here. The thing I have to do is massage the talent and lead the talent in the right direction, and we'll have the same success that they've had throughout the years here at NC State at the wide receiver position."
Can you tell us about your history with Beck and Roper? How will those past relationships help now that you're here in Raleigh?
"Being with a guy, you understand what that guy's coaching style is and what they're looking for. Tim Beck is obviously the boss of the room. He and I worked together at Ohio State. I was an analyst when he was the co-offensive coordinator at Ohio State. We actually worked closely together. I sat in his meetings because I thought it was easier for me to learn the offense as he installed it with the quarterbacks, so I spent most of my time in the quarterback meetings and watching him teach and watching the way he carried himself. That's the reason why I felt comfortable coming here with Tim. With Coach Roper, this is our fourth time together. My first coordinators job was at Kentucky where I coached the receivers, and we had to have a quarterback coach. Coach Roper was leaving Ole Miss where he'd just coached Eli [Manning] a few years past, and we hired him to coach our quarterbacks. We got together at Florida for a short period of time, then the Cleveland Browns, and now here at NC State. We became friends the day he walked on campus at Kentucky. We've always talked ball, always stayed in touch, and we have similar philosophies. It was just a natural for me to come here to work with those two guys who I truly believe are really good friends for me."
What type of personality do you bring as a recruiter to the wide receiver position?
"Knowledge of how to pick out talent. I've been around, so I have a reputation of knowing a lot of people in every part of the country. I've done a little in the Carolinas. A lot of coaches that have migrated over from South Carolina and Georgia. I have some contacts in this area, and a lot of them I don't know that I haven't contacted yet, but we'll have a contact that knows a contact. The knowledge of how to evaluate and then how to sell. We have an excellent head coach, we have some excellent players, we have the ACC, and we have a great institution. Those things will help me sell this place."
What did Coach Doeren do to sell you on this program?
"It's him being himself, and that's what you want in a head coach. He's not somebody trying to be Knute Rockne. Coach Doeren is himself. He allows his coaches to coach. He's not a micromanager, and that's the thing that attracted me. He has trust in the coaches he brings into the building. That's a really helpful thing for a coach coming in."
Never miss the latest news from Inside Pack Sports!
Join our free email list