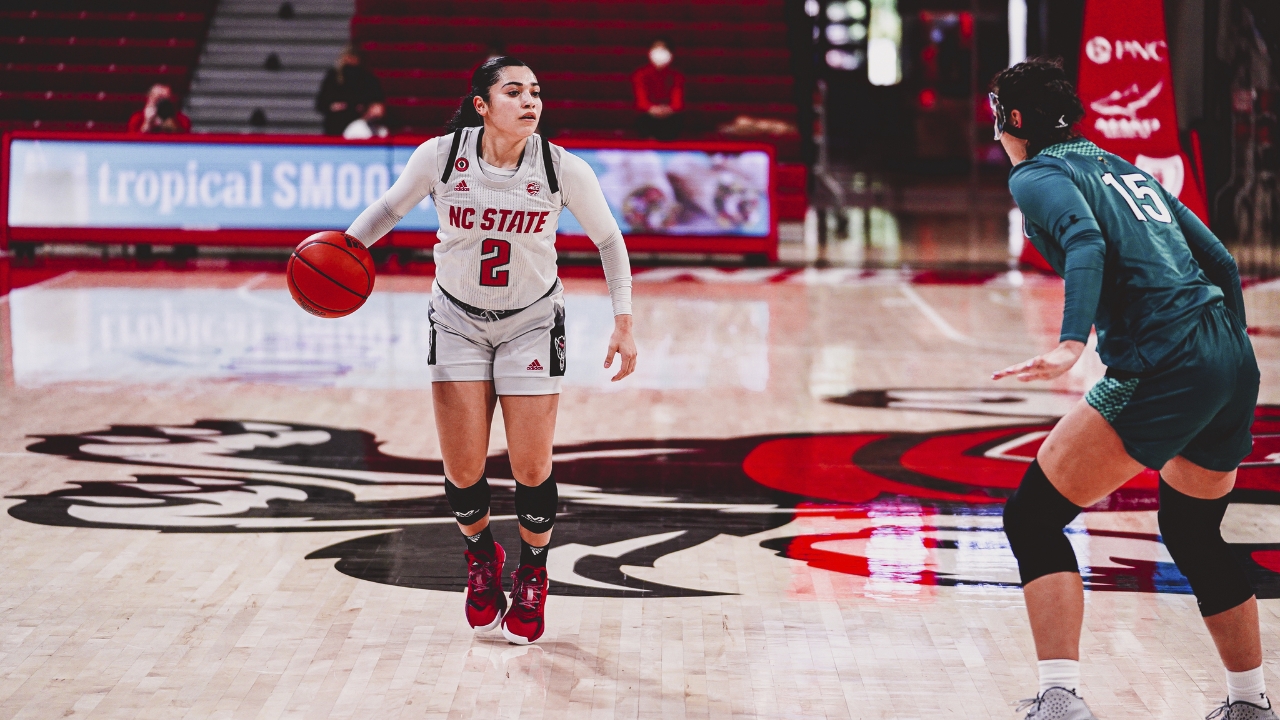 Photo by Jonathan Bentley
NC State Women's Basketball
TAKEAWAYS: Balanced attack leads Wolfpack women
---
Coming off a win over No. 1 South Carolina Thursday, it might have been fair to wonder about a possible let down game for No. 8 NC State women's basketball. Despite the team trailing after the first quarter, such thoughts were quickly dispelled, as the Wolfpack dominated the final three frames en route to a 98-46 win and 4-0 start.
The Wolfpack was down two starters in Jada Boyd in Kai Crutchfield, but there's great news on both. Head coach Wes Moore said Boyd's meniscus injury is not as bad as initially feared, and the team hopes to have her back by the end of the calendar year. Crutchfield aggravated a foot injury against South Carolina and couldn't practice the last couple days but should be back soon.
Here's some key takeaways from Sunday's game:
Raina Perez's big day
Making her second start of the season, Raina Perez shined at point guard. She finished with an eye-popping stat line of 17 points, eight rebounds, and six assists and likely would have had a triple double had she not exited the game with the Wolfpack leading comfortably.
She continued to run the offense well and set up her teammates and showed her ability to score from both in and outside the arc, shooting five of eight from the field and three of four from downtown.
Coming into the season, it looked like one of the biggest question marks would be who would replace Ace Konig at the point guard position, with Perez figuring to be a key piece of that puzzle. So far, it looks like Wes Moore has found himself a do-everything floor general that will be a critical element for this team.
"I can't say enough about how fortunate we are to have her here," Moore said. "Just such a heady player. She's always prepared and usually gets the ball where it needs to go. Obviously, she is shooting the 3 well. She had seven rebounds, I believe, at halftime. Ended up with eight with limited playing time in the second half. We're very blessed to have her here and definitely excited about what she brings to our team."
Depth on display
NC State was without two starters in this game, with Boyd missing her second game with a knee injury and Crutchfield sitting out. Furthermore, it was a quiet game for All-American center Elissa Cunane, with just four points.
But it didn't matter for a Wolfpack roster stacked with depth. NC State had a whopping six players finish the game in double figures and two more contribute eight points.
Some of it came from the usual suspects, with Jakia Brown-Turner finishing with 11 points, five rebounds, and eight assists, and Kayla Jones 12 points and eight rebounds.
But much of it also came from the Pack's arsenal of rotational players, with the Pack picking up a whopping 46 bench points in this one.
In Krutchfield's absence, freshman Rebecca Demeke made her first start and played well, putting up eight points and five rebounds.
The freshman duo of Dontavia Waggoner (12) and Genesis Bryant (10 points, five steals) both scored in double figures for the first time in their careers, with freshman Elle Sutphin adding eight and sophomore center Camille Hobby posted a career-high 12 points on 5-of-7 shooting.
It was truly an all-hands-on-deck victory for the Wolfpack, and the team's depth players continue to gain key experience that should serve them well in ACC play.
"It's very important," Hobby said. "Coach Moore says it all the time. We have a lot of depth on the team. You can really go into the bench and really have some great players. So I think that's going to be important as we get to playing ACC talent over the course of the season."
An emotional hangover?
Coming off its massive win over No. 1 South Carolina, NC State looked a bit sloppy to start today's game. The Wolfpack trailed 21-19 after the first quarter and at one point trailed by six in the opening frame.
The Wolfpack's offensive struggles in Columbia carried over into this one, as the team shot just eight for 22 from the field and one for nine from 3-point range in the first 10 minutes of the game. The struggles did not last long, however.
Wolfpack gets it going in the second half
As sloppy as the first quarter was, the Wolfpack came out on fire in the second. NC State scored the first 12 points of the quarter to jump out to a 10-point lead and held Coastal without a made shot from the field for the first 7:20 of the second, ripping off a 24-2 run over that span.
The Pack finally got back to its successful offense, working the ball inside for easy finishes and taking smarter shots. Brown-Turner played a key role in the turnaround, scoring 10 points in the second frame.
In all, the Wolfpack shot 12 for 22 from the field in the second quarter and outscored Coastal 32-4 en route to taking a 51-25 halftime lead. The Wolfpack's dominance continued from there into the third quarter, as NC State outscored Coastal 32-6 in the penultimate frame, ballooning its post-first quarter run to 64-10 and setting the stage for a cruise to the finish.
NC State will now have one more game of nonconference play against Elon Wednesday before starting ACC play.
"In the first quarter, I felt like we had a little bit of a hangover from Thursday night," Moore said. "But we settled in, did a little bit of a better job defensively the next couple of quarters. Offensively, got some transition going. 28 assists, as a coach, you love seeing that, everybody sharing the ball… Good to get everybody in there. We've got one more game before we open up conference play. It is all about trying to make sure we are ready a week from today to open that up."
Never miss the latest news from Inside Pack Sports!
Join our free email list