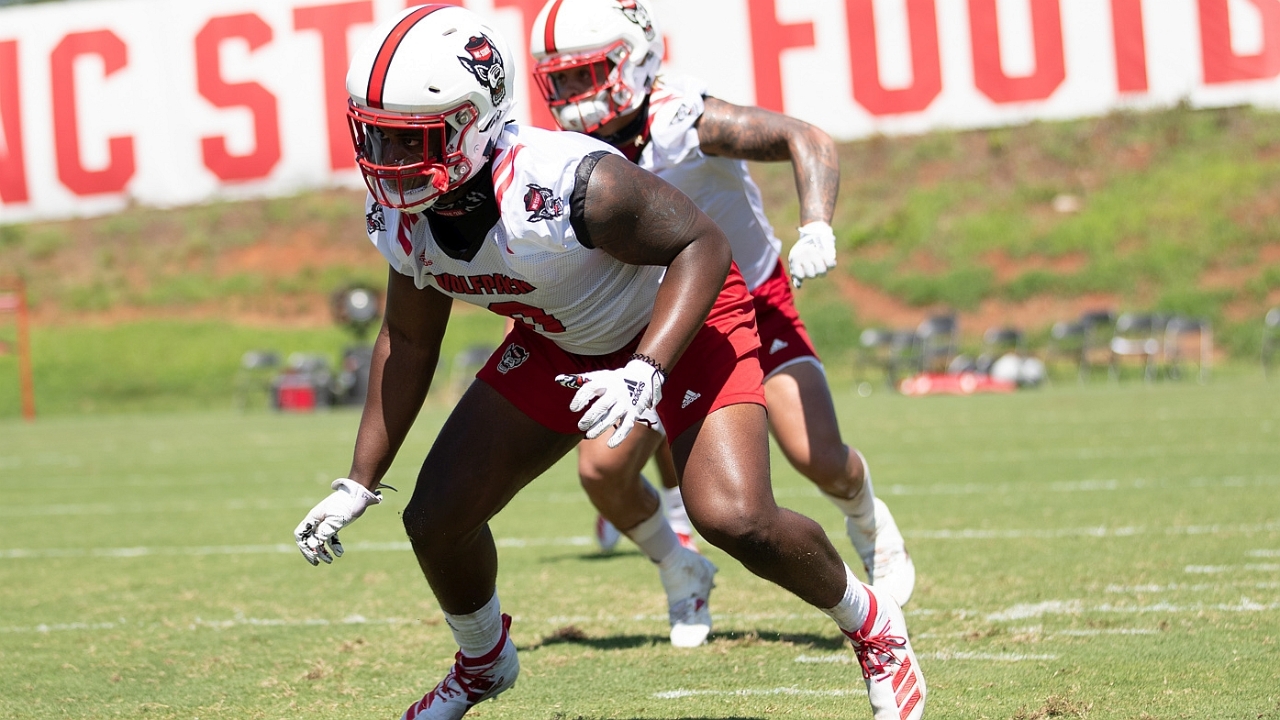 Photo by NC State Athletics
NC State Football
Terrell Dawkins: "We're Really Excited About This"
---
Terrell Dawkins is part of a 2019 NC State defensive line class that is starting to make its mark this season.
Here's a full breakdown of everything Dawkins had to say during his media Zoom this week:
---
Duke has struggled with turnovers this year, and obviously you guys have the takeaway bone. How much of an emphasis are you guys putting on turnovers this week?
We're just going to keep working like we always do. We always emphasize things like that. So it's just another day of practice.
What is Dave Doeren like outside of games?
Coach Doeren's a great person. He always has high energy. You see him during the game, just how hype he gets. It's entertaining. Dave Doeren's a great coach.
You guys have had a goal-line stand in each of the past two games where you stopped the opponent from the 1-yard line. What's the key to those?
Every week we practice goal-line stands so we can do it during the game. The simple reason for why they're not getting in is we have Alim McNeill, Joshua Harris, and Savion Jackson down there. And they're just clogging everything up. They're not moving.
You were the first player to earn the No. 0 jersey. What did that mean to you, and what went into that?
It was over quarantine when I went home around March or something. I put my head down and started to work a lot. I improved a lot over that quarantine period. In March or April, I saw that the NCAA made a rule that you could wear No. 0, so as soon as I saw that, I texted coach Doeren and said 'Can I get this number?' And coach Doeren's a person that, you have to earn everything you get here. He said he'd tell me later. He said, 'Just keep working and doing everything like that.'
Eventually, we came back here, I was doing everything right. I was getting better and improving every single day. He told me before fall camp, he said, 'You get the number.' He said 'It's a lot of responsibility having it, because you're the first person to ever have it here.' So he said, 'Just play as best you can and be responsible for everything.'
Going back to that 2019 class, all four defensive linemen that came in had some pretty high expectations. You were asked to be important role players this season for the team. How much do you feel like you, Savion Jackson, C.J. Clark, and Joshua Harris have stepped up?
We're really excited about this. There were conversations we had when we got here and we were still commits. Now that we're here, it's just amazing. It's just practicing every single day, that's really what it is for us. We go hard every single day, and that's what makes us do what we do.
Would you like to play Duke on a more regular basis?
I think we should, simply because of how close we are to each other. It would be good for North Carolina.
What are your thoughts on the "takeaway bone"?
It was something I feel like, as a team, we feel like that's something that we needed. Coach Gibson brought it to us and it just brings us a lot of energy. As soon as he announced it on the meeting, everyone was hype and everyone was excited. It just makes us hungrier to get more turnovers.
How much motivation do you guys take following in the footsteps of guys like Bradley Chubb, Kentavius Street, James Smith-Williams, Larrell Murchison, to keep that NC State tradition going?
I just see how great somebody like Bradley Chubb is, and it just gets me energy to work even harder, because I know there's people that have been here who have reached that level and are still continuing at a high level. Having people like that in front of me is probably one of the reasons why I committed here, too. So them being here just makes me want to play better.
How stoked are you to have some fans in the stands, too?
I'm excited. These past few games have been kind of weird having nobody in the stands. Usually I tune it out, but it's still weird when you come out and see nobody there. But being the first home game, after these two wins, we're just bringing a lot of energy back to this game. So it's just amazing.
Do you ever watch film of your Dad playing football, and do you feel like you're in any way similar?
I've watched some of his stuff. Between me and my Dad, I see we have a similar build. But he used to tell me every time, 'I used to have my get off, I was good with my hands, and I was aggressive.' So he would just keep trying to boost himself up and say how much he did this and that. But it was all things I'm pretty good at, so I just see a lot that I play like him.
Never miss the latest news from Inside Pack Sports!
Join our free email list