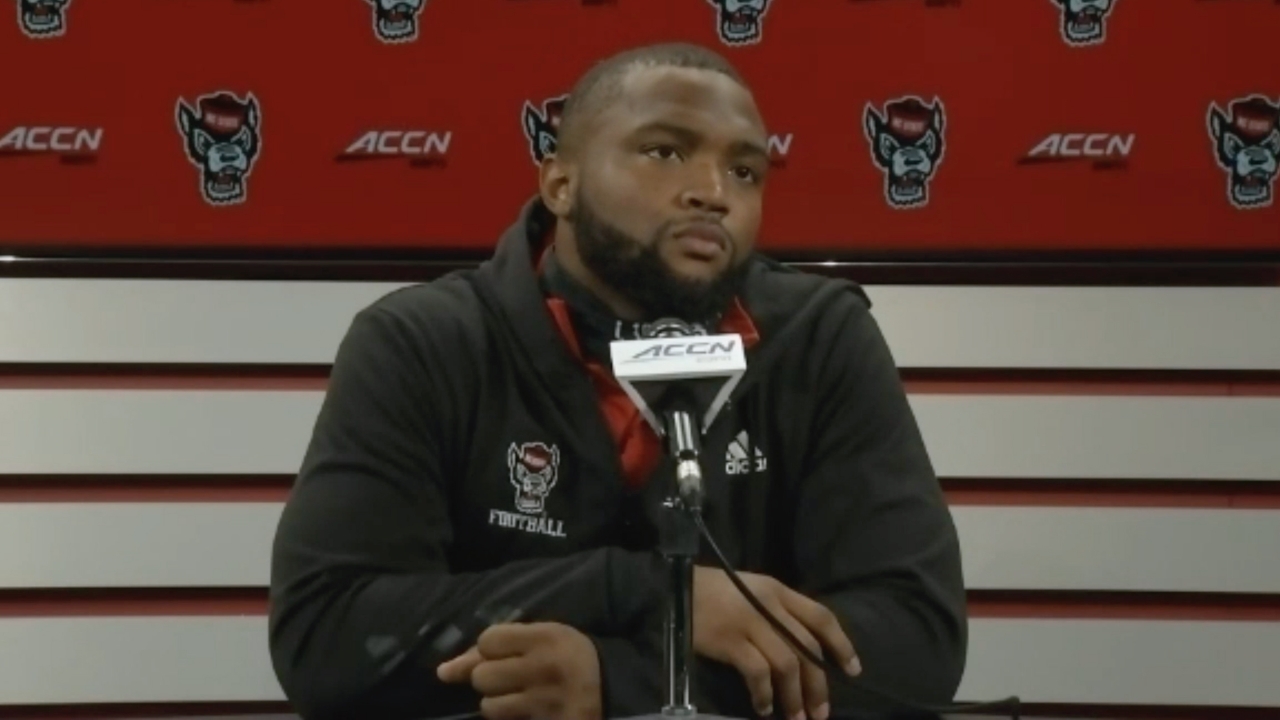 Bailey Hockman
Ricky Person, Jr.
Daniel Joseph
NC State Football
LOCKER ROOM REPORT: Wolfpack Players
---
Several NC State players met with the media following the Wolfpack's 45-42 win over Wake Forest Saturday evening.
NOTE: Click on each player's respective thumbnail to watch each interview.
---
Bailey Hockman
"I think we're 1-0. We're going onto the next game with a good record. We took the W. My mindset coming into the game was to focus, lock in, and do my part, not try to be Superman, not try to do too much. I just needed to do my part, and I feel like I did that tonight. I feel like my teammates did a great job. The O-line blocked great. We got almost 250 yards rushing. It's incredible."
"Coach [Tim Beck] was calling great plays. The offensive line was blocking great. When the run game is working, you can get those fakes and get the linebackers coming up. It makes it easier for me. It's all credit to them really."
"Coach [Beck] did a great job calling them at the right time with the right coverages. The offensive line, like I said, was blocking their butts off, just working so hard up there, and I have nothing but respect for those guys. With the run game being so effective, it's hard not to step up. You have to, or they're just going to keep gashing and gashing. Credit to those guys; it feels awesome."
"This offense is dangerous. When we start having to throw the ball more and more, it's just going to be more and more effective. We start spreading the ball around the field, then they've got to spread out, then the run game gets going. Our O-line is big time, so they're just going to keep pushing. Our team's come so close together to the point where everything is just rolled together. It's like a ball rolling down a hill, and we just got the ball rolling today. We're 1-0, and we've just got to keep going."
"Actually, last week. Coach Beck sat me down and talked to me. Devin [Leary]'s done a great job also, so much credit to him. He's a great player. It's a competition at the end of the day. I'm just happy to be the guy for this team. I love these guys, and they know I'd do anything for them."
"Not at all. In my mind, I was the starter since day one."
Ricky Person, Jr.
"I'm speechless honestly. I've battled through a lot of injuries throughout my career. I just kept faith in God. My teammates encouraged me on a daily basis. It was a long time coming for this moment, but it's just game one."
"I give a lot of credit to Coach Beck with all the offensive play calling, but we've been at this since the spring. I give credit to everyone who payed attention to the details. Like Coach said prior the game, we need to take pride into our small details."
"I give credit to my offensive line. Those boys did a great job up front tonight. I'm not going to sit here and say it's just like practice, but if you work for it in practice, it becomes religious in the game. It just made it easier. My reads were better tonight, and like I said, credit to the offensive line."
"I like the rotation Coach [Kurt Roper] has for us. It keeps everyone fresh on their legs. When one of us gets tired, another one comes in, and he's fresh and ready to go. We've been working for it in practice since day one, so kudos to everybody involved."
"We worked on it constantly during practice. I played quarterback in middle school, so I used to tell them, 'Just give me the opportunity.' We practiced it at least four times in practice when we worked red zone days. It was great."
"It was a great first win for us. Coach [Dave Doeren] told us before the game that Wake Forest had been beating us for the past three years, so we just came into the mindset of this game that we didn't want to be beat. We'd been working hard all offseason for this to happen. It was great."
Daniel Joseph
"When the offense gets that ground game going, it eats up a lot of time. That gives us more time to rest, regroup, and make our adjustments on the sideline. It's great that we had that today."
"It was more than me. It wasn't just about me; it's about the whole team. I know these guys' history with Wake Forest as it is. I just wanted to come in and impact that game as best as I possibly could in a positive way."
"That was crucial, but at the end of the day, it was about getting the job done. My job is to get to the quarterback, so that's what I had to do."
"This year alone is a testament to that. With everything that we've battled and gone through as it is, I was pretty confident in our team, our defense, and our offense. A lot of people don't see what's going on from the outside, but we know really well what we've gone through, and we have done our best to fight through that. This game was just another one of those tests."
"'Execute.' I trust the coaches to make the right play call, and they trust us to execute that play call. In the fourth quarter, it was about believing in the coaches to make the right call and in our ability and our preparation to execute those plays."
Never miss the latest news from Inside Pack Sports!
Join our free email list