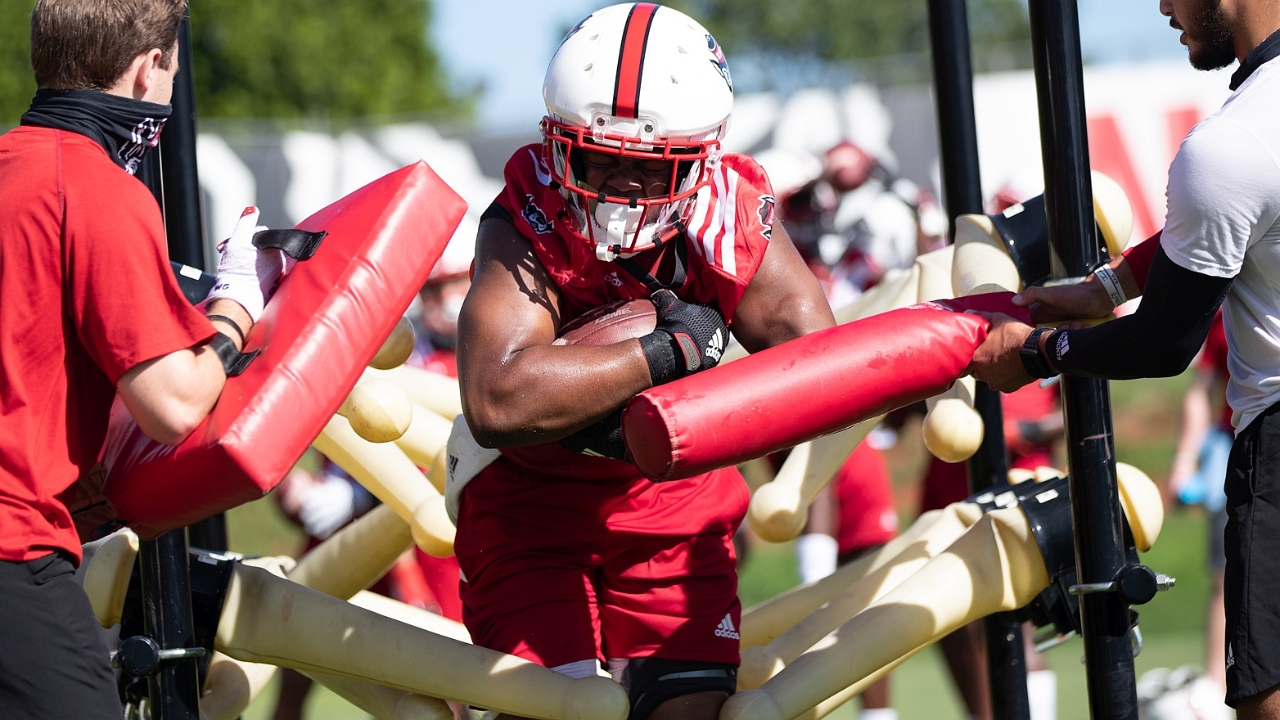 Photo by NC State Athletics
NC State Football
Healthy C.J. Riley ready to lead Wolfpack on and off the field in 2020
---
Coming into the 2019 NC State football season, graduate receiver C.J. Riley figured to have a big role to play. The Wolfpack needed replacements for a talented trio of wideouts in Kelvin Harmon, Jakobi Meyers, and Steph Louis, and the 6-foot-4, 225 pound wideout was coming off a season in which he set career highs in snaps (386), catches (28), yards (386), and touchdowns (two).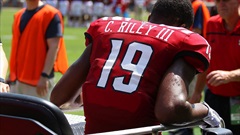 Inside Pack Sports
However, not even a quarter into the team's season opening win over East Carolina, disaster struck. While covering a punt in the opening frame, Riley tore his left ACL. His season was over before it really started. It was the second time Riley had suffered a major knee injury, as he tore his other ACL during a summer workout prior to the 2016 season.
"I feel like it was a lot easier from the first time when I tore my first knee there, because I knew what I was doing the second time during the process," Riley said. "So I had a plan on how to get back faster with everything I needed to do the second time around."
The biggest issue mentally for Riley was the frustration of not being able to help his teammates on the field. The Wolfpack suffered its second worst season of the Dave Doeren era, going 4-8 overall and 1-7 in ACC play, as Riley was the first injury of many for the team.
The Wolfpack's offense plummeted to 22.1 points per game, which ranked 12th in the ACC and 107th nationally, and 229.1 passing yards per game, which ranked 10th in the league and 67th in the country.
Riley wanted to help his teammates but knew his best path forward was to attack his rehab to set up his eventual return.
"It was more just staying positive with myself; not getting down on myself during times where I knew I wanted to be out there on Saturdays," Riley said. "So I really had to just support my teammates through the time and just rehabbing myself and making sure that when I'm ready to play I did everything possible to help the team out when my time comes."
And his time has come. Riley, who has been granted a sixth year of eligibility by the NCAA (so now has two years remaining), is cleared for full participation in practice and drills.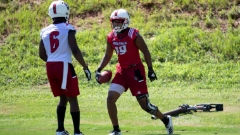 NC State Athletics
He returned to the field with all of his teammates for the first time last Monday. Doeren specifically mentioned Riley by name as an injured player he was glad to see back on the field, a sentiment Riley certainly agrees with.
"It's a great feeling," Riley said. "I really sat out the whole year, and just to be able to get back out on the grass with my teammates, I just felt like a kid in a candy shop being able to run around and play football again. It was a great feeling."
One of the most important aspects of Riley's preparation for the 2020 season will be building chemistry with the Pack's incumbent starting quarterback, redshirt sophomore Devin Leary.
The duo has spent time together throwing on weekends this offseason leading up to camp in order to help build that timing and chemistry. Leary looks to build on his five starts and eight appearances last season that saw him complete 48.1 percent of his passes for 1,219 yards, eight touchdowns, and five interceptions. As such, a receiver with Riley's combination of size and speed figures to be a key target.
And Riley has already seen the improvements in his signal caller as camp has begun.
"I think he's definitely more confident in his game and his leadership," Riley said. "He's taken a step where he knows he has to lead the offense and we don't go without him. So he has to make the right calls, he has to communicate with everybody, make sure everybody knows what they're doing. After practices, we'd go over routes and stuff like 'You need to do this more, you need to do this better.' He's just communicating a lot better than he has in the past."
Doeren also mentioned Riley by name as one of the leaders on this team. And leadership is going to be a very much needed quality for the 2020 season. Everything is going to be different amid the COVID-19 pandemic.
Strict safety, social distancing, and sanitation requirements are in place at team activities and practices. So far, those have yielded favorable results for NC State, with the last update from associate AD Fred Demarest being that NC State has had just seven positive tests among 595 tests administered to student athletes.
The key challenge to keeping it that way will come when students return to campus and temptation is there to attend large gatherings and parties that may spread the virus. There have been warning flags around the sports world, with outbreaks on pro teams such as the MLB's Miami Marlins and St. Louis Cardinals, and other universities having to pause workouts. The phrase Doeren has used is "social sacrifice," and the players have already talked about the need to hold each other accountable, with upperclassmen like Alim McNeill playing a key role.
There will be plenty of changes to face on the field, too. The ACC has shifted its schedule model for the upcoming season to playing 10 conference games plus one nonconference game, so the Pack's list of ACC opponents is totally different. The season will start the week of Sept. 7-12.
As the situation with the coronavirus has already proven, anything can happen. The season could be pushed back again. Moved to the spring. Cancelled entirely. But Riley and his teammates know there's nothing they can do to change that. They're focused on controlling what they can and preparing for whatever might lie in front of them.
"You can't really focus on that," Riley said. "We just have to focus on the day, and that's practice. We've got camp right now, and that's all we're worried about, just getting better each day. Whenever the time comes and they tell us we can put the ball down and play against somebody else, we're going to be ready. If you come in the mindset that we don't know when we're going to play, you're not going to get the best out of practice, so we have to act like we have a game coming up. No matter when it is, we're going to be ready."
Never miss the latest news from Inside Pack Sports!
Join our free email list