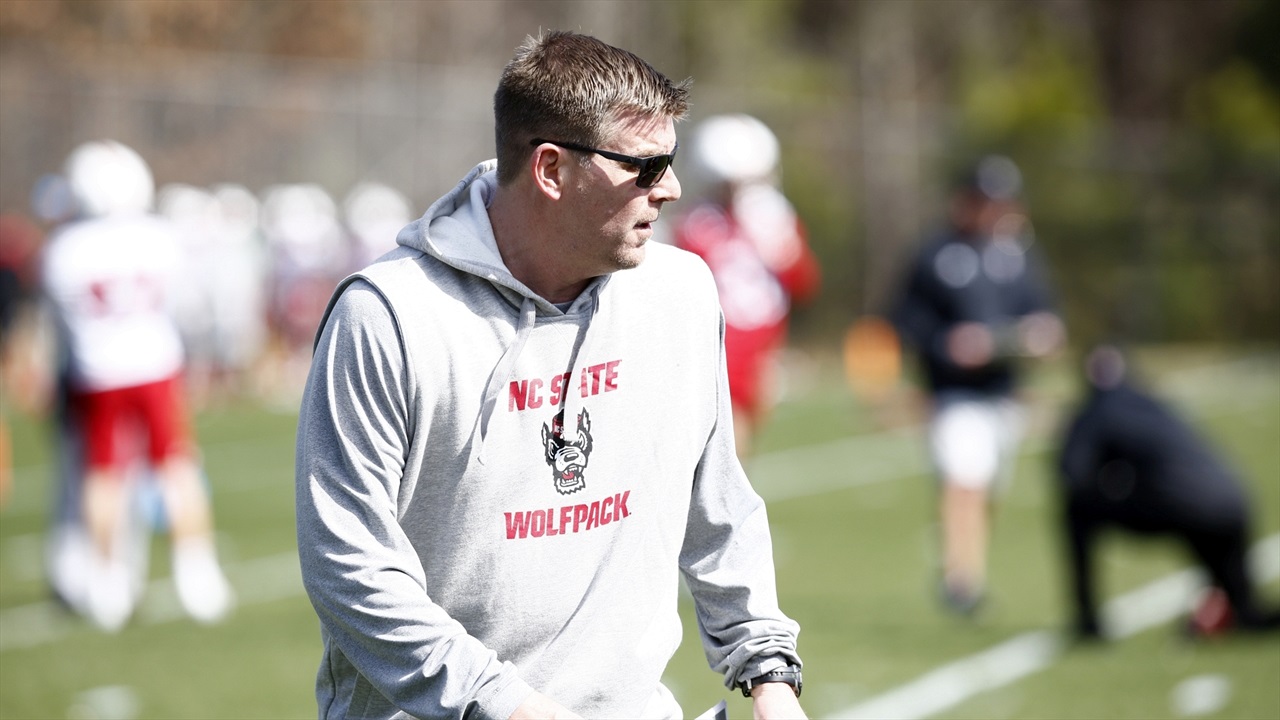 Photo by Jeff Reeves/Inside Pack Sports
NC State Football
Tight ends, special teams in good shape in year two for Todd Goebbel
---
NC State football tight ends coach and special teams coordinator Todd Goebbel had his work cut out for him in his first season with the program.
Injuries decimated numerous areas of the Wolfpack program in 2019, and the tight end room was definitely included, with Dylan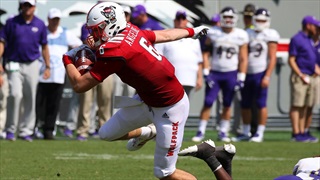 Autenrieth and Dylan Parham missing a big chunk of the season. For 2020, though, Goebbel is excited about a deep group at the position. Cary Angeline will figure to lead the way again following a season that saw him land an All-ACC Honorable Mention after posting 25 catches for 379 yards and a team-leading (tied) five receiving touchdowns.
Add in Parham and Autenrieth returning to the fold, a senior who gained valuable experience last year in Raleigh native Thomas Ruocchio, and a young group that includes redshirt freshman Kam Walker (who Gobbel said was "making some strides") and the Wolfpack looks to be in good shape at tight end.
"I feel good," Goebbel said. "We've got some veteran experience. The biggest thing for my entire group is to continue to get healthy. We started off really well in terms of our health, our depth, and all of those things, and as the year went on it kind of dwindled. It was kind of the common theme last year. I'm excited to get all of them healthy, get all of them back, and make it a highly competitive room."
The injuries really hurt the Pack at tight end last year with Autnerieth going down first, and then Parham getting injured after assuming a bigger role.
Angeline performed well leading the group and playing over 70 straight snaps in the Pack's last three games, and Ruocchio did well backing up, but, particularly in the Wolfpack's offense, it's a position where depth is a must.
"Any time you can have depth at tight end because of the amount of things we do, plus special teams, it definitely benefits you," Gobbel said. "So it'll be nice to get everybody back. The room's awfully competitive, and we want to keep it that way."
If there was a bright spot for the Wolfpack in 2019, special teams was it, particularly with the performances of a trio of young guns.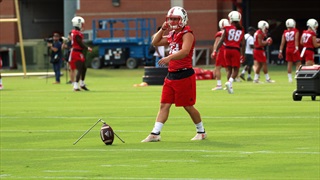 Joe Shimko stepped right into the long snapper role as a true freshman. After setting the school record with 23 made field goals as a freshman, Christopher Dunn made 21 as a sophomore, made the All-ACC Second Team for a second consecutive season, and was a semifinalist for the Lou Groza Award – an honor that is presented annually to the best college kicker in the country.
In his first season of play, punter Trenton Gill set a single-season school record and led the ACC with 47.6 average yards per punt, earning him a spot on the All-ACC third-team. Goebbel is excited to see what that trio, and the Pack's special teams units as a whole, can do in his second year leading that group.
"Special teams starts with the specialists," Gobbel said. "We've got three really, really good ones coming back. All three have worked extremely hard this offseason and continued to improve their craft. We feel pretty strong going in there. It's still competitive. We've got some young guys coming up that can compete with them, and that's what you want. They buy-in to special teams here with coach Doeren all the way down; the kids have been tremendous, and we'll just continue to improve."
Injuries hurt the Pack's return game, as well, but, similar to the tight end group, Goebbel said that should make for more competition in 2020.
"As we move forward, we've got some guys that are coming back that had some game reps last year," Goebbel said. "I hate to be repetitive, but with the injury situation, you start juggling some things. We definitely want to lock in on punt returner and kick returner this spring, get a good pool, and keep them healthy. I think we've got some dynamic guys that we can put back there as long as everyone stays healthy, which they will. We'll definitely be able to improve."
Circling back to the tight end group, Goebbel knows that, with four seniors in Angeline, Parham, Ruocchio, and Autenrieth, developing the younger tight ends for the future will be critical.
The Pack has a wealth of youth at the position, with Walker, redshirt sophomore Camden Woods, redshirt sophomore Matthew Alderfer, and incoming freshman Ezemdi Udoh.
"That's one thing coach Doeren and this program have done a tremendous job of," Goebbel said. "You've got to develop from the bottom up, from the youth all the way up to the seniors. That's what we'll continue to do in our room, so when those really good guys walk out the door we'll have more really good guys right behind them."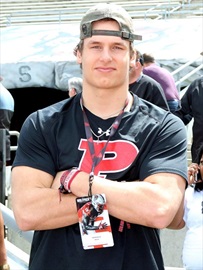 Walker, who redshirted last season and is a 6-foot-5, 242-pound tight end out of Pisgah High School in Canton, NC, is a player Goebbel is particularly excited about.
"He loves the game of football. I think that's huge [at tight end]. It's not the most glorified position. You're a jack of all trades; you've got to be a master of all. He's really embraced that. He's had a really good offseason."
Goebbel, who recruits Fayetteville, middle Georgia, and "tight ends anywhere" for NC State, knew Udoh, a three-star tight end from Terry Sanford HS in Fayetteville, would be a good fit for the Wolfpack.
"It's the ultimate projection position," Goebbel said. "Just with his family's DNA, what his family has done throughout the years, his length, his ability to run, ability to catch. Just the potential that he has, and the type of kid he is, he fits the room extremely well. I'm just excited because I don't think he's scratched the surface one bit of what he can become, and I think his ceiling's extremely high."
Goebbel doesn't have a target figure for tight ends in the 2021 class yet, but he is confident the Pack will be able to find the players it needs with the qualities the program is looking for.
"I think it's always fluid as far as the numbers, based on roster spots," Goebbel said. "But I know at the end of the day, based on coach Doeren and the way we recruit here, we're going to make sure the room's healthy. They love football, they've got big 'ol hearts and they're willing to fight and do whatever's best for the team."
Never miss the latest news from Inside Pack Sports!
Join our free email list