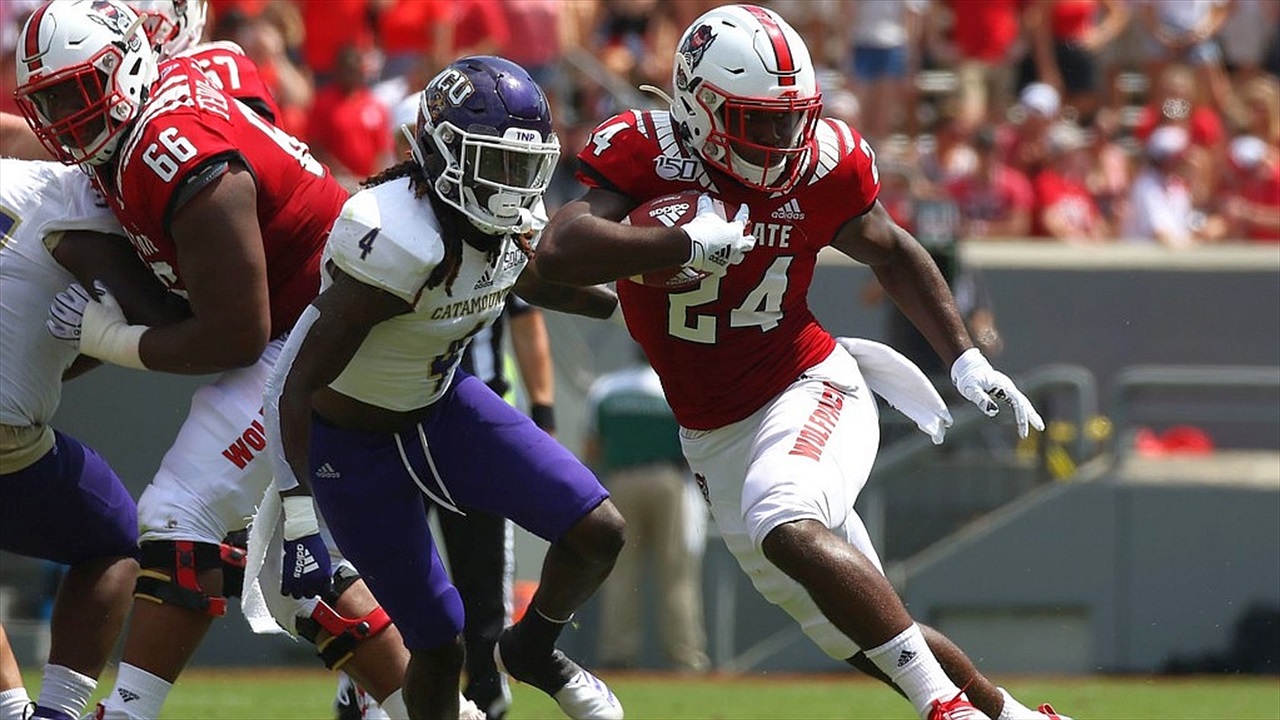 NC State Football
Bam Knight Has Big Plans For 2020 Season
---
NC State sophomore tailback Zonovan Knight was really good in 2019, rushing for 745 yards and five touchdowns while averaging 5.48 yards per carry.
However, he felt his season could have been even better, as nagging injuries limited him at times throughout the year.
"At this level guys are much bigger, much stronger," Knight said. "Even the impact from one person can be maybe career-ending. In high school, it was easy to break one tackle, but on this level, one tackle can mess you up.
"That's the biggest thing coach Doeren has preached to us is everybody staying healthy. If the running backs can stay healthy, we can make a big impact on the field. A lot of people saw that last year."
Knight led essentially a three-man rotation at running back with Ricky Person and Jordan Houston. Person dealt with injuries, as well, but produced when given an opportunity. The biggest surprise may have been Houston, a late-addition to NC State's 2019 recruiting class who played in all 12 games and averaged 5.2 yards per carry.
"Jordan surprised me at first," Knight said, laughing. "I thought we were the same speed, but he has a little burst, especially for his size. The burst and finish he has... he's amazing."
One of the big changes Knight has had to adjust to is a new position coach. Kurt Roper, who handled quarterbacks in 2019, slid over to running backs coach when Des Kitchings was not retained following the season.
Roper has mainly served as an offensive coordinator and quarterbacks coach, but he did spend two seasons as a running backs coach at Tennessee where he coached former NFL players Arian Foster and Montario Hardesty.
"It's been amazing getting to know coach Roper," said Knight. "Obviously it hit us... it was shocking when we saw the announcement [on coach Kitchings], but it's been good. Coach Roper has been taking us out to eat, getting to know us, building the relationships with us. That's been great.
"When he first told us who all he coached, I was like, 'that was a while back,' but after hearing how he helped all those guys, it really gave us a lot of confidence in him as a coach."
Now Knight is out at spring practice and fully healthy after using the last couple of months to recover from his lingering injuries.
"It feels great [being back on the field]," he said. "Obviously we had a couple of months off, so for me, it feels good to be out here and healthy. It feels great for me to be out there with my teammates... flying around."
What is Knight looking to improve on heading into the 2020 season?
"Probably making moves on the second level," he said. "I need to work on breaking defenders, creating more explosive plays that go for touchdowns. It's about trying to create that muscle memory of when you see a guy... make a move on him.
"Last year I tried to focus on running through them, mainly because of the injuries, but now I want to work on getting to the second level and making those cuts, finishing runs for explosive plays."
Never miss the latest news from Inside Pack Sports!
Join our free email list