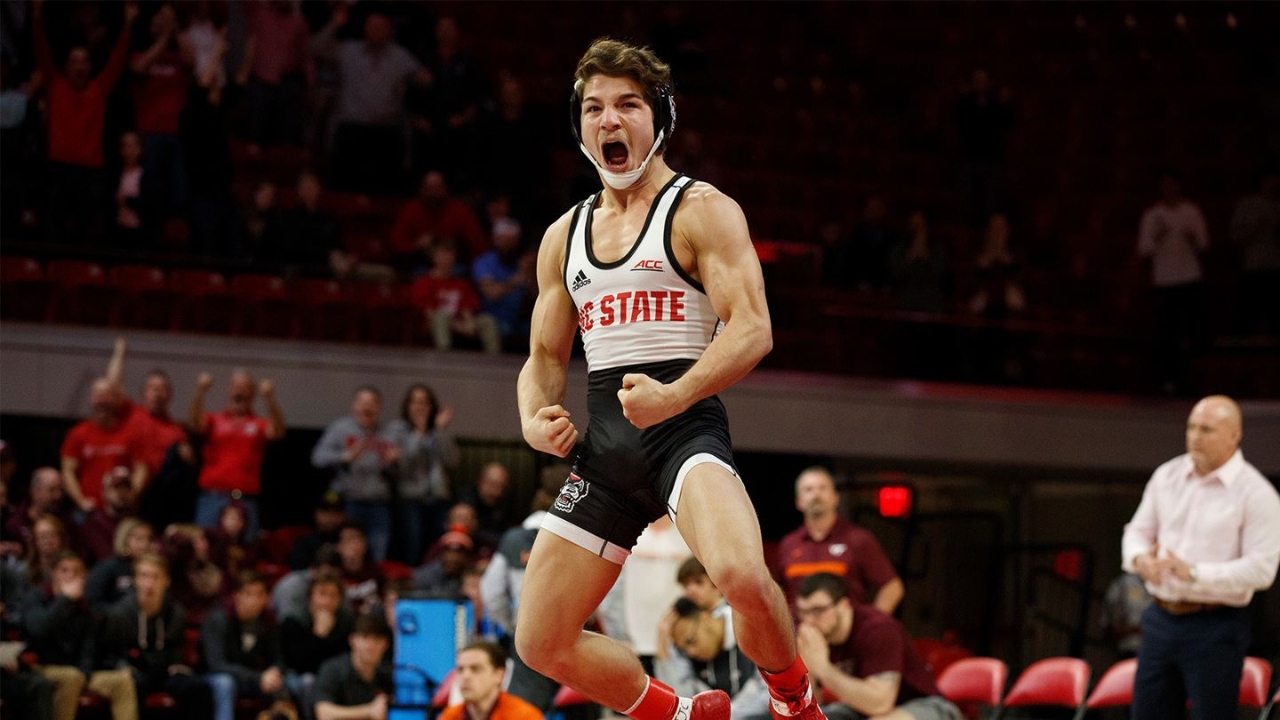 Photo by NC State Athletics
No. 3 NC State Defeats No. 7 Virginia Tech, Claims Share Of ACC Title
---
RALEIGH, N.C. – Down 15-9 with four bouts left, #3 NC State won three of the final four bouts of the night and claimed a 21-18 win over #7 Virginia Tech inside Reynolds Coliseum
The Hokies claimed a pin at 197 pounds to take the 15-9 lead. NC State went back-to-back top-20 wins with takedowns in the final seconds of the third period to get the wins at heavyweight then at 125 pounds to tie the dual 15-15 with two bouts left.
R-Fr. Jarrett Trombley clinched the dual for NC State with a third straight Wolfpack top-20 win, as he locked up a cradle for the first period fall over #22 Collin Gerardi.
The Pack has now clinched at least a share of the ACC regular-season championship, its third straight. NC State has now won three straight top-10 ACC matches, and sits at 4-0 in the conference with a trip to Duke next Friday night.
By the time VT won the final bout at 141 pounds, the winner of the dual was already decided.
The bout started at 149 pounds, and #26 Bryce Andonian of Virginia Tech scored a first period pin over #32 A.J. Leitten for a quick 6-0 lead for the Hokies.
#2 Hayden Hidlay got the Pack on the board, as he used a takedown in the first and third periods and scored a 6-2 win over #17 B.C. LaPrade.
The Pack evened it after three bouts with a top-10 win at 165 pounds, as #10 Thomas Bullard downed #6 David McFadden 2-1. With a 1-0 lead, Bullard started the third on top and racked up 1:14 of ride time before the escape for the deciding point.
NC State made it three in a row and claimed its first lead, as #13 Daniel Bullard scored a pair of takedowns and racked up 3:51 of ride time for his 7-3 decision.
In a top-three matchup at 184 pounds, #2 Hunter Bolen scored the lone takedown of the bout in the first period and claimed a 3-1 decision over #3 Trent Hidlay.
The dual was even 9-9 at the midway point.
The Hokies got their second pin of the dual, as Stanley Smeltz registered a pin 18 seconds into the 197-bout over Tyrie Houghton.
At heavyweight, the lone takedown of the bout came with two seconds left, as #26 Deonte Wilson scored a top-20 win as he took down #18 John Borst, 3-1.
NC State evened the dual, with two bouts left, with a top-20 win at 125 pounds. #19 Jakob Camacho got a takedown with 22 seconds left and defeated #15 Joey Prata 5-4.
The winning result came at 133 pounds in another top-20 win for NC State. #28 Trombley locked in a cradle and scored the pin over #22 Gerardi just 0:44 into the match. The six team points gave the Pack a 21-15 lead and locked up the dual for the Pack with the sixth individual team win.
The final bout of the night saw #21 Mitch Moore hit a six-point move on #11 Tariq Wilson in the first period which led to a 7-3 win.
Up Next
The Wolfpack will conclude the regular season next weekend, as NC State will travel to Duke for an ACC Friday night dual. The dual will be televised on the ACC Network.
#3 NC State 21, #7 Virginia Tech 18
149: #26 Bryce Andonian (VT) fall #32 A.J. Leitten; 2:17 – 0-6
157: #2 Hayden Hidlay (NCSU) dec. #17 LaPrade; 6-2 – 3-6
165: #10 Thomas Bullard (NCSU) dec. #6 David McFadden; 2-1 – 6-6
174: #13 Daniel Bullard (NCSU) dec. Cody Hughes; 7-3 – 9-6
184: #2 Hunter Bolen (VT) dec. #3 Trent Hidlay; 3-1 – 9-9
197: Stanley Smeltz (VT) fall Tyrie Houghton; 0:18 – 9-15
285: #26 Deonte Wilson (NCSU) dec. #18 John Borst; 3-1 – 12-15
125: #19 Jakob Camacho (NCSU) dec. #15 Joey Prata; 5-4 – 15-15
133: #28 Jarrett Trombley (NCSU) fall #22 Collin Gerardi; 0:44 – 21-15
141: #21 Mitch Moore (VT) dec. #11 Tariq Wilson; 7-3 – 21-18
Attendance: 2,076
Never miss the latest news from Inside Pack Sports!
Join our free email list