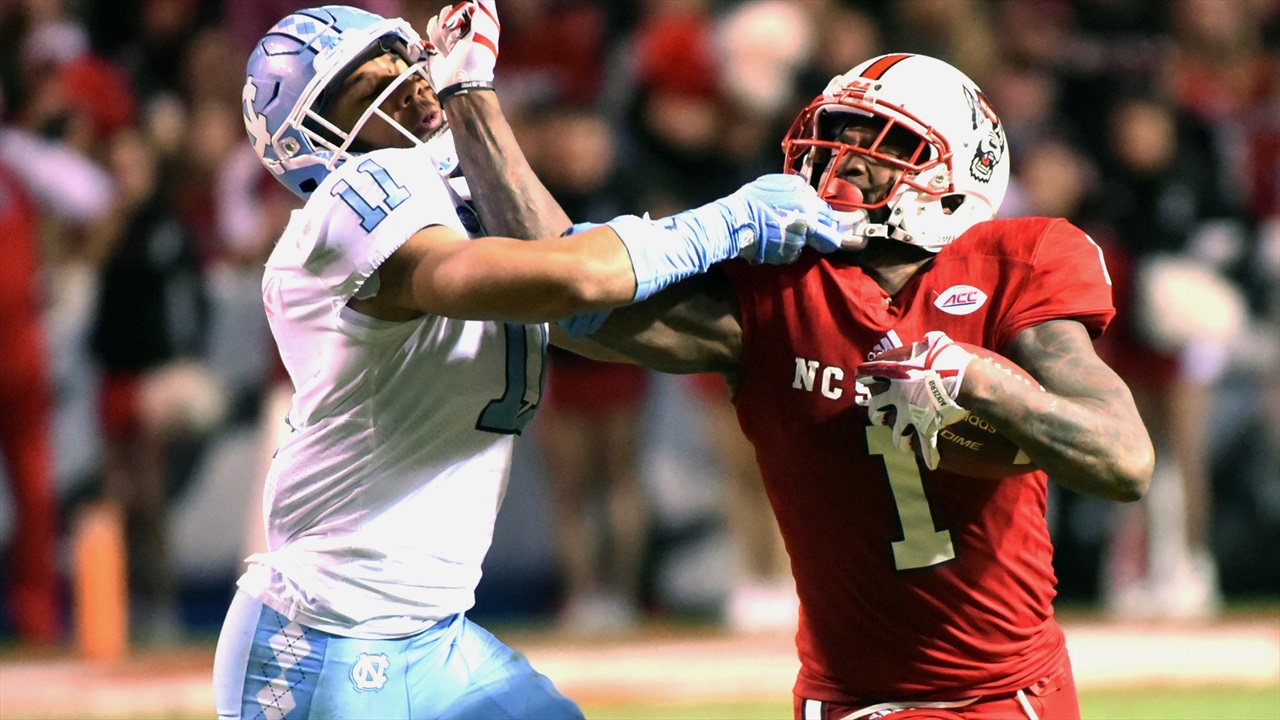 Photo by USA TODAY Sports
NC State Football
OUR FINAL TAKE: State vs. Carolina
---
Several members of the Inside Pack Sports staff predict the winner of the NC State-North Carolina matchup.
---
James Henderson (IPS Publisher)
NC State 27, North Carolina 24
It's been a down year for NC State, but I'll pick them to win this game because in recent years they normally do.
Watching back the Georgia Tech game I really like the growth I saw from the offense (I get it's Tech), ranging from the low penalties to no turnovers.
I think State will be the more physical team, and that should translate into a win.
Steve Williams (IPS Football Recruiting Analyst)
North Carolina 38, NC State 17
We've seen NC State look fairly competitive for a quarter here and there, but nowhere near the consistency you need to win in the ACC. Unfortunately, UNC's strength (throwing deep) is State's glaring weakness.
The only wildcard here is the fact it's a rivalry game and you just never know. However, if it plays out according to script, I think it could be another tough day for Wolfpack fans.
Bryant Carson (IPS Football Analyst)
North Carolina 31, NC State 20
Carolina will take some big-play shots down the sideline and we've seen State give up plenty of those in the last few weeks. If GA Tech can connect them then you better believe UNC can. My guess is that, like GT, UNC will come out throwing haymakers – and whether it's on their first drive, their second, or third, they'll eventually connect a few and that will put the Pack in their rearview mirror.
Rob McLamb (IPS Beat Writer)
NC State 28, North Carolina 27
Neither team is good. North Carolina has beaten one team with a winning record, and that was Miami -- who is nothing to write home about.
What the Tar Heels have done is keep games close all season. UNC does not get blown out in its losses and has not won handily in most of its victories. That actually could lend itself to helping NC State pull off an upset.
The Wolfpack are a deserving underdog. Going 1-6 in league play does not earn a favored status, but a closer inspection of NC State shows that there has been some semblance of growth in the last two games. The Pack won three of four quarters against Louisville and the second half at Georgia Tech.
The separation occurred in a wretched third quarter against the Cardinals and an equally bad first half in Atlanta. There was neither the requisite amount of time and simply too great of a distance to go when the Wolfpack made its move. Indeed, NC State was a two-point conversion away from tying the Yellow Jackets and a late defensive stop away from having a shot to win. Good teams find a way to win while bad teams find a way to lose, and the Pack's growth in its last two games has not yet manifested itself into a tangible victory. That will keep the team home in December.
Based on what has happened this season, the likelihood of UNC creating enough separation that NC State cannot at least have a chance to win late is small. That, coupled with the passion of a rivalry game, gives the Pack its shot. The key to a NC State upset will be staying within a stone's throw throughout. The Tar Heels will give the Wolfpack a chance. It is up to State to capitalize. If they do, then the recent growth is quite real and not the equivalent of a moral victory -- which is something that can never be attained against a rival.
Daniel Wilson (IPS Beat Writer)
NC State 27, North Carolina 21
The Wolfpack is beyond irritated, and the Tar Heels come into Raleigh as the perfect punching bag.
State won't be flawless against Carolina, but they'll muster enough offense to overcome the odds and stifle the Heels' chances at a bowl game. The UNC offense will still find success against a depleted Pack defense, though.
James Johnson (IPS Football Analyst)
NC State 27, North Carolina 21
Seems like State hasn't be on the good side of an upset in several years. This is the game where this changes. The Pack gets enough pressure to aid their injury plagued secondary and the offense continues to improve. State heads into the off season on an up note.
Ethan Barry (IPS Intern)
North Carolina 35, NC State 24
I think this is a good matchup for a healthy State team and the sort of team that I think most people expected to see this season. Unfortunately, this group is a shell of what was expected. UNC has so much more on the line which could be a blessing or a curse.
I suspect it will be a curse and play in State's favor. I think the Pack will play well enough to win, but just like the last two weeks, UNC's big play ability will be too much for NC State to overcome.
Never miss the latest news from Inside Pack Sports!
Join our free email list