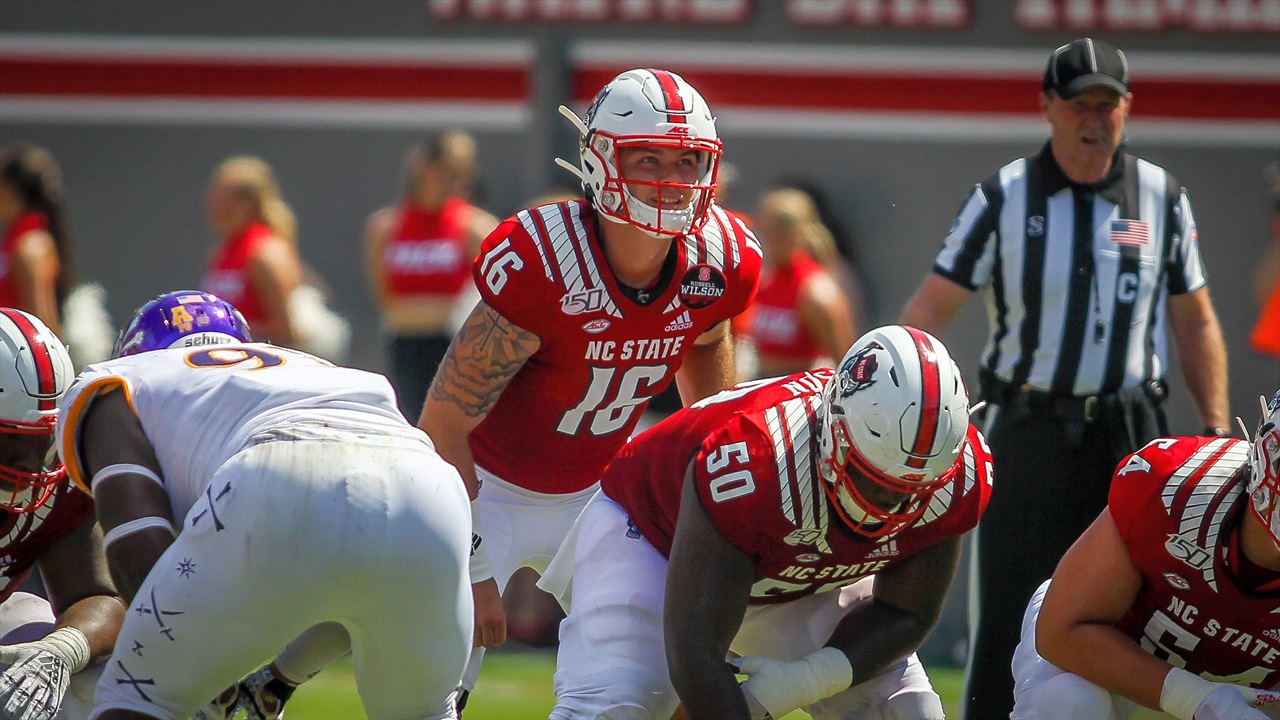 Photo by Steve Murphy/IPS
NC State Football
Bailey Hockman: "I Don't Feel Any Pressure"
---
NC State redshirt sophomore Bailey Hockman will be making his first career start on Thursday night against Syracuse, and he is ready for the opportunity.
"I was excited, just like anybody would be," Hockman stated about being named the starter. "But going through my mind was just to get better every day. It's the same approach. If I'm the starter, if I'm the backup, if I'm third string, if I'm playing receiver. It doesn't matter. I'm going to try to get better every day."
For Hockman, he's had to attend three different schools before getting this chance to start, and he admits that the road to where he is at right now wasn't easy.
"Leaving Florida State and having to go to JUCO in Kansas, that was a difficult part of my life," Hockman said. "After that, nothing really affects me. If something bad happens it's just, 'let's keep going, let's keep working'.
"It's been a long journey. My story has been up and down, and it's been a long time coming. I'm ready for it. I'm ready to go."
Hockman received his first extended reps in the Pack's most recent game at Florida State, where he completed 21-of-40 passes for 208 yards and a touchdown. He was also knocked around a bit in the game, but the physicality didn't appear to rattle him at all. His mentality is one of his biggest strengths.
"I like to think I'm the toughest guy on the field," he stated. "No hit can take me down, no one saying anything can take me down. No matter what it is, I'm going to keep grinding, keep working.
"I like to see myself as being three-dimensional. I can throw, I can run, I can scramble... make plays on my feet and then throw. I think I can do it all, and that's a good thing, but you have to be smart about it and play within the system and do what the coaches are telling you to do."
Dave Doeren announced that Hockman would get the start vs. Syracuse but redshirt freshman Devin Leary could see reps, as well. Is Hockman feeling any pressure from having to perform with Leary looming?
"I don't feel any pressure," he added. "Devin is doing a great job, and he's working hard. He's doing really well. I'm proud of him."
Regardless, this is the chance Hockman has hoped for. He has been able to use the bye week to get extended reps – really for the first time all season – with the starters, and the offensive staff has also made some tweaks to the overall scheme which could better fit Hockman's skillset.
"We've had a few weeks to put those things together," said Hockman. "We figured out a few new things for offense, figured out what direction we want to go in. I think it's been really good. The coaches have done a great job of holding these guys to it."
The upcoming matchup against Syracuse won't be easy. The Orange is among the top five in the ACC in sacks and leads the conference in turnovers forced with 12. What has Hockman seen from Syracuse on film?
"They play a lot of man," he said. "They play a lot of one-high. They will get into Cover 3. They are a really good team. Their d-ends are really fast, really athletic players. Their two interior guys are big, strong. They have some good backers, good DBs. It should be a good game.
"They try to disguise things, but we just have to execute. They do a good job, but if we execute we should come out clean."
It's clear in talking with Hockman that the moment won't be too big for him. In fact, he'll likely be looking to pump himself up heading into the huge contest.
"I'm kind of a chill guy, I don't get too hyped up," he said, smiling. "I kind of have to hype myself up a little bit... let's go, let's get going."
Never miss the latest news from Inside Pack Sports!
Join our free email list