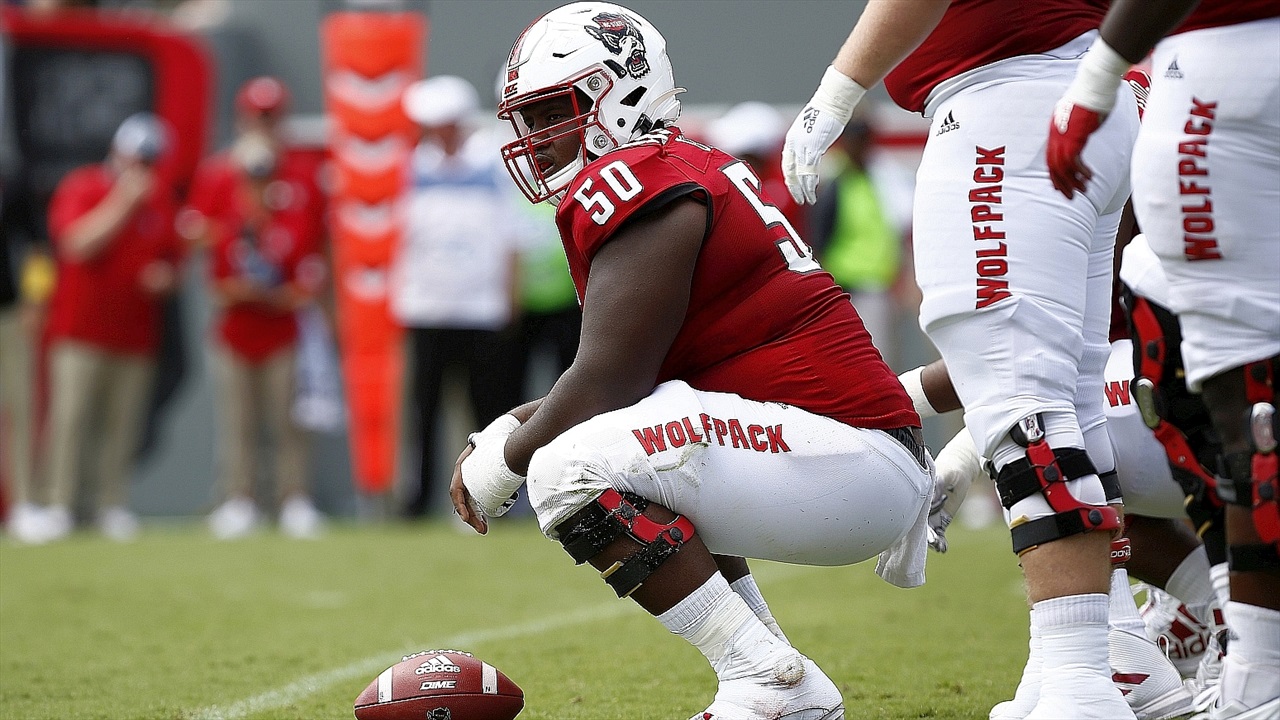 NC State Football
Gibson Front and Center in Wolfpack's Pursuit for Greatness
---
N.C. State's season continues this weekend at West Virginia. The Wolfpack offense has shown tremendous proficiency in efficiently moving the ball downfield. Redshirt sophomore center Grant Gibson has been one of the focal points of an offensive line that's kept State's "skill players" away from the opposing defenses.
"We're trying to improve every week," Gibson said. "I feel like we've gotten off to a great, great start, but we can always find areas we can be better in. That's what we're trying to do every week: try to find ways to improve and to perform to the best of our abilities."
Offensive line coach John Garrison has already done a solid job of establishing his ideals for his players in the trenches. Gibson displayed much reverence for Garrison, and that trust and respect is evident in how he performs game by game.
"He's a great coach," Gibson said. "I love him to death. He does everything he can to get us prepared for game day so that, when we go out there, we play fast and hard."
Gibson's journey from first arriving on campus to playing as the starting center wasn't entirely straightforward. A two-way player from Mallard Creek in Charlotte, Gibson originally entered the program as a defensive tackle. However, during the week of last year's game versus the Mountaineers that was eventually cancelled, the Wolfpack staff asked for a switch to offense.
"Two games into the season last year, they asked me to move over," Gibson said. "I'm very thankful for Coach [Dave] Doeren for what he did. I thought it was the best thing for the team and the best thing for me, as well."
Gibson's move added to the depth on the offensive line, but with Garrett Bradbury on to greener pastures in the Minnesota Vikings organization, a new center was needed. Gibson won the starting job over Joe Sculthorpe, a player who many had as the de facto frontrunner for the starting job. However, that competition never wavered their relationship as teammates.
"Joe and I are great friends," Gibson said. "That's my brother, so for me to go out there and compete beside him, we both take pride in the offensive line. It wasn't really like me and him competing. We were trying to find our best way to win, and I'm glad that I have the chance to play beside him as well."
With the Mountaineers slated as the next opponent on the Wolfpack's schedule and with no hurricane in the forecast to wipe this game off the schedule, N.C. State will look to continue its winning ways. Like many of the Pack's personnel, Gibson knows that the sky's the limit.
"If we do our jobs, and if we improve every week, then we can go wherever we want to," Gibson said.
Never miss the latest news from Inside Pack Sports!
Join our free email list