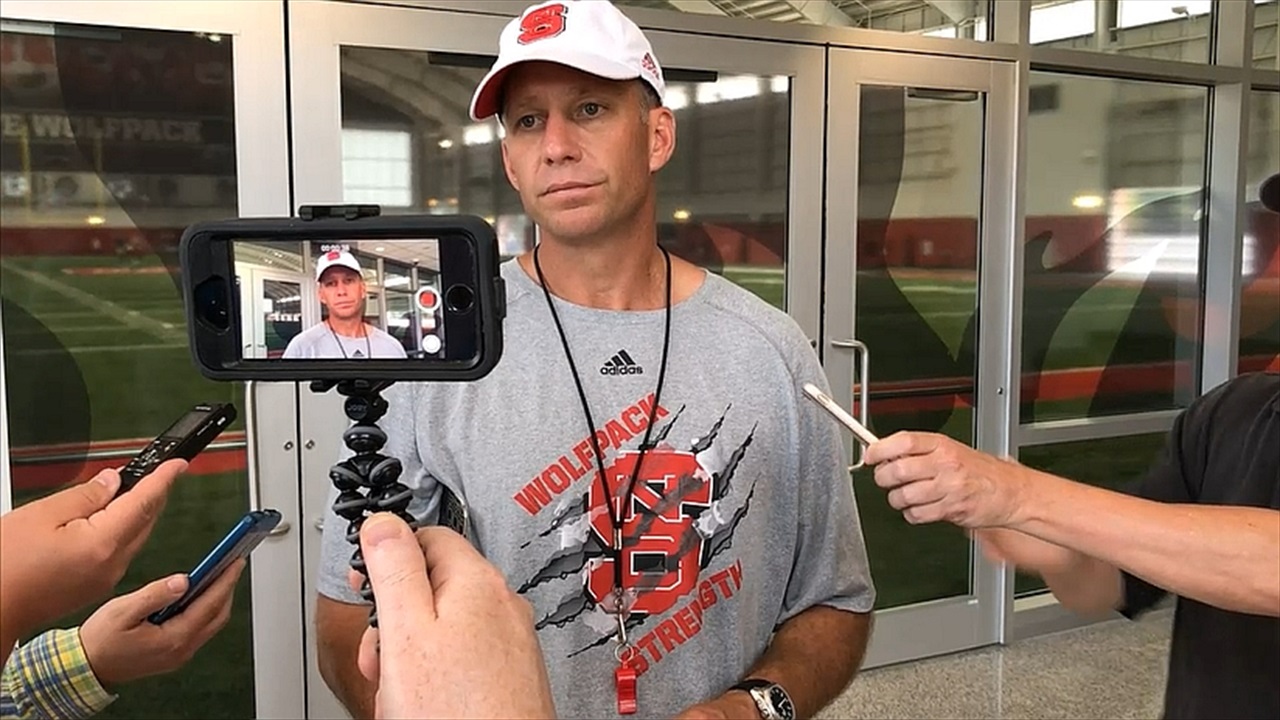 NC State Football
NC State HC Dave Doeren: "There's A Long Way To Go"
---
NC State head coach Dave Doeren met with the media after the first official fall practice of the 2019 season.
NOTE: Click the video above to watch the interview. Below is a collection of quotes from Doeren.
---
"There's good energy. You see the guys that have experience playing like you'd expect them to, and then there's a lot of young guys. It's sloppy in some areas which, when you've got 11 seniors, you're going to have that. But there's a lot of good attitude and effort, and there's a lot of film to watch. I'm excited to get in and see it. We're trying to pull in some of these mistakes off the film."
"Until they show me who it is, I'm not going to rush it [at quarterback]. I'm not going to hide it from you guys. When I know, I'll tell you I know. We've just had one practice."
"Matt's comfortable. He was comfortable last year. Bailey looked like he's made some strides since the spring. Devin is the same way he was. We've got lots of reps we've got to get. Today was day-one install against vanilla defense. There's a long way to go."
"That's not set. We're going to see who our best five are whether it's Joe at center or Joe at guard with Grant at center. That'll play itself out. Joe's an experienced guy. He looked up to Garrett. I know if he ends up being our center, he'll take a lot of pride in that role as will Grant if it's him."
"It is a youthful roster full of really good football players in those freshman and sophomore classes. Like I told them last night, we need some 18-year-olds to play like they're 20 this year, so we'll see where that goes."
"I thought Jordan Houston, this was the first time I've really seen him do anything since he's been here since he wasn't here in the spring, is a really gifted guy. There's going to be a lot of those guys that we look at early in rep and see what they can do."
"I think everybody wants to be better than we were last year as a football team, but you also have to know that whoever plays quarterback is not going to be Ryan Finley as a sixth-year senior. You can't duplicate that as your first year as a starter, but that doesn't mean they can't have a successful season."
"I think we just have to see and be patient everyday. Like I told them, today is the only day we're going to worry about and don't get too far down the road with anything. We just need improvement on a daily basis. When you have talent and you can do that, the end product ends up being something you're proud of."
"I'm very excited for Larrell and James, our two seniors, and Deonte when he gets back. I think Larrell and James have put themselves in places, if they have a productive season, to be just like those guys to have opportunities to continue to play.
"They're going to test well. They can run. They're strong. It's about putting together a body of work that helps them down the road. There are some good young guys. I think Xavier Lyas and Joseph Boletepeli are our two most improved guys on the defensive line, so I'm excited for them."
"It's kind of like Christmas. You get there, and you get to open your gifts because I can't coach during the summer very much, and you can't put pads on or any of that. Today's really not the day. It's when we get the pads on that you really start to evaluate what you've got. It's just fun to be back on the grass with the guys and feeling the chemistry and helping guys improve. You didn't sign up to be coaches to sit behind a desk. This is a good day just to be back on the grass."
"I'm just hoping that the financial things that come with it are things that we've heard from the commissioner. We expect it to be very successful. The influx of income should be really helpful for us facility-wise and some other things we can do. It comes at a good time because a lot of these other leagues, as you guys know, are getting a lot more from their networks, so this is a great time for us to get into that game. With the success we've had on the field, we want to keep it that way as a league."
"There's tons of things. Our budget has a lot of restrictions at times. Anytime you can increase your ability to fly a certain way or do certain things or change facilities… We've been really fortunate to have this indoor, to redo our training room through private gifts, what Andy Albright did for our training room and Jim King and Derick Close for this, but all of a sudden, you start getting $10 million more, and you can do some more things without asking. It helps a lot."
Never miss the latest news from Inside Pack Sports!
Join our free email list