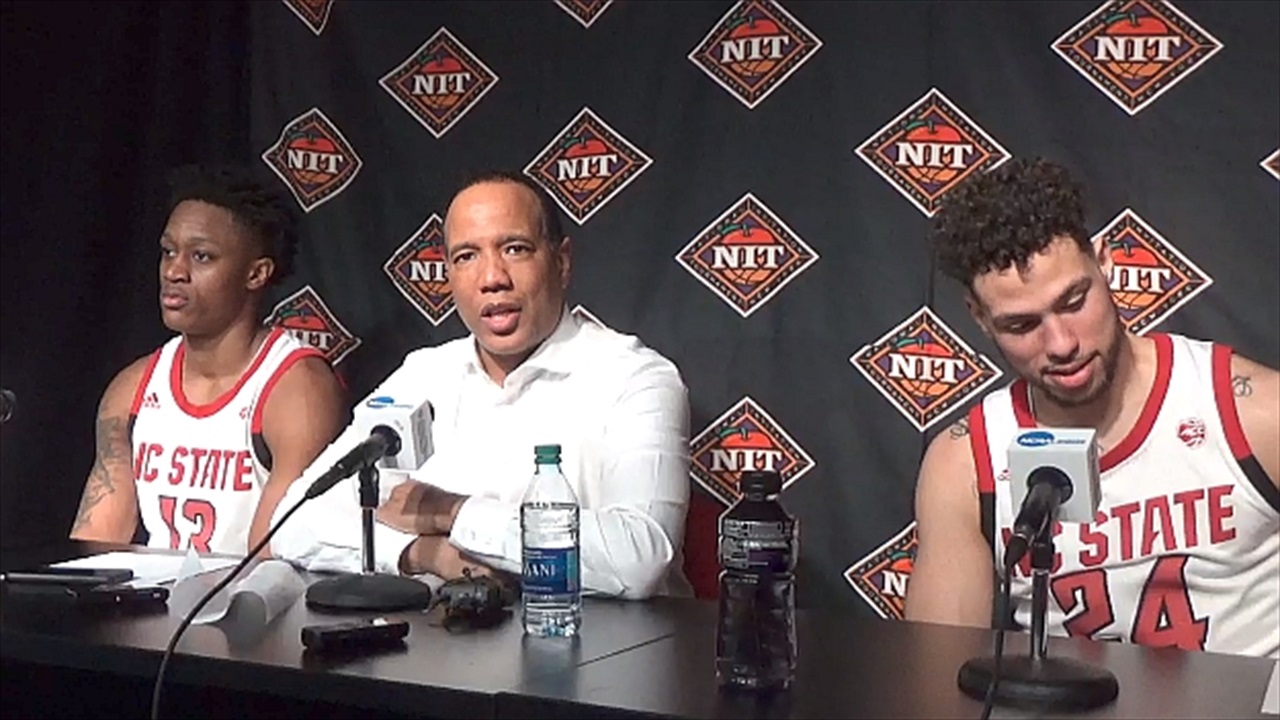 NC State Basketball
Kevin Keatts: "Our Guys Responded"
---
NC State head coach Kevin Keatts and players C.J. Bryce and Devon Daniels met with the media after the 78-77 NIT win over Harvard. The trio talked about the win, playing in Reynolds, and much more.
NOTE: Click the video above to watch the press conference. Select quotes are below.
---

Kevin Keatts
"What an incredible game. I thought our guys responded. I knew we'd play against a very good team with a very good basketball player on it when you're talking about Aiken."
"They spread you out, run ballscreens, have motion, and have a legitimate post who can score outside."
"We had to do a great job on Bryce Aiken. I told them he had to shoot a bad percentage to get his points. He took 18 shots and got 19 points and we were able to force him into six turnovers."
"Basketball in March is about the players, not the coaches."
"We ended the game with 17 offensive rebounds and got to the free throw line."
"It was big. I thought he timed it right. I thought he did a tremendous job. I was nervous as everybody when I saw Braxton was guarding him at the end because we were going offense/defense and I was putting CJ in because we wanted a bigger guard on him, but I thought he made a great play."
"It was a great game. I had fun, I was excited about it. We played at 7:30 and didn't have a class so we did shootaround about 11:00 and I watched a lot of games today."
"We started going to the offensive glass... we stopped trying to out-jump guys and hit people... we started hitting people on the defensive end."
"Wyatt Walker had a huge rebound and kick-out that were really good."
"Devon played well today because he had two really good practices where he was as locked in as he's been since he's been here."
"It's been great. Reynolds is great but let's not cheapen our fans and what they do at the PNC they do a tremendous job too. It gets loud and it's a great place to play."
"When we were chosen to go to the NIT everybody showed up for us."
"The two teams we've played could easily win a game in the NCAA and so could we. We played two teams who were champions in their league... I have to be honest with you, as I watched tape on Hofstra and Harvard I knew we'd play two very good basketball teams."
"I'm excited to get another home game... it's fortunate for us because we get a chance to play at home again."
"After I meet with you guys I'll meet with the staff and we'll put a gameplan together for the next two days."
C.J. Bryce
"I feel like I've really picked it up on the defensive end."
"Two very competitive teams and everyone wants to win at this point."
Devon Daniels
"I just tried to stay to m principles . He has a really good hesi-game and very crafty with his off-arm. I felt like when I forced him to his left and stayed down I think I did a pretty good job. He's a great competitor."
"It was fun."
"I've tried to step up for our teammates. You don't want it to be our last game and I'm trying to help the team win."
"I feel during the game I can help our teammates more."
"When it's tournament time it doesn't matter what conference they come from. Every game we have to bring it. It doesn't matter who we're playing."
Never miss the latest news from Inside Pack Sports!
Join our free email list