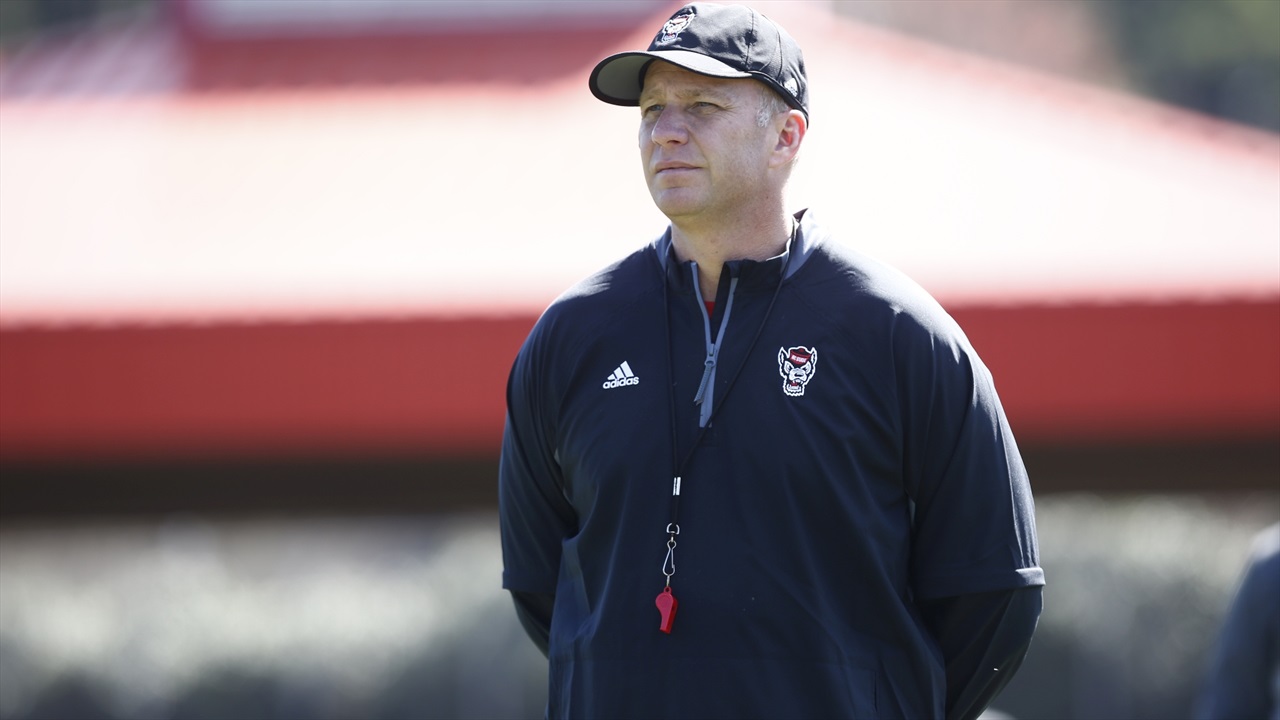 Photo by Jeff Reeves/Inside Pack Sports
NC State Football
Dave Doeren on Spring Practice: "Today Was Much Better"
---
NC State head coach Dave Doeren met with the media today to discuss spring practice. He talked about his quarterbacks, several linebackers, where his team is at right now, and much more.
NOTE: Click the video above to watch the interview.
---
How do you feel things are going so far?
Some good, some bad. It's the second day in pads today. I thought yesterday or two days ago, we were a little sloppy. A lot of young guys were playing in pads for the first time. Too many guys on the ground. Today was much better.
There's a fine line between how physical you want to play and playing against your teammates, so you also want to keep people up and prevent people from having ankle sprains in piles and things like that.
It's a matter of 17 new players getting used to playing college football. But there's some good things. There's some new schemes, there's a lot of learning going on, and today I thought there were fewer mental mistakes than there were the day before.
With the coaching turnover, how do you feel the new voices have changed things around practice?
They have great energy. I think any time you're new at a school, you're trying to prove yourself and earn respect. You have to come out and be a good teacher. You have to be consistent. You have to have a voice. The players ultimately, no matter where you are, want to get better.
These guys do a great job with that. They have good command with their position groups. They've put a lot of time into getting to know their players, and I know they're just having fun working with these guys. We've got a good group of young men to work with.

How have the quarterbacks looked so far?
It's up and down. I think Matt and Devin are further along probably because they know more. Obviously, Bailey and Ty are just getting here, so you're going to expect to see more mistakes from them.
They all throw the ball well. They're all coachable guys. They care a lot. But there's a lot of time between the decision process, and it's just a body of work that you need to put together over a long period of time.
How excited did you get when you knew you could get Tabari Hines?
We've had really good success bringing in grad transfers, and you don't bring one in unless you have a serious need at that spot. Obviously losing Kelvin and Jakobi early, to be able to add an older player to that room, I think, is very, very important.
He's a guy we know a lot about, having seen him on film, not just against us but against the league. He's hungry to play. He had a tough year last year, so he'll have a chip on his shoulder which fits our program. I'm looking forward to getting him here in May.
What have you learned about him through the recruiting process?
I didn't know him at all. You get to know him as a person and the type of worker he is. Anytime you get to talk to a senior, it's a different conversation than when they're younger just because the sand's running out of the hourglass on him. He knows it's an important year for him. He's coming in here ready to help our football team and, by doing that, help himself.
Levi Jones... what have you seen from him?
He's really adjusted. The first week was hard. Since then, he's gained some weight, he can really run, he's a special athlete, and I just like how coachable he is right now.
He really wants to learn. I think him and Coach Huxtable have a good relationship. He coached his father, Coach Hux did. It goes a long way back. There's a lot of respect in that family for each other.
We look forward to having him when we get him eligible.
Any chance for this upcoming season?
I don't know yet. I wouldn't say a pipe dream because everyone is a specific case. We'll just have to see.
Linebacker appears to be a diffferent look now.
I think Coach Huxtable's done a good job identifying guys, and we've been able to sign really good players that we wanted, and they're tough kids.
They fit the demeanor of his room. They love ball, and I think that's the one thing; if you're going to play for him, you've got to be a guy that loves studying the game and is a true student of the game, not just what you say but what you do, your actions. It's a good room of guys, really good room.
Thayer Thomas, the strides he's made. How big of a year has this been for him?
He's an amazing young man. The way he manages his time between two sports and his academics. He does a great job in the classroom, the way he treats people, and the whole thing.
He's pretty special when it comes to time management. Not a lot of people can pull off two sports and maintain the GPA that he does and play the way he plays. I know he's helping the baseball team when asked to and has a role with them and obviously has a huge role with us.
How much did you watch of the NFL combine?
I didn't get to watch it. I was watching videos of the guys of their performances when they were posted. I'm very proud of them, but I'm not surprised.
Those guys worked hard to get to where they were, and I knew they wouldn't stop working. When they get another opportunity, they're going to go full speed at it.
Did you know Garrett Bradbury would be sub 5.0?
It doesn't surprise me. He's a good athlete. He always has been. That's one of his strengths as a football player. He's always been agile, and to be able to put it out there like that, I think he helped himself a lot.
Isaiah Moore, the play from him at linebacker. How big of a step has he taken?
I'm really proud of him. Him and Louis both work really well together. They're competitive. They're both really good players. Isaiah's leadership has grown so much this offseason. I think last year, he was just trying to prove himself, and now he's trying to help others and serve. He's really taking that seriously in the offseason.
Never miss the latest news from Inside Pack Sports!
Join our free email list