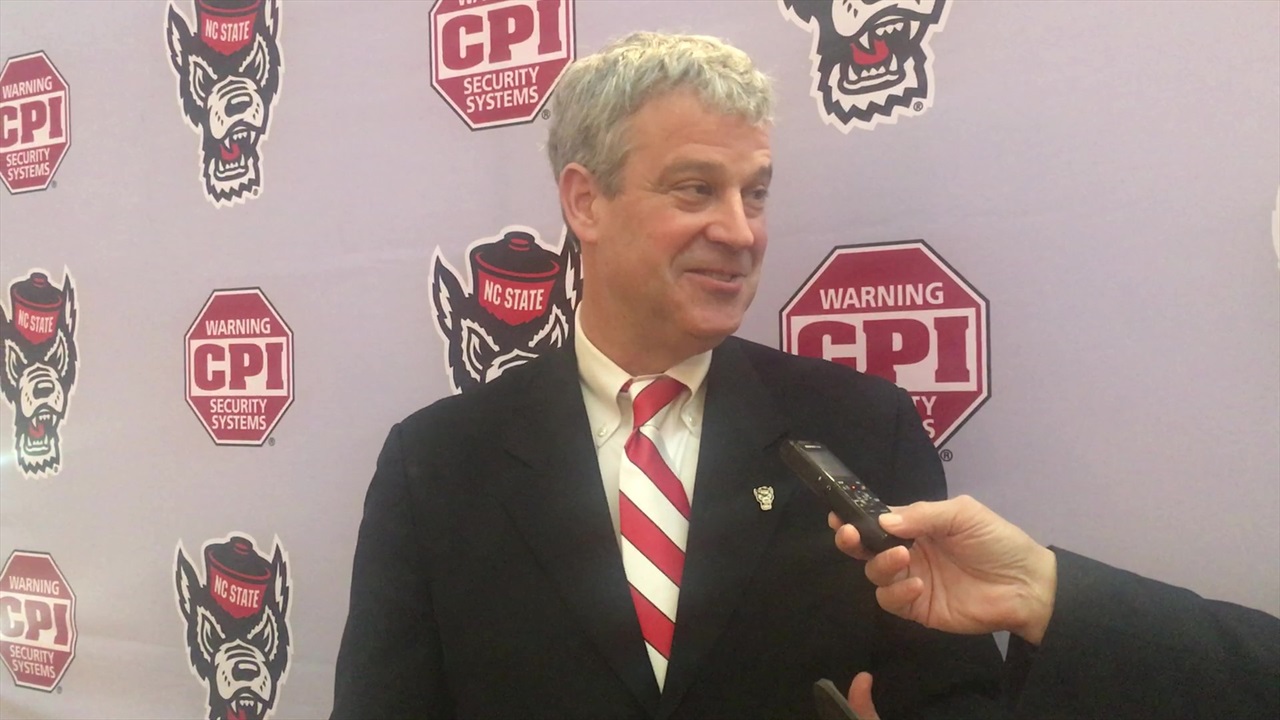 NC State Football
Boo Corrigan: "We Are Excited To Be Here"
---
New NC State AD Boo Corrigan met with the media shortly after his press conference. Check out what all he had to say.
NOTE: Click the video above to watch the interview.
---
On his vision…
The hard part is coming into a place and saying 'this is my vision' until you know what's going on. As I told the coaches, I need to have a special relationship with them because they are closest to the students.
At the end of the day, it's going to come back to the coaches, that's a positive thing. They mentor them and help them and the students rely on them the most. It's important to establish a positive relationship with them right away and then grow from there. It's about trust, accountability, passion and empathy. What that specifically looks like, we'll develop that over time.
On the coaches currently in place…
Debbie did a wonderful job. So much of it comes down to fit. There's a lot of good coaches around but who fits best at NC State. That's a critical aspect. Based on the eyes that were on me yesterday, they are clearly passionate and looking for me to be a part of what's going on.
I met with Kevin and talked with Dave on the phone [he was out recruiting]. They buy in to who NC State is and being the best NC State we can be.
On selling alcohol at Carter-Finley…
There's still plenty of time to figure those things out. Debbie is going to be in the chair until April 30th and when I get here on May 1st we'll figure out where we are and move forward from there.
On lessons from Army…
I'm realizing how important the ROTC is at NC State. Someone told me the second most generals in the Army have come from NC State, second to Army. There's a lot of commonalities. It's a blue-collar school, it's a tough school, a school that's proud of who they are.
It's a school with standards, if you set the standard, people will reach it. I'm not landing on a foreign planet like I was at West Point. I fell into a place where everything is based on acronyms and different words and things like that. I'm excited to come back to the civilian world if you will, and be a part of what's going on here.
On the challenges of a state school and passionate fans…
No challenges, only opportunities. It's an opportunity for me to learn differently from the state system, not the government. From a group of cadets who all wear the same uniform to a group of individuals.
For myself, working through what we need to provide them, where can our hands be untied?
From a fans standpoint, the worst thing is to be irrelevant. If what you're trying to do is deal with passionate people, that's a high-class problem. When you're selling 99% at football and selling out basketball, it's a different set of problems.
On interest in NC State…
My first interest was when she (Debbie Yow) announced she was retiring in a year.
On first contact with NC State…
Maybe two weeks ago. It was really quick. Parker did a great job protecting West Point and that was important to me. I'm running to NC State, I'm not running from West Point. We were there for eight years and it has been the adventure of a lifetime to be a part of such a dynamic community. We thought it was time and this was the place.
On first face to face with Chancellor Woodson…
Two Mondays ago. It was somewhere in between.
On enhancing the student-athlete experience…
There's so much more knowledge out there. I think about making sure they are progressing, that they are going to graduate, their mental health, that's become more and more apparent across campuses. That's something we have to focus on. What Debbie has put in place is building towards that. The nutritional aspect of it. If you have but in from them and show that you care about them, that's something we can bring here.
On anything from West Point he wants to bring to NC State…
You always want to beat Navy, regardless of where we are. There's plenty of time to figure it out, what ramps we are going to go through. We are excited to be here and be a part of the Wolfpack family and we're going to ride it from there.
Never miss the latest news from Inside Pack Sports!
Join our free email list