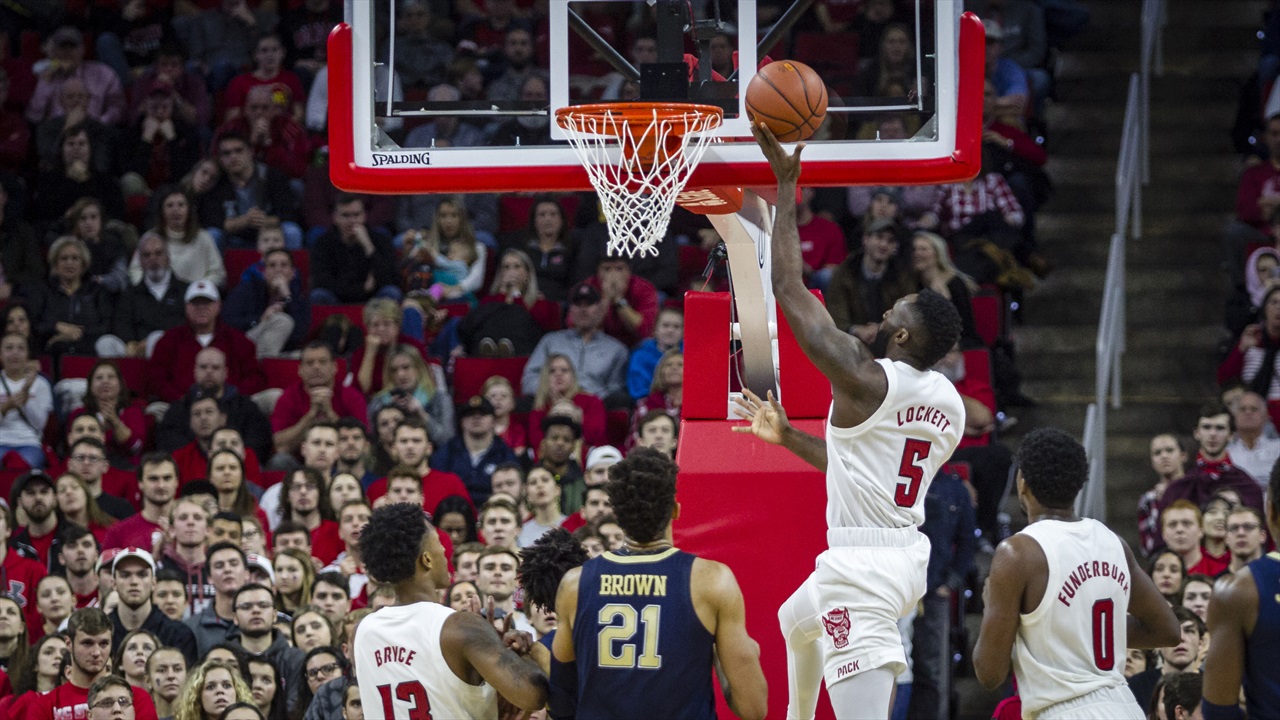 NC State Basketball
LOCKER ROOM REPORT: Wolfpack Players
---
Eric Lockett, D.J. Funderburk, and Devon Daniels met with the media after No. 15 NC State's 86-80 home win over Pittsburgh.
NOTE: Click each video above for a specific player interview.
---

Senior Wing Eric Lockett
On the mindset in the second half:
We knew we were going to have to play harder and keep playing harder, try to get to the free throw line. They beat us at the free throw line in the first half. They shot like 14 more than us, so we knew we needed to drive harder and be stronger when we were attacking the basket.
On getting a win at home before three games on the road:
It was a big win for us. Like we said we want to come out and win every game, but we definitely needed this one coming off that loss. We wanted to get that bad taste out of our mouth after we lost a game we should have won. It definitely felt good to win this game.
On being ready to play after not playing against UNC:
I am glad he (Coach Keatts) trusted me to put me out there this time. He believed in me and let me play. I had a chance to show him what I was able to do. I always want to play my best basketball when I am out there on the court. It's a relief knowing that, and I was capable to do that, so it definitely felt good.
On the team's depth:
Someone is always going to have to step up for us if were down. I feel that it just shows how deep we are as a team that everybody could come in and affect the game. DJ Funderburk definitely knows how to play. He gets into those little creases, get into his own and his sweet spot. DJ he's really good like that.
Sophomore Guard Devon Daniels
On fouls:
I guess it was difficult at first, but like I said before, our character really showed out. We had some people kicked out today. We had Wyatt Walker…Markell Johnson was hurt for a minute. We had a lot of fouls going on, but we stuck together. I think that really just shows how strong we are still as a team.
On the team's second-half performance:
I think we were getting good shots. They just were not falling, so we just kept pushing and pushing. They were getting some easy shots on the other end. I felt like once we stepped up our defense our offense came with it.
On his scoring performance:
Honestly, I am just doing whatever it takes to win. Different games my team needs me to do different things, and today I felt like they needed me to score a little bit and help lead the way, so I just tried to do that.
Sophomore Forward D.J. Funderburk
On the Pack's ability to complete the comeback win:
It's just a testimony to the hcip on our shoulder that we play with and how hard we play. We're coming together as a brotherhood and just trying to figure out what we've done wrong in games past and come down and get the win at the end of the game.
On contributions from so many players on team:
Myself, you can look at guys like Eric Lockett who didn't play the last two games in conference. To come in and just save us really with 17 points and back-to-back threes late in the game, that's beautiful for me. I personally would've had my head down coming into this game if I didn't play the last two, but he showed something different.
On the physicality of the game:
We knew coming into the game after watching film that they were a scrappy bunch, but we just tried to put that aside and play smart but play strong at the same time.
Never miss the latest news from Inside Pack Sports!
Join our free email list