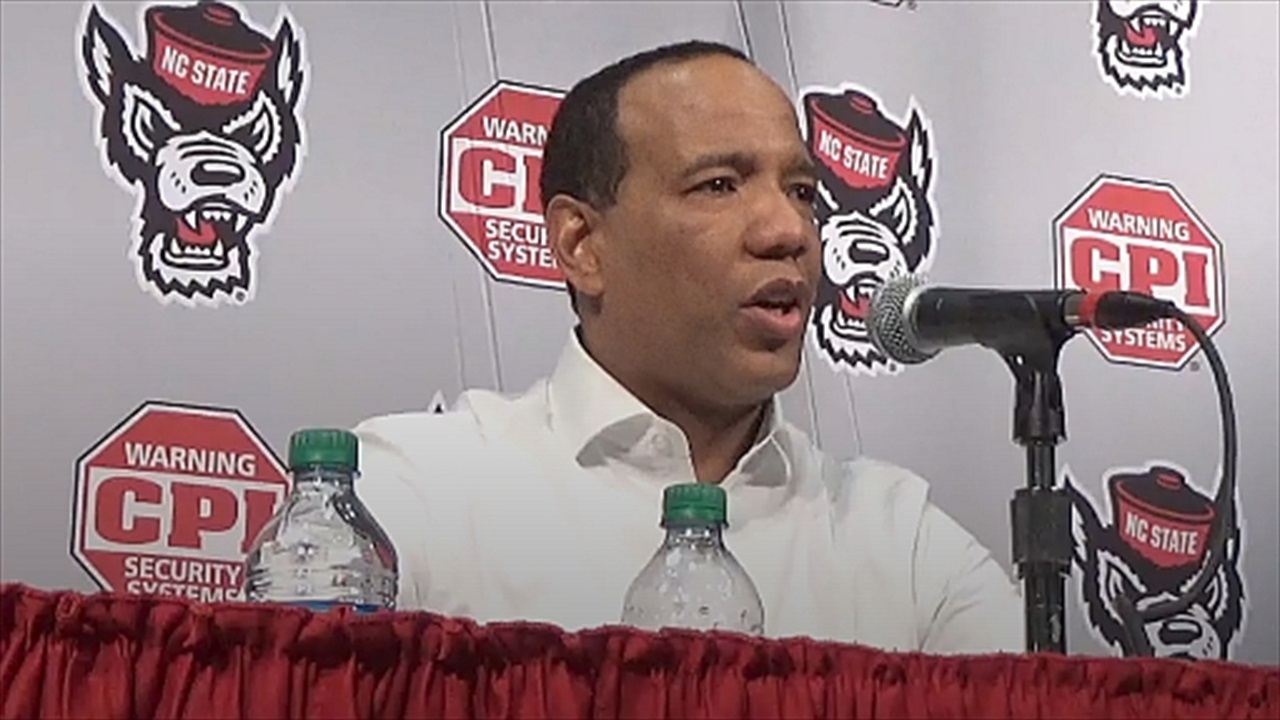 NC State Basketball
NC State's Kevin Keatts: "We Found A Way"
---
Head coach Kevin Keatts met with the media after No. 15 NC State's 86-80 home win over Pittsburgh.
NOTE: Click the video above to watch the press conference.
---
Opening Statement:
What a game for us. We found a way to win a game when things weren't going our way.
When you look at the fact that we were pretty much down two starters with Wyatt Walker and Markell Johnson, I think we are building something really special here where our guys are learning to fight and compete every day.
After Eric Lockett didn't play in the Carolina game, he could've easily went back and went out at night and partied, unhappy with what happened, and he didn't do that. I got a text after the Carolina game that Eric was in the Dail Center, which is our practice facility, getting shots up. He never complained. The next time we went in the gym, he smiled and he worked hard. He is a mature young man. He has graduated and is working on his Masters. A lot of our guys can learn a lot from that.
When you think about what we are trying to build here at NC State, our fan base is pretty much like Eric Lockett. No one gives up anything, and we work hard for everything we can. We are building a program that I really like that no matter the situation, we'll find someone that can step up, play hard, and win the game.
I thought down the stretch we had some great contributions from a lot of guys. DJ Funderburk was put in a tough situation, and I thought he played great. Devon Daniels had some great moments during the game where I thought he played well. CJ Bryce made some shots from the free throw line, but no one played bigger than the guy that didn't play the last game, which was Eric Lockett.
I told the guys coming into the game that I thought Pitt was a good team. They remind me a lot of us last year because they are very scrappy and get after the ball, playing hard. Give our guys credit. We found a tremendous way to win when we were limited on the bench and a couple of our leaders didn't play.
On improved shooting throughout game:
I thought that we got better looks. Initially, I thought we were standing around against the zone and didn't have great ball and player movement that we had been talking about in our couple days to prepare.
Give Jeff Capel credit because he worked with USA Basketball and Jim Boeheim at Syracuse. He put in the Syracuse zone. They did a good job with it and made us stand around a little bit. Once we were able to screen it and make some great passes, we started to get good shots and shot some rhythm threes.
On the team's mental toughness:
I've said this before: we are going to fight. When you think about a couple of things, we were down on the road at Miami, and we fought and came back. We start the game basically down 14 against Carolina. We fought and came back. We were down four with 50 seconds with a shot to cut it to one. Look at today, where we were down and out, with things not going our way. Someone else steps up. When I was building a roster, I wanted to build a roster that any day someone else could step and play. You have got to give all the credit to the players. They stuck in there and played well, and we finished the game.
On what he told the team when calls weren't going their way:
I tell the guys let me handle the calls. It's my job to talk to the officials. When we're not scoring, I want us to stay the course and do a good job on the defensive end.
I said this against Carolina: if you can't find a way to score and hold the other team, as you know in any sporting event, you usually win the game. Just because we're not scoring doesn't mean we can stop defending. A lot of times young teams like us will stop defending, and we talk about defend, defend, defend. It will work out in our favor.
On Markell Johnson:
I don't have an update on Markell yet, and I have not seen the play on Wyatt Walker yet. I don't know what it was, so I don't have anything to add to those situations.
On the team's rebounding performance:
You know I'm not happy getting out-rebounded by anybody, but I thought our guys did a tremendous job, and we out-rebounded Pitt by 10. The mere fact that we got 21 offensive rebounds I thought was special, and the guys did a great job. We are not the biggest team, but I have to have guys who are active and do a great job. We have a lot of size guys, guys that are 6'5 6'6. Some of those guys stepped up and did a great job. I'm very happy with our rebounding. We may not do as many rebounding drills as we did after the Carolina game.
On looking forward to the rest of the season:
This conference is the best conference in college basketball. Every win you get in this conference, you hold on to. Its tough. I haven't even looked at the scores from today. I know there are many more games to play, but if you can get a win in this conference, it's unbelievable. What are we? 2-1 in the conference right now? We started off last year 0-2. The most important game you play in this league is the next game. It doesn't matter who it's against because everybody can beat you, and we can beat everybody else.
On holding Pitt to only a handful of free throws in the second half:
I thought we kept them out of the paint. Watching Pitt on tape, one of my main concerns is that they put their head down and get into the paint. I thought our guys did a great job of moving their feet. I thought we adjusted to the way they were playing and didn't allow them to get in the paint.
On Funderburk playing well against the zone:
He is skilled. Anytime you get a post player that is skilled, he can step into the free throw area and make shots. He can pick and pop and he is long. He does a good job of finding open shots. I thought DJ was great. When I leave out of here, I'm going to go in there and give him a big hug. I thought he did a tremendous job.
Never miss the latest news from Inside Pack Sports!
Join our free email list