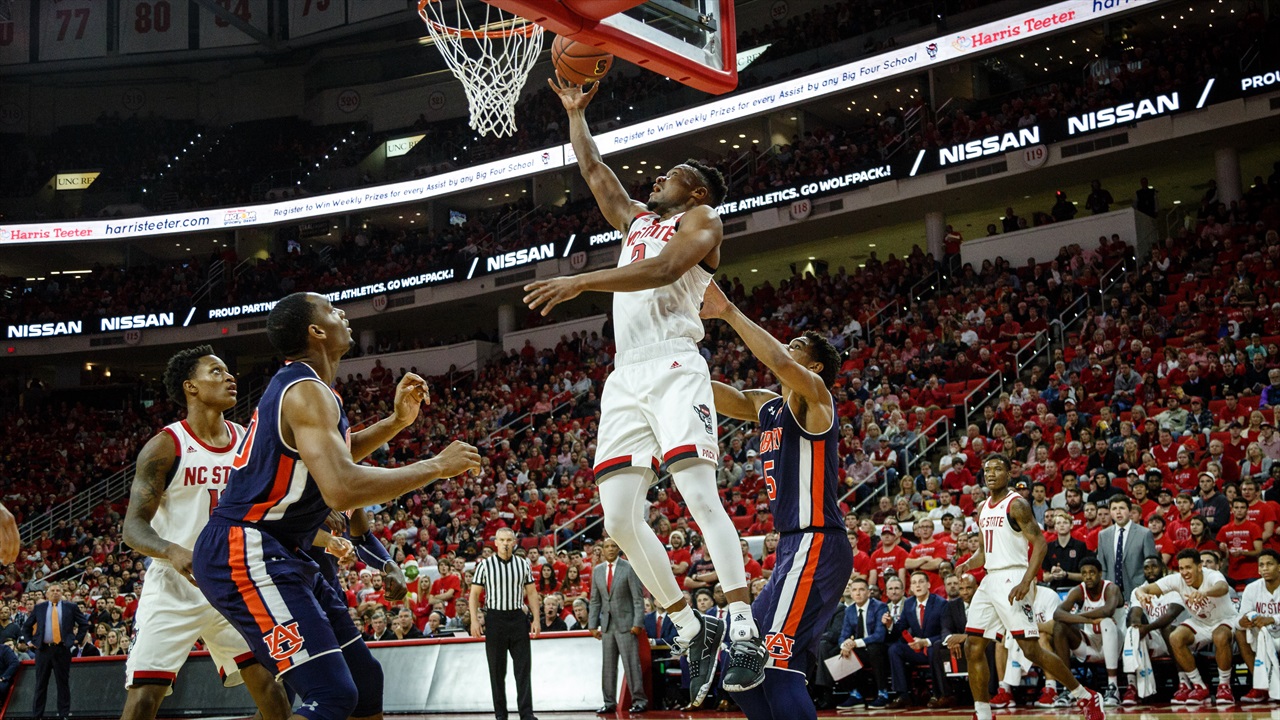 Photo by Steve Murphy/Inside Pack Sports
NC State Basketball
Dorn: "You Circle These Games"
---
No. 15 NC State senior guard Torin Dorn spoke with the media about Tuesday night's huge game against No. 12 North Carolina.
NOTE: Click the video above to watch Dorn's interview.
---
Do you remember who said Luke wasn't athletic and that you didn't have to worry about guarding him?
I don't remember who said that. Did someone say that last year?
How does your relationship help with guarding him?
Just familiarity. I've been playing against Luke since we were in high school. It's been a long time, and we're very familiar with each other's games, and I think that helps any time you play against somebody so much. You kind of learn their tendencies and what they like to do.
It's always fun playing against a guy that competes like that though.
The progression of where you were two years ago to now... how big are these games for you? You're now ranked in the Top 20 and you can put yourselves with them or past them?
I just think that, for us, the next game is the biggest game. We try not to put too much emphasis on these different games, but for the fans, it's definitely big playing against Carolina and having those bragging rights.
It's definitely something more for the fans.
What's it like for your dad?
He's a fan of mine so it's fun for him to see me play against his alma mater.
Do you get your brother to wear State gear?
Oh yeah, he'll wear the State jersey with my [number].
What's it like to see the crowd storm the court?
There's nothing like it. We have the best fans in the country. When they get excited and they give us that energy, we're hard to beat at PNC. But when they storm the court, it's definitely an experience I'd never felt before, and it's something I'll remember forever.
You guys are third in the country in shooting. What do you attribute that to?
I would just attribute it to our work ethic. I think we've got a lot of guys that work extremely hard on their jump shots. We get a lot of shots up in practice, and it's just paying off in games.
How big would it be to beat UNC on your home floor?
I've never beaten UNC on the home court, so I think it'd definitely be big not just for me but for our team. I think it would be just a big win.
When you start the season, you circle these games. Rivalries are always big, and I think guys get up for rivalries. It's fun to play in them, and it's fun to do well in them.
How has the depth helped you guys?
Versatility and stamina. I think we can outlast teams because we play a lot of guys.
How much does unselfishness have to do with the ten guys playing?
I think this team is extremely unselfish and we have to be like that because of the ten-man rotation. As long as we continue to bring that non-selfish attitiude the sky is the limit for us.
When you see what Markell has done in the second half of games, what kind of lift does that give you guys?
A major lift. After the Wisconsin game, I told Markell you have to start closing and be that guy for us. As the point guard you have to lead, and he's done an amazing job of leading and closing games.
It's cool to see him display that on a national stage like he is.
Is it a different feeling knowing a team like Miami would wear out?
It's a different level of confidence knowing your stamina is tested everyday in practice.
Never miss the latest news from Inside Pack Sports!
Join our free email list